On the day that the town of Carteret, New Jersey gave the key of the city to their favorite sons – the rock band The Smithereens, whose guitarist, drummer and original bassist all grew up in the town – the group was relaxing behind the stage of the town's band stand, where the Smithereens were doing a 30th Anniversary show. It was a big deal for the town, which held a carnival and fireworks show to celebrate Smithereens Day.
Lead singer and songwriter Pat DiNizio, the only original band member who was not born in the town (he is from nearby Scotch Plains) took the hubbub with a certain amount of bemusement.
"I don't think about these things. I stopped thinking about my age a long time ago and I just focus on singing to the best of my ability and entertaining folks to the best I know how. But I'm certainly honored that the town thought enough of us to create this event for us and we're going to give it all that we've got. It's a great honor. I've never been given the keys to anything," DiNizio laughs.
It seems hard to believe that The Smithereens – who were responsible of some of the most tuneful and crunching alt rock of the 80s – have indeed been together for 30 years. Part of that is due to the fact that their breakthrough solo album Especially for You – which featured the classic hits "Blood and Roses" and "Behind the Wall of Sleep" – was released in 1986. (The band had previously released two EPs, Girls About Town and Beauty and Sadness.)
However, it was all a part of the band's genesis, DiNizio realizes, as he has a nearly encyclopedic memory of the band's history. He knew how much time and effort goes into becoming an overnight success.
"I don't think [the fans] are aware of it," DiNizio acknowledged. "I think they get the sense that a band just comes out of nowhere. You get together and six months later you have a record deal and you're on the radio. They don't really know what goes into it. You can't expect them to. In retrospect, looking back at the release of the first album, 'Blood and Roses' became a hit within the course of a month or two when it was originally released around April of 1986. It continued to grow. It could have been May of 86, I'm not sure, but I know the first tour date in support of Especially for You was July 4 of '86 – opening for ZZ Top in Williamsburg, Virginia. Then we took the train to Connecticut to play with them the next night in New Haven. Then we went out with the Ramones. We started in a good place with the touring. We toured all summer, relentlessly. It wasn't until, I would say, the middle of September that year that we achieve a career first – our very first sold-out show. That was the Roxy in Hollywood. You come out with an album and you've had no success whatsoever for the better part of five or six years. All of the sudden it's a hit. And people just think, 'well, yeah, they're new…'"
In fact, not long before the independent release of the Girls About Town EP, the idea of being a musician was the furthest thing from his mind.
"I was perfectly content at age eighteen to be a partner in the family business, which was picking up garbage in New Jersey," DiNizio recalls. "It was called N.A. DiNizio & Sons Disposal. I just wanted to marry my high school sweetheart and live in a small house and have a job. I had no real aspirations."
However aspiration was just around the corner and it took a common form – the love of music and the realization during the late 70s punk/new wave scene that perhaps he could create his own. After all, he had been in bands as a kid – he joined his first band just shy of his sixth birthday. At the time he was doing covers of current bands like The Ventures, The Four Seasons, Jan & Dean and the Beach Boys. Then he learned about the new wave of singer/songwriters and his path became clear.
"Around 1977 I heard an album by Graham Parker called Heat Treatment and I heard the first Elvis Costello album [My Aim Is True] and I heard the Talking Heads and I heard all the new wave bands. Then from there I discovered Buddy Holly and it was all over for me. I lost interest in garbage and rekindled my lifelong interest in rock & roll and the guitar."
DiNizio put an ad in the old East Coast Rocker newspaper (also known as The Aquarian Weekly) looking for musicians who shared his musical tastes and passions. That ad attracted three players from Carteret: drummer Dennis Diken, guitarist Jim Babjak and bassist Mike Mesaros.
And the rest was history, as they say. The core of the Smithereens stayed together for 25 years, at which point Mesaros decided to retire. He was replaced by Severo (The Thrilla from Manila) Jornacion.
So how does a band make it together for all those years with so few line-up changes? What does it take to stick together throughout it all?
"Well, it's pretty much the same: Mutual respect," DiNizio says. "We know and respect each others' boundaries. Don't forget, we survived doing fifteen-month long bus tours, where we were living in close proximity. Sharing the rarified air of the tour bus – where you could never get away from one another – for us to be able to do that nonstop for ten years, if we could get through that, we could get through anything. Some people can only do one thing for a certain period of time. For Mike to do the band for 25 years was an amazing feat. Most people put twenty years into a job and retire. Mike put 25 years into the band, creating some of the most memorable rock & roll basslines ever. It was his time to step down. He didn't want to do it anymore. He wanted to focus on raising his children. And, you know, you can't argue with that.
"So, fortunately for us, we had a dear friend, who was one of the most versatile and talented musicians that we knew, who was able to step in. When the Thrilla from Manila stepped in it was a blessing. Initially some of the fans were missing Mike, buy Mike's been gone a long time now. The Thrilla is such a perfect fit that frankly – and no offense to Mike – the audience doesn't really miss him anymore. It's like, make a choice – continue to see the band with three of the four original members or not. It's your choice."
America has chosen to continue to listen to the Smithereens, any way we can get them. To this day some of the band's biggest hits are staples of rock radio – even ones that weren't huge chart hits at the time. "Blood and Roses" in particular has become a rock and roll staple – showing up on sporting events, in movies, on TV, even occasionally in advertising – though DiNizio has been careful to limit that. Other 'Reens classics like "Behind the Wall of Sleep," "Only a Memory" and "A Girl Like You" have also seeped into the country's pop culture subconscious.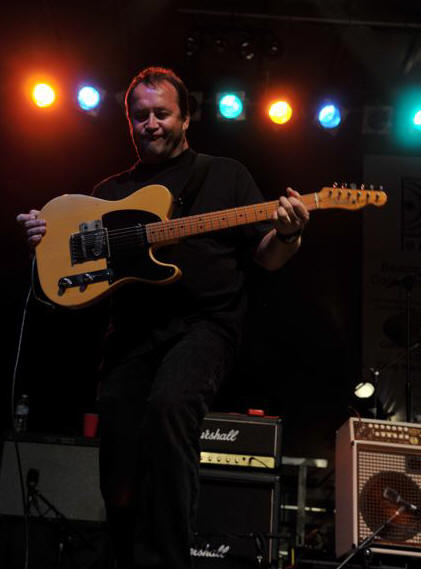 "It's tremendously gratifying," DiNizio says. "I'm also very happy that the use of these songs in films – and even the very minimal use of them in commercials – has not destroyed the songs. It's sort of enhanced them. Given them a new life, but it hasn't destroyed them. I always felt badly for the Romantics because they licensed 'What I Like About You' to Budweiser. It must be extremely difficult for them to go out and do that song live, with the audience associating that particular song with a product. That kind of brands it. I'm not judging anyone for doing anything. More power to anyone that can make a buck in a business that is definitely imploding."
Of course, songs like "Blood and Roses" may have been even bigger at the time, but the first album came out on the indie Enigma label – which was a very well-respected imprint but going through financial problems which shuttered the label soon after the release of the Smithereen's second album Green Thoughts. In fact, the label would not agree to fund a music video for the song – which was a necessary part of music promotion in the mid-80s during the height of MTV-mania. Eventually, the song was licensed to be in a small, long-forgotten film called Dangerously Close and the film company made a video for the single.
"Enigma was the only choice for us [to start]," DiNizio recalls. "We were together over five years. I was already producing and mixing records for bands. I was writing press releases for Columbia Records. I was promoting concert events around town. I never dared discuss it with anyone or entertain the notion publicly, but in my mind I was perhaps already starting to make other plans. Five years is a long time to be in a band that couldn't get a record deal and couldn't find good venues to play. There were bands that would form and three months later they'd be on a major record label. It was tremendously daunting. What happened was Enigma signed us for something like $6,000.00 and they took all of our publishing. They committed a contractual blunder that enabled us to leave that label and move over to Capitol with the Green Thoughts album. Enigma was distributed by Capitol, they had a relationship and Capitol wanted us – so we were able to move smoothly and effortlessly from Enigma to Capitol. Enigma received an override and they got to put the logo on the Green Thoughts album, but that was really a Capitol release.
"Capitol at that time was perceived as a major, but it was just a very big indie label, with EMI as a parent company. There were problems with that, even though 'Only a Memory' was a #1 single and Green Thoughts eventually went gold. 11 was a platinum album. I think Especially for You went platinum, eventually. There were problems. Enigma did very well the year that our album came out. They released an album by Poison. They had something to do with that, Motley Crue, Stryper. So Enigma was happening. What really went down was they sold 51% of the company to EMI and then sort of let the label go. They expanded too quickly, but those guys all ended up buying islands in Hawaii or the South Seas, so they did very well, indeed."
However, DiNizio and the guys were now in the big leagues, because even if Capitol Records was a very big indie label, the distinctive record-stack shaped home of the imprint in Hollywood had been the home of many of the band's largest influences.
"That was our dream come true," DiNizio muses, "that we were on the same label as our heroes the Beatles and certainly to a lesser extent the Beach Boys and Frank Sinatra and Stan Kent. Capitol was our favorite label. In fact, when our first vinyl release on Capitol Green Thoughts came out, we insisted on that old Beatles black rainbow label – the border with the kind of rainbow swirl. The same label we used to look at when we listened to Meet the Beatles. It was the same label on that album. They weren't using that label at the time Green Thoughts came out. We had to ask them as a favor to us to use the traditional Capitol Beatles label."
The change to Capitol wasn't the only seismic shift in the band's terrain at the time. After the Green Thoughts album, the band changed producers from alt-rock favorite Don Dixon (R.E.M., Marshall Crenshaw, Matthew Sweet) to the more commercially-vibed Ed Stasium (Talking Heads, Ramones, Living Colour). This led to their biggest album Smithereens 11 (a reference to the old Frank Sinatra movie Ocean's 11) and their first top 40 song on the Billboard pop charts, "A Girl Like You" – which was originally written for possible inclusion in the Cameron Crowe film … Say Anything. The next Smithereens album, Blow Up (also named after a film, this time Michelangelo Antonioni's 60s art-house hit Blowup with Vanessa Redgrave) returned the band to the top 40 with "Too Much Passion," a Motown pastiche that strangely became the band's highest peaking single, despite the fact that it is not nearly as well-remembered as several of the band's other songs.
It was all a bit of a blur to DiNizio, a never-ending merry-go-round of recording, touring and promotion. Yet he didn't really get the chance to enjoy the perks of rock stardom.
"It was surreal in the sense that we went from making no money at all to having a considerable amount of money in our collective pockets," DiNizio recalls, "selling out shows coast to coast when we had barely been able to draw 40 people to a show in New York. All of the sudden, everybody wanted to know you and people formed their own impressions of you based on the music, before they met you.
"But, for me, it was non-stop hard work, 24/7," he continues. "Whether it was being on the bus 15 months at a time for a tour and then the minute the tour ended, I would step off the bus, I'd go home and I'd immediately have to lock myself in a room and have to start writing the next album so that we'd stay on schedule. I can remember living in a constant state of panic, you know? I had non-stop responsibility, because we went from being unsuccessful to being highly successful. With that success came a great deal of responsibility. All of the sudden, the livelihood of everyone else in the band and everyone in the organization was contingent upon my abilities as the sole songwriter in the band to consistently come up with new material that was melodic and commercial enough to be played on the radio.
"The odds against success were tremendous – but we went from strength to strength to strength, without any failure whatsoever, for the better part of ten years. That was a very long time to be able to do that and maintain it. Thanks to all of that early success and the equity and the good will that was put out there during the touring, we're still able to go out. All the shows sell out. We still do well. We're very lucky."
Ironically, one of the band's biggest fans in that period would inadvertently cause a sea change in rock and roll that would make the Smithereens' melodic and commercially driven music seem obsolete.
In Washington state a young singer-songwriter and future cultural icon named Kurt Cobain was working on his breakthrough album, Nevermind. It seems that Cobain was a huge fan of the Smithereens. In fact, the band members of Nirvana were such big fans that they originally wanted to work with the Smithereens' original producer.
"I was told by Don Dixon that they were approached by Nirvana first to produce Nevermind, but he wasn't crazy about the band and he turned them down."
They didn't get Dixon, but Nirvana still listened to the Smithereens' music nearly constantly while recording the seminal album – one that eventually changed the direction of rock music like few others in history.
"I got that information from the horse's mouth, as it were, because we recorded a Christmas single with Butch Vig [producer of Nevermind] while Kurt was still alive," DiNizio confirms. "Butch told us that they would listen to Smithereens 11 and Green Thoughts and all of our records in the studio while they were making Nevermind, trying to be inspired in a sense, or perhaps borrow some production ideas and get in the mood to make the record.
"Then I ran into Nirvana's bass player [Krist Novoselic] years later and he told me that they had a tape from Enigma – someone had made a tape and on one side of the cassette was Especially for You and the other side was a band called Celtic Frost, who were a heavy band. They were listening to this heavy melodic band, The Smithereens, and then this heavy rock band called Celtic Frost and I guess they combined the elements of the two. So they went for the Smithereens' producer, they were listening to our records in the studio. All the kids today buy the Cobain notebooks and you can see right there in the top ten albums is Especially for You. I was told by people that were close to him that I was an influence on his writing."
Of course being an influence musically can be something of a double-edged sword – an experience that DiNizio has learned the hard way several times over the years. For example there is the slippery slope, when does tribute cross the line over into theft? As a songwriter who has often worn his influences on his sleeve, DiNizio has always been conscious of that dividing line. Therefore, no matter how flattering it is to be idolized by a cultural icon, DiNizio did notice one of Cobain's classic songs did sound a tiny bit familiar. And Nirvana wasn't the only respected band that has "borrowed" inspiration from DiNizio.
"The song 'About a Girl,' I think it's sort of a rewrite of 'Blood and Roses,' except the E is a major and not a minor," DiNizio says. "If you listen to it, you can hear it. That's happening all the time. The newly reformed Alice in Chains, they have a song called 'It's Your Decision' and it's a hit – and it is 'Blood and Roses.'" He sings them together, "'It's your decision…' 'Blood and roses…' Obviously the language is there for everyone to share, but it's a little too close for comfort. Also, a song by Oasis called 'Supersonic.' Give that one a listen. It's nice, it's flattering, but sometimes it crosses over into that gray area of plagiarism."
However, when Nirvana exploded, suddenly the Smithereens' shiny pop rock felt out of place during the new grunge era, which treasured punk rock rawness over assured slick melodies.
DiNizio laughs, "You don't have to tread lightly. It definitely hurt us. It nearly destroyed our career. Bands that we were instrumental in spawning – kids that grew up listening to our records and being influenced by us – all the sudden virtually eclipsed us overnight. Almost put us out of business. But, the fact of it is, and it's the hard truth, most of those bands, 99% of them are gone. Many of them are dead, including Cobain. We're still here."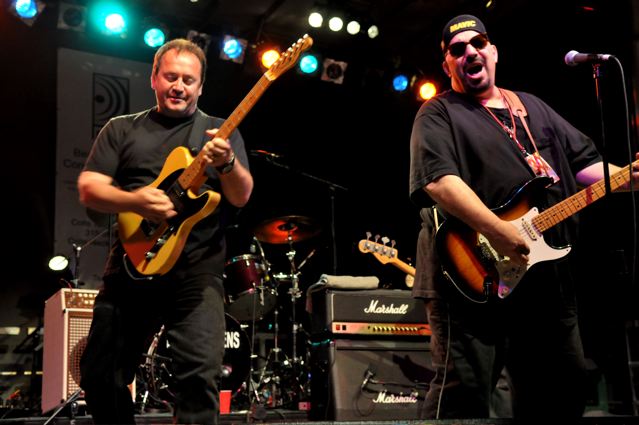 And the music is still there too. After the grunge explosion and the later nu-metal corps of the late 90s, it has finally become okay for a band to have a melody again. However, DiNizio is a bit disheartened by the current musical climate, which he feels is sadly rather tepid.
"I'm hearing songs that approach being melodic, but it sounds like they heard a Carole King record for the first time," DiNizio says. "They heard Tapestry, filtered through the lens of 40 years. They're that far removed from the source. Like, John Mayer is an okay guitar player. He does a lot of different things well, but I can't say that I'm a huge fan of his. I respect what anyone does if they put a certain amount of work into it. But he is like a Xerox of a Xerox of a snapshot of a Polaroid of a photo taken at a Cream concert in 1967, at the Fillmore East. That's how far removed he is from the original source. Whereas, Clapton was standing in the audience at the Marquee Club, watching Freddie King and Howlin' Wolf and Muddy Waters and everyone else that he admired. He was standing there watching these men play guitars ten feet away. You following what I mean?
"I was closer to the source. I was there on the Led Zeppelin III concert, on the Jethro Tull Aqualung concert, on the Black Sabbath Master of Reality concert. I saw Wings. Wings was a phenomenal band. So, I was a little closer to the source. Consequently it's less watered down. You're asking me about songwriting, about the quality of the songwriting, unfortunately my thought on it is most of these people writing so-called melodic songs wouldn't recognize a hook if it bit them."
Of course, as said before, the Smithereens had their share of influences as well. In fact early in their career, they toured as the backing band of legendary songwriter Otis Blackwell ("All Shook Up," "Great Balls of Fire" "Don't Be Cruel"). They also backed a reunion of popular 60s pop band The Beau Brummels ("Laugh Laugh," "Just a Little") – who had smartly originally chosen their name because they wanted to be the band right behind the Beatles on record racks. Over the years he has worked with many other rock luminaries.
"This stuff doesn't happen by accident," DiNizio says. "It happens because you admire an artist or a band and you ask to be involved with something, or fate puts you in the same room at the same time. This stuff is no accident. For us, it's tremendously thrilling, to have shared a stage with the Kinks and for us to have backed up our early musical heroes The Beau Brummels. For me to have been a soundman and mixed sound for Gene Clark of the Byrds and T-Bone Burnett and Elvis Costello and Joan Baez. [Working with] Otis Blackwell, Ramblin' Jack Elliott. All those great folk artists when I used to work at Folk City on Third Street in New York. All the rock bands that would come in. I mixed sound for Rick Danko and Richard Manuel from The Band. Those guys could outplay anybody. Dave van Ronk, the mayor of Greenwich Village. Like I said, I was closer to the source."
One influence that he did not get to work with was jazz singer Astrud Gilberto ("The Girl From Ipanema," "How Insensitive"), despite the fact that he had written the song "In a Lonely Place" with her in mind.
"When I approached her about it, it was at a venue called SOB – Sounds of Brazil. I went to see her specifically, not only because I loved her singing, the records she'd made, but I knew she was perfect for this. And, you know, some strange kid walked up to her and asked her to sing on an album. She said, 'Call my manager.' She could have been sincere about wanting to do it – of course for a price, probably. For a fee. I just got the feeling I was barking up the wrong tree and it might have also been a case of 'worship your heroes from afar, as nearness tarnishes them.'"
Therefore he decided to record the song with Suzanne Vega, who at the time was flying high from her own well-respected debut album – and was preparing Solitude Standing, the album that would make her a household name with the hits "Luka" and "Tom's Diner."
"I knew Suzanne," DiNizio says. "We'd worked together at an office. How extraordinary is that? That both of us got record deals and became successful."
DiNizio has since worked with many other singers – Belinda Carlisle and Marti Jones are just a couple he has recorded with – and anytime he gets to play with fellow musicians it is fun.
"Anytime you're able to do something with one of your musical heroes and it's a pleasant experience – it's the sort of thing that gets you through your life. It's a very wonderful memory. Somewhere on YouTube, there is a video circulating of a Buddy Holly party that [Paul] McCartney threw at the Lone Star Road House in New York in 1990 – September 4, I believe it was – and I'm on stage with him, playing bass. Come on, it's like you've died and gone to heaven."
While the Smithereens have continued on as a touring force (and occasionally recording) over the years, DiNizio has branched out in lots of different directions. In fact, he was one of the rock stars hired by satellite radio early on to create on-air programming – a career path which DiNizio looks back at with mixed feelings.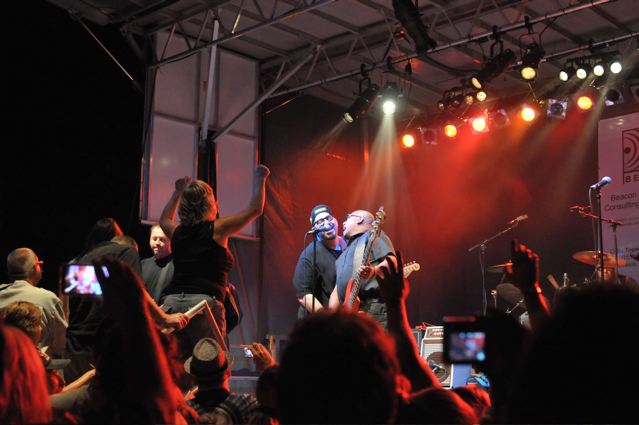 "It was a lot of fun when I was on the air and when I got to pick and choose what I wanted to play and to tell stories on the radio," DiNizio says. "But it was no fun whatsoever spending a year in the broadcast booth, not really broadcasting but pretending. We had to rehearse for a year. It was the most boring drudgery I've ever encountered. I didn't like the people I worked for. They were corporate people who had virtually no appreciation for music whatsoever, who hired formerly-employed radio people who were unemployable and had them build content and radio stations that were superb – and then got rid of everybody and brought in people to work for a fraction of what they were paying the original people.
"I'm being blunt with you about this, you can't take a wild animal and put it in a cage and expect it to live for long. By that analogy I'm referring to myself being someone who is most comfortable on stage, on tour. So I did it and it was cool to do. It was a really unique, neat opportunity. If I ever played you air checks of recordings of what we did, I think it was one of – if not the – best station of its kind ever done. It was totally free form. It was remarkable. It was the only station of its kind ever to play the greatest hits from the greatest bands you never heard of. So, it was cool.
"But did I like working in that environment? You've got to remember, the last straight job that I had was in 1980, working at an advertising agency – in a different world, on a different planet, far, far away, in a different galaxy. Back in the pre-politically correct days. We can disagree on certain things, but all I can tell you is that when I worked at that ad agency on Times Square in 1980, everyone smoked in the office, we went drinking together after work, people dated each other, nobody sued each other. You had discussions about religion and politics at the water cooler. You had respectful arguments. You actually lived and talked and interacted with other human beings in a way that was challenging and interesting and human.
"Now, the corporate environment turned into something that was sterile and uncreative and daunting and was an atmosphere of fear – that you'd say the wrong thing to the wrong person at the wrong time. I remember a gentleman there who ran the 80s channel who had been a cancer survivor. When we did one of our boot camps, which was to rally the troops, we had to give a presentation. He was a recovering drug addict, alcoholic, formerly, who was grateful to work. He brought in some people to work for him as his music director and one of his DJs, who also had been in the same boat as he – these two women. Affectionately, he goes, 'I wouldn't have been able to make as great a station as I've created without the help of my two girls.' [He asked] Kim and Sue, or whatever their names were to stand up and take a bow. The next day, he was being sued because he referred to them as girls. Do I really want to live in a world like that? Where you can't say anything at all without fear of retribution or lawsuits or your reputation being destroyed or rendering yourself unemployable? My cousin Leonard came up from Florida. He's twelve or thirteen years older than me – more like a kid brother to my mother than her nephew. We agreed that we lived – or were brought up – in the best of times. If I died tomorrow, I would have lived a great life. Do you understand? I certainly don't want to live in what I've seen now."
DiNizio became so disillusioned by things that he decided to get into politics, making a run for the New Jersey Senate seat as an independent as part of the Reform Party in 2000. The run was actually made into a documentary film called Mr. Smithereen Goes to Washington. Unfortunately, his experience in politics not only didn't help his disillusionment, it fostered those dark thoughts somewhat.
"You know what? A guy like me will never make it in politics, because I won't play their game," DiNizio concludes. "I'm incapable of doing it. I think that once you are elected you are co-oped, you are bought, you are blackmailed. Whatever it is that they need to do. The people that control everything, they will do it to you so that you toe the line and you deliver the message that they want. After running for Senate against former Goldman Sachs president and multi-billionaire Jon Corzine and really going through the mill – being followed, having my phone tapped, having death threats, stuff that went on behind the scenes – and realizing that the people didn't want a third party candidate who spoke the truth and who really represented working people. They had more respect for the rich guy. It was like I'm going to buy unseen the Sony Records project as opposed to the SST record label, which was done in somebody's garage in Arizona. It was a very painful experience. It was shattering for me. Financially, because I funded the entire thing myself. It was very difficult to see that the people were not awake. They are awake now. I have so many people come up to me and say, 'I voted for you. I loved your stand.' Basically my stance politically is not popular – in the music industry or in show business. But fortunately for me, I will probably still be standing when those industries have completely imploded and have gone away, which seems to be happening."
He has found a new and greatly preferable way to get to the people. While the Smithereens have had active touring schedules for years, DiNizio has also taken on a revolutionary new way to perform rock shows. For years in folk music there has been a concept known as living room shows: in which essentially common families get together friends to bring their favorite performers to play in their own homes. However, no musician with a rock and roll background had done them until DiNizio took up the idea in recent years, setting up a tour of living room shows around the country every year. As much as he enjoys normal touring, these shows are a return to his roots and a way to interact with his fans and DiNizio treasures the experiences.
"I love doing these shows," DiNizio says. "Last year I went out on December 1st of 2008 and came back at the end of May. I drove an average of two to three hundred miles a day, visiting supporters and friends and fans of the Smithereens in their homes, living rooms and back yards all across the United States. You really have to have a genuine love for what you are doing and an affection for people to be able to do this.
"There are a lot of funny things that happen. I remember en route to Clear Lake, Wisconsin, the gentleman who was sponsoring the concert said to me, 'Pat, we've got too many people now attending, so we're not going to be able to hold the event at the bed and breakfast. Is it okay with you if we move the living room show to another venue?' I said, well it's your show. As long as it's appropriate and I can help you organize it, that'll be fine. He says, 'Okay, we'll move it to the funeral home.'" DiNizio laughs, "I said, what? Are you a mortician? He goes, 'Oh, I do it all.' When I got there, I pulled up to the funeral home [and] they had my name in the display window." He laughs again. "I thought I was being waked that night. It was very funny. When I stayed at the bed and breakfast it was even more of a revelation, because – you can probably Google this or find it online – from Clear Lake, Wisconsin, it's a house that this gentleman and his wife built that is a complete replica of the Andy Taylor home from The Andy Griffith Show – even down to a replica of the jail in the basement. They said, 'You're going to love it here, we're putting you into the Opie room.' It was a complete replica of Opie's room from the show. They said, 'Oh, yeah, people come here just to stay in the house. They come from all over the world and when they see the place, they cry, because they love the show.'
"These are the kind of experiences. I did one up in Maine, it was the first show of the tour and it had been booked a year in advance. I arrived and the wife of the person who had hired me to do the show said, 'Welcome to our town. Joe would have really like to have been here for the show.' I said what do you mean? She said, 'Well, he passed away last month. But we felt that he would have wanted us to have the show.' Most people didn't even know why they were showing up for this thing. I think that this show actually provided closure for her. She couldn't accept the fact that he had passed away. Basically, I said on stage that we're here to honor the memory and life of Joe, who was tremendous fan of my music and thought enough of me to book me and bring me up here to Maine. Let's give a moment of silence and honor [him]. I think having the show actually brought closure. She realized that he was gone. Interesting, right?"
The touring has been robust, but DiNizio and his band – after several years of no recording – have also returned to the studio. In recent years they have made three tribute albums, two of Beatles music (Meet the Smithereens, B-Sides the Beatles) and one of the Who (The Smithereens Play Tommy.) DiNizio himself has also done a couple of solo albums worth of covers, This is Pat DiNizio and Pat DiNizio/Buddy Holly. He enjoys doing the covers albums, but in the long run they are just a means to an end.
"It's not particularly intriguing for me, but in terms of doing tribute albums – I think that our albums are better than the rest of them combined, because they are done with real love and affection and real respect. When you do Meet the Beatles from beginning to end, you play the notes as written, the way a classical orchestra would play Beethoven or Mozart or Brahms. But, you inject your own personality into it. So it's the Smithereens' guitar tones. It's my voice and my style of singing. It's not Beatlemania.
"In the end, do they interest me? On a certain level, yes, but mainly they were designed as a way to reintroduce the band to the listening audience. I'm going to tell you something. If you look at whatever's left of the charts, the parade of tribute albums never ends. It keeps going. And the parade of cover records never ends. It was unheard of back in the day that we first started making albums that you'd put out entire albums of covers of other people's songs. Now, the kids who are buying records, they don't know where these songs came from, because they're really removed from the source. They don't know the songs are 40 years old that are newly recorded.
"But, anyway, the long-winded version of the story is the tribute albums were designed as a fun and interesting way to document certain things that are very important – certain records that were very important to the world when they were originally released, all those years ago. Meet the Beatles was significant. I bought it when it came out, when I was a child, and I noticed the profound impact that album had on America. Within weeks of its release, if not days, there was a garage band on every corner or every street of every small town in America. I was there. I saw it."
In the last couple of decades, DiNizio has split his recording between band albums and solo ones – other than the two covers albums he has recorded two records of original compositions. He tends to save his more experimental impulses for the solo disks, things that wouldn't fit comfortably in the dynamic of the band.
"I'm a record collector and I'm a student of pop music history," DiNizio explains. "For example, in the case of the album I did for the Fuel label, which was distributed by Universal – it's called This is Pat DiNizio, I was listening to the Tony Bennett/Bill Evans album. That was on I think the Fantasy record label. Tony had just lost his deal and he had been with Columbia Records for 25 years and he just decided to go back to his roots. This was released around '74 or '73, I think. It's called The Tony Bennett/Bill Evans Album. It was just Bill Evans playing piano and Tony singing. I really loved the record. I loved the idea of it. I loved the challenge of it, because it's just the naked solo human voice with one instrument. And there were records with Ella Fitzgerald singing with Joe Pass, the guitar player – things like that, which I thought were good, but not as good as that Tony Bennett album. I wanted to do something similar, which was to do standards of my generation, songs that had become standards like 'Homeward Bound,' 'Wichita Lineman,' 'For No One' by the Beatles, from Revolver. That's what I did.
"Usually you come up with a concept. My recently-released Buddy Holly tribute album was done with Charlie Calello, who was one of the Four Seasons and did all the strings and orchestral arrangements for songs like 'The Mouse,' by Soupy Sales and 'Lover's Concerto' by the Toys and Neil Diamond's 'Sweet Caroline.' He worked with Springsteen, I think on 'Jungleland.' Look up Charles Calello and you'll see what he's done. He did the string arrangements on my Buddy Holly tribute album. I wanted to honor the memory of the musical artist from whom I got the most inspiration from – and in fact, provided the necessary encouragement to want to be a songwriter. I felt that on the fiftieth anniversary of his passing that someone should say something, but I didn't want to do a typical knock-off Buddy Holly album, so I took a more baroque string-driven direction. On virtually every track there is a string quartet. So, it honors his memory, but I make the songs my own."
It is all just an extension of DiNizio's love of the music and desire to produce the best work he can.
"I always try to find something interesting to try to make a statement in a market that is absolutely glutted or overpopulated by people who are releasing records – some of which are great and others which have no business every getting out of the gate," DiNizio says. "Just because Pro Tools enables you to make a record for the cost of two corned beef sandwiches, doesn't mean that you should put it out. You've got things like auto tuning, which can turn someone who absolutely cannot sing into a pitch perfect vocalist. It's absolutely ludicrous. Everything has been dumbed down to the point of insanity. In my day, American Idol was called Star Search – and if you won Star Search, your career was dead. It was dead in the water. People would laugh at you, because they knew what was good and what was bad. People of my generation and people of my father's generation were not nearly as easily fooled as apparently people today are. I don't know why."
Now, after getting his feet wet again with the tribute albums, DiNizio realizes that he is a songwriter and it is time for him to get back to doing his own music.
"We're working on a new Smithereens album right now," DiNizio announces. "We'll be recording it in Kernersville, North Carolina with Don Dixon and Mitch Easter – from October 4th through the 9th and then Don will be coming up to my house in Jersey in November. We'll be doing the vocals and guitars. Then he'll take it home to Canton, Ohio and we'll have a new Smithereens album by December 1st, which will come out in the Spring."
The world has been waiting.
He laughs heartily. "You can't wait? How about me?"

Email us Let us know what you think.