PopEntertainment.com > In Memoriam > Feature Interviews - Music > Feature Interviews A to E > Bo
Diddley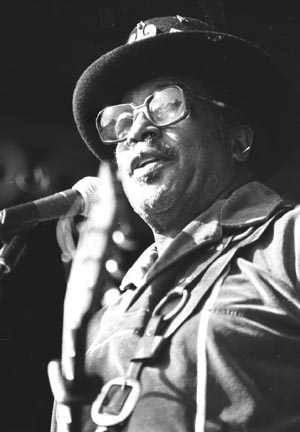 Bo Diddley
You Don't Know Bo
by Zoran Misetic
Copyright © 2004 PopEntertainment.com. All rights reserved. Posted: September 25, 2004.
Bo Diddley was the only child of Ethel Wilson and Eugene Bates, born as Ellas Bates on a cold December of 1928. He had three half brothers and one half sister. He was adopted by his mother's cousin, Miss Gussie McDaniel. During mid 1930's the whole family moved to south Chicago, where young Bo began to study violin under Prof. O.W. Frederick at Ebenezer Missionary Baptist Church. For twelve years he studied violin and even composed two concerts for the instrument.
His half-sister Lucille bought him his first guitar for Christmas in 1940. From that moment on, he became Bo Diddley, a nickname from friends while attending Foster Vocational High School at Chicago.
The newly named Bo D., who was blessed with musical rhythm, was living and being between church walls. At the same time, he was transforming all he has learned into his own musical vision. "I play guitar like I play a drum…", he says, trying to explain his legendary "Bo Diddley Beat."
Soon enough, he had his first group, The Hipsters. Here Bo clearly navigates his road for the future. He earned the title "The Originator" and became known as of one of the most important figures in rock 'n' roll music. At that time, not only did Bo begin evolving into a phenomenal musician, but the group began to take on a far more professional and serious tone. Jerome Green joined the group in 1950, and even today Bo says that he was one of the best musicians that Bo Diddley shared a stage and studio with. A year later another member, Billy Boy Arnold, joined the group, with his harmonica, which would fully establish the sound of The Hipsters.
After more than ten years of playing on the streets and clubs of Chicago, Bo Diddley finally got a chance to record two tracks "Uncle John" and "I'm a Man." In 1955, the two tracks end up in the hands of Chess Records, who suggested that Bo change the title of "Uncle John" to something more personal. Bo went back to the studio to re-record the two tracks, which came out as a double A-side single "Bo Diddley" b/w "I'm A Man."
Decades went by and his songs were recorded by The Rolling Stones, The Animals, Manfred Mann, The Kinks, The Yardbirds and many others. Bo Diddley jammed on records with both Chuck Berry and Muddy Waters. His classic version of the song "Who Do You Love" became an inspiration to many artists, including The Doors, Bob Seger, ZZ Top, and even Elvis, who spoke of Bo Diddley as one of his key influences.
He had the honor of playing for the President John F. Kennedy, Jr. He was a sheriff in the small city of Los Lunas, New Mexico. Bo tried acting. In 1976 he toured with The Clash on their famous U.S. Tour. Paul McCartney's version of Bo's "Crackin' Up" was on his Live In The Soviet Union album. In the 80's Bo was admitted to the Rock N' Roll Hall of Fame and also participated in the Live Aid concert.
After a long hiatus, Bo came out with the excellent 1996 album A Man Amongst Men which featured Richie Sambora, Jimmy Vaughan, Ronnie Wood, Keith Richards, Billy Boy Arnold, Johnny Guitar Watson, and the Shirelles.
This one-hour interview took place after a show in Buffalo, New York. I was interested in what Bo Diddley, now in his late 70's, looked and sounded like. A little before Bo Diddley and his band finished up their part of the show, we were led to Bo Diddley's mini bus. Fifteen minutes later, I was sitting with Bo Diddley.
Who exactly is Bo Diddley?
Bo Diddley is my stage name. My real name is Ellas Bates.
In the books it says that you were born in 1928 in Mississippi…
Yes. I was, but when I was seven or eight we moved to South Chicago.
Did the seven-eight years of experience in Mississippi influence you to become a musician? Maybe the influence of that Delta Blues Sound?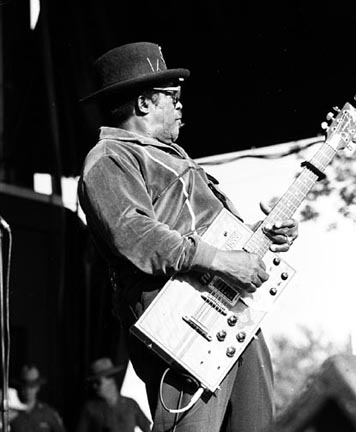 Nooooooo, I didn't bring any musical influence from Mississippi. Many journalists confuse that with my music. I grew up on classical music when we moved to Chicago. I started to study violin under Prof. O.W. Frederick and from 1940s to 1950s guitar wasn't in my musical plans.
What was it like being a black musician in white America in the 40s and 50s?
Hard. That's the time we called the Time of Ignorance. Everything... even music... was viewed and appreciated through color of skin. That's the lowest and dumbest thing that can happen to a man. But it could happen to anyone. Just like today's world is messed up, and just like today no one has any idea what is happening and what will happen, that's how it was in 1950's. Even then, I still had no idea what was happening. I didn't understand anything about all those parts. I never asked myself WHY? As a young man, I always thought that's the way it has to be. We knew that the older people talked about it, but the kids didn't know what's going on. We remembered parts, but we never knew to put it into the real context of racism. Even today, unfortunately people have the wrong idea by which someone's child can't play with other kids just because of their nationality or color of skin… But finally when I realized what was going on, that experience brought me a lot of pain. Man finally has to understand that we all live on this planet… living one relatively short period of time. And in that time living in hatred is nothing but complete madness.
At what time did you get the support of white musicians like Buddy Holly, and did that help for you to be seen in the media, to be better paid?
No. None of that helped. I don't want to go into this because sometimes speaking about that can become wrongly interpreted and I really do not want to comment.
At this time Little Richard would go on to say that Elvis…
I am not Little Richard and I do not want to comment on his statements but surely everything he said about Elvis is true. I loved Elvis and all he was doing, but he didn't go through anything black Rock N' Roll Musicians went through. The fact is that Elvis didn't start this whole thing. We were the ones who opened the door to Rock N' Roll music. Elvis was fantastic but he always came three years before me. Three years in musical term is a fairly long period of time and speaking of money I surely didn't make it selling my records. Lots of others got rich on my account, and by some logic I should now have six million dollars in my bank. I should but I don't. That's why I'm still working today. So no support of white musicians helped me to get better paid.
In the 1950's you met Chuck Berry. Was that set up through management or was it something that simply happened?
Since the first moment when I came to Chess Records I met and befriended Chuck Berry. I see a guy playing guitar and is about to record material almost the same way that I wanted to do. That was enough for the two of us to become friends.
In 1956 and 1957 you became a recognized name in the US top charts…
At that time I stayed on the charts for six months. Longer than Elvis Presley. And that I was a black musician was never publicly announced. But, I never hated anyone over that. Then I decided to ignore all that because it was all stupid. Then I started to meet people that started saying that it shouldn't be like that. Then the same people began telling me how it should be and I was really confused. Finally when you try to ignore things, and then you open your eyes and you realize what's going on. Its like passing by the same person every day. Not realizing they are holding a snake. You pass by the person and don't notice them. Then one day you notice they have a snake in their hand and you yell, "Hey, this person has a snake in their hand. This person is dangerous" This type of situation is always around us. Its just necessary to pay attention.
Speaking of a message, one of the songs you performed today was "Kids Just Don't Do It", from your last album. Through this song you send a positive and direct message to the younger crowd, that drugs and crime aren't solutions to their problems.
Of course, it's all very simple. Drugs are a big evil in the African American community. Criminal is no less an evil. Drugs lead to criminal. Its not pointless when I say listen to your parents! They have life experience and they wish you good. It's sad that today's DJ's do not play songs with positive messages, which is the case with my song.
What is your opinion about today's radio conglomerate in the USA?
Horrible… Pathetic… Radio stations in most cases are ignorant of the roots of Rock N' Roll. Towards people like me, who have made it possible for kids these days to have their own rock n' roll outlet. Today I wouldn't be able to come on the stage and play something like kids following hip hop and rap culture. I can't because that's not me. At the same time I can understand those kids, because this is their time. Their way of musical expression is OK. That doesn't mean I agree with their generation, much like the generation before me didn't agree with my song, "I'm A Man." They simply didn't understand much like I don't understand today's rap music. There are too many dirty things and mainly because of quickly getting money, and marketing stuffed into rap music. Why should a six-year-old girl be exposed to dirty stuff? That's something that's played 24 hours a day on these radio stations that should be promoting a bright future for African American community. It's really sad. The little girl is like a tape recorder. She simply hears all the negative messages and memorizes them… then that comes to a conflict. You as parents try to educate your child, ensure a solid future, explain what's good and what's bad, while from the other side the media bombs the child with all the negative messages. You don't want to feel like a dictator. These are all important things that we all need to talk about and pay attention on what's going on.
Can Bo Diddley change such a situation?
An individual, and that also means me, can't do a thing. However, an organized group of people can make a change. It's the same as if one man stands in front of a store. Until one day that man throws a brick into the window of the same store. And then people from the store look out to see what's happening. Of course, if there was a big group of people in front of the building, there would be no reason to throw the brick through the window because there would already be a crowd of people. Then, there wouldn't be a fear of getting called dangerous and violent. All that is necessary to yell, to be loud, and in that way get attention. That's when things begin to change.
I've noticed that you have no room in you for hate and violence. Are you a religious person?
I'm religious as much as I need to be able to recognize good from evil. If you're asking me if I go to church, then I would have to say that I'm not in church that often. One of my brothers is a preacher in a little church In Mississippi. I chose my path to be Rock N' Roll music. That was my decision because, it seems to me, that I have done a lot of useful things for this country and more.
Let's talk about your European Experience…
Oh, I love Europe. My first visit was in '62 from the beginning I was received very well. That was true with other black musicians beside myself like Miles Davis, Charlie Parker, etc… Because of that I see this European hunger for things tied to jazz, Rock n' Roll… The whole American pop culture. For example, at that time had just an one-hour show, which aired late at night, that played only rock music. So BBC only gave them one hour, but the public was simply hungry for not only rock music but everything that was coming out of USA. I remember a really funny thing that happened while I stayed in London at the time. We went to this restaurant to eat and I tried ordering a hamburger but the waitress had no idea what I was talking about, what I was ordering. Then I told her to give me some ground beef from the grill and two pieces of bread and some mustard, at which point she started arguing with me that they had no such food on their menu and that she couldn't do that. Of course, everyone with me couldn't wait for me to make that famous hamburger.
That means you're responsible for introducing the hamburger to Europe?
Ha, Ha, Ha,… I guess it sounds that way. But speaking of Europe, something that was especially interesting is that I didn't notice even a bit of racism. Maybe more nationalism but not racism.
From your perspective now, does either USA or Europe look different?
Something that we have today is, so called, dependents of authority. I like to call them authority junkies. If the domination of this type of junkies continues, then chances are that the entire humankind will be responsible for the disappearance of the planet we're living on. Still the strongest destructive force is yet uncovered, but unfortunately, humankind is on the way to discover it. Along that, when you add the element of violence, one doesn't have to be too smart to see what kind of future is waiting for us. Technology went too far ahead of our time, and I'm afraid that the same technology will destroy us. Just look at mobile phones! A harmless tool of communication, which in hands of an evil man can very easily become a dangerous weapon. This person can activate a bomb from a completely different continent by just one call.
Speaking of these things, how does Bo Diddley see America after September 11, 2001?
Hate. Hate and Fear. Even today we're scared to death. It's all very depressing. I'm just interested if the authority junkies are wondering why [there is] all this hate towards us? Somebody did something bad sometime, and that someone decided to take their revenge on us. We have to find the person responsible for this or that reason all this is happening. Ignoring problems is a dangerous issue in our society. Just look at how much food we throw away. In my religion, in the bible you can read about David and Goliath. David toppled Goliath just using a sling shot. Today we are Goliath and some small insignificant person is hiding and we can't find him. How is that possible? With all our technology we are unable to find this small guy! This simply has to end. This has to stop terrorism for the future of human race. We felt terrorism in our land. Tomorrow it can happen in some other land, to some other race. The whole world is confused and they're starting to put up a new Berlin Wall. To prevent that from happening we have to be able to understand one another. We have to learn how to speak to one another. Because we can't solve problems with bullets and bombs. It's the worst thing when man loses his dignity. Why do we still have homeless and lost people in such a rich land like USA? We have them because some are lazy and don't want to work. We see them and give them a few dollars and have a feeling we just helped someone. In fact it's the opposite. If a person is healthy then they can work… clean windows, picking up trash. So they can earn money for life. Man needs to have dignity.
Why can't we hear and see you more on American media?
I will soon be working on a project called Bo Diddley Speaks. It will be in a form of a DVD and I will simply be speaking about the events that are happening in the world today. It will be interesting to do that.
Who helped develop your morals?
My mother. And you know how she did that? She never used the words "time out," like some parents do to their kids today. My mother would say, "Time out until I get a twig so I can smack your butt." Ha ha ha… That's when I had my first lessons in morality. When your mother dies you've lost your best teacher and best friend.
What is your message for young boys and girls who are practicing their guitars in some basement or garage and thinking about being stars some day?
To practice, but be original. To not copy. To come up with something different. To be themselves.
After the interview with Bo Diddley I remembered a text, long time ago, written in one of music magazines. The text explained possible period of global nuclear war;
"…and then, quite possibly, from the rubble, a man with one tooth in his face would come out, plug his guitar into the amp and sing, 'It's Only Rock N' Roll But I Like It.'"
There is nothing else to say but to hope that, the same one toothed guy with the guitar in his hand will be someone with the same personality, soul, and morality as Bo Diddley.
Email us Let us know what you think.
Features Return to the features page
Photo Credits:
#1 © 2004.
#2 © 2004.
#3 © 2004.
Copyright © 2004 PopEntertainment.com. All rights reserved. Posted: September 25, 2004.