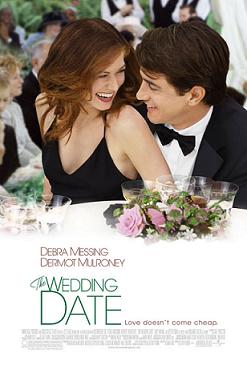 THE WEDDING DATE (2005)
Starring

Debra Messing, Dermot Mulroney, Amy Adams, Jack Davenport, Sarah Parish, Jeremy Sheffield, Peter Egan, Holland Taylor, Jolyon James, C. Gerod Harris, Martin Barrett, Jay Simon, Danielle Lewis, Ivana Horvat, Linda Dobell and Helen Lindsay.

Screenplay by Dana Fox.

Directed by Clare Kilner.

Distributed by Gold Circle Films. 90 minutes. Rated PG-13.
The Wedding Date
No one will ever admit to it, but most of the time, weddings are pretty miserable places to be. There is too much drinking, too much eating, the chicken dance, talking to people you don't want to know, envy, fawning over the bride and the electric slide. No one really enjoys them except for the participants, and even they often don't feel they live up to the hype.
Nonetheless, anytime Hollywood wants to create a "date movie" (a.k.a. a movie that women drag their boyfriends to), it never hurts to have the word "wedding" or "marriage" in the title. It's a cottage industry now, just say the term and the women are in line.
There have been a lot of them through the multiplexes in recent years – good ones (Four Weddings and a Funeral, My Best Friend's Wedding, The Wedding Banquet), okay ones (The Wedding Singer, Muriel's Wedding) and bad ones (My Big Fat Greek Wedding, American Wedding, The Wedding Planner, the remake of The In-Laws and way too many others.)
Sadly, The Wedding Date is not one of the better ones. It's not unbearable, mind you, just very predictable and kind of dull (just like a real wedding!).
The Wedding Date is meant as star Debra Messing's (from TV's Will & Grace) movie coming out party – her first starring role in a romantic comedy, though she had supporting roles in Along Came Polly (with her in yet another wedding scene!), The Mothman Prophecies and Hollywood Ending. While Messing is charming and likable in the role, she hasn't learned what so many other sitcom stars who have made the leap also haven't discovered – if people can see you for free on TV you have to bring something new to the table for them to shell out money to see you on the big screen. Although her character's name is Kat, and she works for Virgin Atlantic Airways rather than doing interior design and she doesn't live with a gay man, Messing is once again essentially playing Grace.
The storyline is just a bit odd too, almost an inversion of Pretty Woman. Kat is a beautiful, neurotic, lonely career woman who is invited to her younger half-sister's wedding in London. Adding to the humiliation that she is older and still unattached is the fact that her former fiancé is the best man. Her insensitive mother adds to the pressure by nagging her about being single and miserable. (Mom is Holland Taylor, who is usually funny but ALWAYS plays this same role... couldn't she play a nice, thoughtful mother just once?)
Kat decides, as most people do when invited to a wedding they don't want to go to, to show them all by bringing the greatest date possible. However, she steps away from protocol by deciding to hire a male escort to play her lover. Kat is way too smart, way too beautiful, way too efficient to have to pay a gigolo sight-unseen to go to a wedding with her. She would do what any other single New York career woman would do in the situation – invite a gay friend to pose as her boyfriend.
However, we are supposed to believe that Nick (Dermot Mulroney) is an abnormally smart and sensitive paid escort; after all he wrote a story on his experiences for The New Yorker. He has chiseled, handsome looks, is charming, has a great butt, can get along with pretty much anyone, and says romantic (but ridiculous) things like, "I think I would miss you even if I never had met you."
This is Mulroney's second wedding movie (he was the male lead in the much superior My Best Friend's Wedding) and while he has an easy, polished charm, you get the feeling that he is phoning it in. However, of course, Kat's family and friends immediately fall in love with him. The former fiancé appears to be suitably devastated that Kat is with Nick. It is all going as planned.
And then she goes and falls in love with Nick. That is no real surprise. What is a bit of surprise is that this polished sex worker, a man who has made a career out of charming women without feeling anything for them, falls in love with his pretty, sweet, overanxious, needy client.
There are some needless complications towards the end which cause Kat and Nick to break up. He takes offense when she isn't sure whether she is supposed to pay him for sex (a reasonable confusion considering how they met). She gets angry when he finds out a secret about the bride and her ex and he doesn't tell her.
If you have any doubt about how it will all work out, then you have never seen a romantic comedy. Love conquers all, the bad guy gets his comeuppance and even the horny bridesmaid gets lucky. Just like a real wedding. (2/05)
Alex Diamond
Copyright ©2005 PopEntertainment.com. All rights reserved. Posted: February 1, 2005.
Copyright ©2005 PopEntertainment.com. All rights reserved. Posted: February 1, 2005.