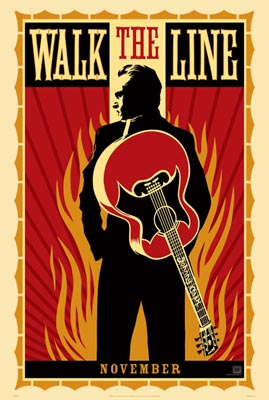 WALK THE LINE (2005)
Starring

Joaquin Phoenix, Reese Witherspoon

, Ginnifer Goodwin, Robert Patrick, Dallas Roberts, Dan John Miller, Larry Bagby, Shelby Lynne, Tyler Hilton, Waylon Malloy Payne, Shooter Jennings, Sandra Ellis Lafferty, Dan Beene, Clay Steakley, Johnathan Rice, Johnny Holiday, James Keach and John Carter Cash

.

Screenplay by James Mangold and Gill Dennis.

Directed by James Mangold.

Distributed by FOX2000 Pictures. 136 minutes. Rated PG-13.
Walk the Line
"When I was just a baby, my mama told me, 'Son, always be a good boy; don't ever play with guns.' But I shot a man in Reno, just to watch him die..."
With that one line, a lonely member of the Air Force from the deep south wrote his way into legendary storyteller status. Johnny Cash was always larger than life and while he wrote hundreds of evocative lyrics afterwards, those lines from the second stanza of his first song, "Folsom Prison Blues," pretty much cemented his image and legend.
This new bio-pic, much like Ray last year, brings to life a brilliant American musical icon, a man who had as much talent as he had demons. Walk the Line has the added benefit of including one of the great loves in musical history, Johnny Cash (Joaquin Phoenix) and June Carter Cash (Reese Witherspoon) had one of the most heartfelt marriages in recent times gone by. In fact, it may have been too iconic; legend has it the first time Johnny Cash met June Carter, he walked right up to her and said "My name is John Cash and someday I will marry you," despite the fact that both of them had spouses and children at the time. It is interesting that this well-known romantic moment (or, granted, perhaps it is just a myth) was not included in the film, apparently writer/director James Mangold thought the story would seem too Hollywood and unrealistic to people who were new to the story, and he was probably right.
Walk the Line captures Cash in all his contradictions; his talent, his rage, his weaknesses, his faith, his faithfulness and his womanizing. His life, in many ways, was determined when he was just a small child. To a great extent, everything that he accomplished was an attempt to prove himself as worthy to his disapproving father (played with an acid tongue and hair-trigger temper by Robert Patrick of Terminator 2). He joined the military to impress the man. He started his band to prove himself.
Not that Cash found his musical voice all at once. In one extraordinary scene, we see the Man in Black inventing himself. Cash has finally finagled an audition with legendary producer Sam Phillips of Sun Records (who in addition to Cash discovered Elvis Presley, Roy Orbison, Jerry Lee Lewis, Carl Perkins, Charlie Rich and others.) Cash and his band play uninspired versions of current gospel hits, which underwhelm the producer. Phillips gives them one more chance, telling Cash to sing of his own life and experiences, as if it was the last song he'd ever play. Cash decides to do a song he wrote in the military called, "Folsom Prison Blues," a song which his band has never heard and does not know. At first Cash is shy and uncomfortable with the song, but as the song progresses his entire attitude changes, he grabs ahold of the song and sings it as if his salvation depends upon each word.
Joaquin Phoenix is truly extraordinary in this scene (in the whole film, in fact), capturing the illusive magic of Cash's persona. His performance is even more impressive because Phoenix sings every word in this film, unlike Jamie Foxx, who lip-synched to Ray Charles' music in his Oscar-winning performance in Ray. Granted, Cash is probably easier to imitate than Charles. He was not a technically perfect singer -- his vocals were gruff but his performance was not nearly as nuanced, Cash pulled off his songs through the sheer will of his personality.
The acting and musical performances and story are so strong that it even when the film slips into some of the standard Behind the Music territory -- the alcohol, the drugs, the womanizing, the redemption -- none of it feels clichéd. Walk the Line will be undoubtedly remembered at Oscar time, as it should be. (11/05)
Jay S. Jacobs
Copyright ©2005 PopEntertainment.com. All rights reserved. Posted: November 26, 2005.
Copyright ©2005 PopEntertainment.com. All rights reserved. Posted: November 26, 2005.