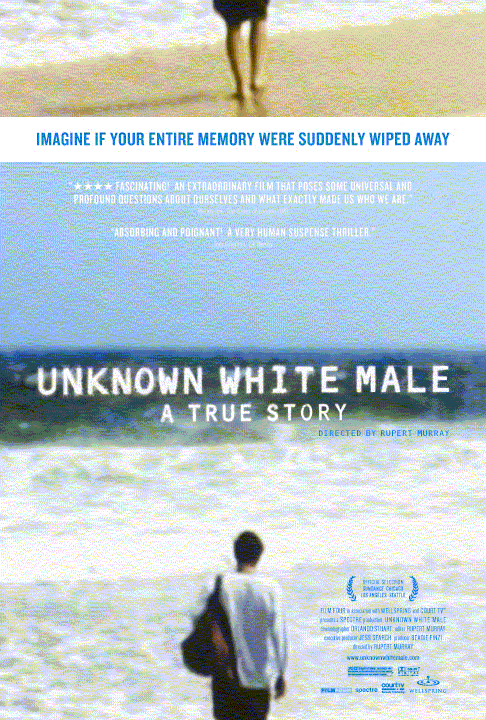 UNKNOWN WHITE MALE (2006)
Featuring Doug Bruce
,

Dr. Daniel Schacter, Lily Frost and Rupert Murray

.
Directed by Rupert Murray.
Distributed by Wellspring Films. 88 minutes. Rated PG-13.
Unknown White Male
Amnesia seems like such a fictional disease. You see it in the movies and you suspend disbelief, considering it a plot device, nothing more. It is rare that it actually makes its way into real life and becomes an immediate and scary problem.
However, as much as we may like to dismiss the ailment as something that happens to other people, it is rare that we take into account what it's really like to those victims. It's not all a dramatic Hollywood thing where people are bonked on the head or have seen a murder. Sometimes, people lose their memory for no apparent reason. Sometimes they don't get it back in a flash in the final act.
What is life like for them? How do you respond to suddenly having no history, knowing no one, having to start your life from scratch? How would you react? How would you be different? In the end, would you even want your old life back?
These intriguing questions form the backbone of this fascinating documentary. It sprang from a real case which hit close to home to London-based documentarian Rupert Murray. An old pub mate of his, a man by the name of Doug Bruce who had long ago moved to the United States, had become stricken with complete amnesia.
One day, Bruce was in his Greenwich Village loft, apparently ready to retire for the night. The next thing he knew, it was morning and he was on the subway at Coney Island, with no idea who he was or how he got there. The film recreates the experiences. How he went to the police for help, was hospitalized and they were unable to figure out who he was. How the written telephone number of a date's mother seemed to be a false lead but finally led to his identity, his name and address.
These sequences, with their quick cuts and fish-eyed lenses, do a good job of capturing the disconnect, the sense of complete confusion that Bruce must have felt.
In a smart filmmaking decision, the medical aspects of the condition are somewhat pushed to the side. Unknown White Male instead gazes at the emotional aspects of the change. It achieves the surprising sense of actually making the condition seem somewhat romantic. It shows how Doug has become a better, more feeling man, without all of his old baggage. It shows how everything is fresh and exciting to him -- even the most clichéd things are now fascinating and new.
I'm not going to lie, a little of this film is a tiny bit suspect. Bruce apparently started filming his reactions to things very early into the process, giving a fascinating video of the experience, however you have to wonder whether -- or even how -- a man in his position would even think to make a chronicle like this so that an old friend he didn't even remember could turn it into a documentary.
However, I don't want to be a cynic. This is a fascinating story, so I will take the filmmakers at their word that this was all just synchronicity and the nature of the man. After all, when he first "meets" his sister in Spain he is videotaping and she laughs and says some things don't change, he still has his camera. Maybe that part of him was just so hardwired into his psyche that he took to it naturally. There is no way of really knowing. All we can say for sure is that friends, family and doctors believed that he had legitimately changed. They would know better than we would. (2/06)
Jay S. Jacobs
Copyright ©2006 PopEntertainment.com. All rights reserved. Posted: February 3, 2006.


Copyright ©2006 PopEntertainment.com. All rights reserved. Posted: February 3, 2006.