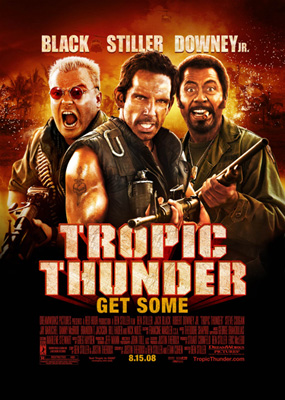 TROPIC THUNDER (2008)
Starring Ben Stiller, Jack Black, Robert Downey Jr., Nick Nolte, Steve Coogan, Jay Baruchel, Danny McBride, Brandon T. Jackson, Brandon Soo Hoo, Maria Menounos, Tyra Banks, Christine Taylor, Jon Voight, Jennifer Love Hewitt, Jason Bateman, Lance Bass, Alicia Silverstone, Matthew McConaughey and Tom Cruise.
Screenplay by Justin Theroux, Ben Stiller and Etan Cohen.
Directed by Ben Stiller.
Distributed by Dreamworks SKG. 107 minutes. Rated R.
Tropic Thunder
Tropic Thunder is supposed to be a satire on the self-absorbedness and pretentiousness of modern Hollywood actors, directors and producers. Therefore, it is rather shocking that this is the shallowest, most ridiculous, least funny, most overblown waste of talent and time in many years.
Funny thing is, I saw it with a bunch of film professionals and lots of them seemed to think it was hysterical.
Maybe movie folks really are as out of touch as Tropic Thunder thinks.
That doesn't make Tropic Thunder a good movie.

Tropic Thunder is not merely a bad movie, it is a misfire of nearly shocking proportions - one that deserves to be mentioned in the same breath as such immortal turkeys as Hudson Hawk, Wild Wild West and Gigli.

Why so many talented actors would feel the need to be a part of this mess is a mystery which may never be solved. How could they have possibly thought that this would actually work? Did (co-star and director) Ben Stiller have incriminating pictures of Jack Black, Nick Nolte, Steve Coogan, Matthew McConaughey, Tom Cruise and Robert Downey, Jr.?
In fairness, Downey is the one sign of comic life in this otherwise overstuffed corpse of a movie. Despite the fact that he has to play his character in black-face, Downey commits to the ridiculousness of the man and actually mines it for some laughs.
This is just one in your face borderline-offensive situation which also has Stiller's character as an actor playing a mentally challenged character so broadly as to make you cringe, Black as a fat comic known for his atomic farts and Cruise mugging desperately as a chubby, bald, totally despicable movie exec.
The relatively unknown Jay Baruchel (TV's Undeclared, Million Dollar Baby, Knocked Up) is the only actor other than Downey who comes out of this mess looking good.
It's not a bad idea – a bunch of pampered actors making a film in the Vietnamese jungle end up involved in a real battle with drug runners. However, most of the characters are so toxically unlikeable you can't give a damn about them and their situation.
Then, Tropic Thunder starts ladling on revolting and ridiculous brutality, bloodshed and explosions. Just doing it broadly doesn't make it funny.
I saw the cartoonish violence of Tropic Thunder less than a week after the absurd mayhem of Pineapple Express. It scares me that these are considered the cutting edge of new comedy. On the plus side, next to this, Pineapple Express is comparatively restrained.
The scary thing is - Tropic Thunder has been getting some relatively good reviews.
Maybe movie reviewers really are as out of touch as Tropic Thunder thinks. Or – in fairness – maybe I'm the one who is out of touch. Maybe I'm somehow missing a vein of great humor in Tropic Thunder which never, ever showed itself to me.
I don't care what anyone else says. I can't stress to you enough how much I truly HATED Tropic Thunder. It is mind-numbingly bad. See it at your own risk.
Jay S. Jacobs
Copyright ©2008 PopEntertainment.com. All rights reserved. Posted: August 17, 2008.

Copyright ©2008 PopEntertainment.com. All rights reserved. Posted: August 17, 2008.