TRON: LEGACY (2010)
Starring Jeff Bridges, Garrett Hedlund, Olivia Wilde, Bruce Boxleitner, Michael Sheen, James Frain, Beau Garrett, Anis Cheurfa, Serinda Swan, Yaya DaCosta, Elizabeth Mathis and Cillian Murphy.
Screenplay by Edward Kitsis and Adam Horowitz.
Directed by Joseph Kosinski.
Distributed by Walt Disney Pictures. 125 minutes. Rated PG.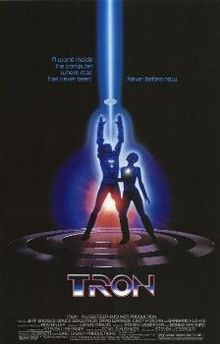 TRON (1982)
Starring Jeff Bridges, Bruce Boxleitner, David Warner, Cindy Morgan, Barnard Hughes, Dan Shor, Peter Jurasik, Tony Stephano, Craig Chudy, Vince Deadrick, Sam Schatz, Jackson Bostwick and Dave Cass.
Screenplay by Steven Lisberger.
Directed by Steven Lisberger.
Distributed by Walt Disney Pictures. 96 minutes. Rated PG.
TRON: Legacy

and

TRON
Walt Disney's TRON was many things when it came out in 1982. It was a pioneering technical achievement – the first film almost completely animated by computer, about 15 years before Toy Story made the style viable. It was a state-of-the-art look at a brand new trend (computer gaming during the era of "Pacman" and "Asteroids"). TRON was a starring vehicle for one of the bigger film stars (Jeff Bridges) and television stars (Bruce Boxleitner, Scarecrow & Mrs. King) of the time. The soundtrack was even an odd amalgamation of two new songs by one of the biggest rock bands of the day (Journey) and a score by a well-respected and recently transgendered orchestral composer (Wendy – formerly Walter – Carlos).
However, the one thing that it wasn't is a big hit. In fact, at the time it was considered to be something of a failure.
In the years since, though, the film's groundbreaking technique has gotten the film a certain hipster cachet amongst sci-fi nerds (yes, I realize that is a contradiction in terms.). In fact, in the current nerd-chic hit TV series Chuck, the main character's love for TRON and a conspicuously hung movie poster in his bedroom is given a great deal of screen time.
Still, it came as something of a surprise when nearly 30 years later Disney decided to green-light a sequel to the movie.
Was there really enough of a following for the original to return to the world of TRON?
On the plus side, there has been a huge explosion in the technology of computer animation. After all, remember, when the original film came out, it was the same year that Microsoft originally released MS-DOS, many computers still used punch cards and the-state-of-the-art in home computers was Radio Shack's primitive TRS-80. Therefore TRON's effects, which were groundbreaking at the time but now look positively medieval, would be improved by leaps and bounds.
In fact, last year we interviewed TRON star Jeff Bridges about his Oscar-winning performance in Crazy Heart. Bridges was already working on the sequel and he excitedly previewed TRON: Legacy by saying, "The new one makes the old one look like an old black and white TV show. The stuff they've got going is phenomenal."
A year later the film is here and Bridges was absolutely right. Artistically, TRON: Legacy is stunning.
Storywise, less so.
Actually, I should say artistically it is mostly stunning, because while the world of TRON: Legacy looks amazing, one computerized effect simply doesn't work. They have many scenes in which a computerized version of a younger Jeff Bridges' character circa the 1980s (as well as a few of a young Bruce Boxleitner as well) and these look completely fake. The effect is cool in theory, but the characters are much less expressive and lifelike than any of the other characters in the film.
Those younger versions are supposedly computerized versions of their creators named CLU (Bridges) and TRON (Boxleitner). This may explain somewhat why their expressions are so robotic – however all the other characters in the computer world look much more natural. Also, the younger fake-looking Bridges is also shown in a flashback scene in the real world.
Also, oddly, the computer character of TRON – who is the title character, after all – barely shows up here. He's in the background a bit, but never quite breaks out into the forefront of the story.
This story is pretty similar to the original, or at least a variation of it. Bridges' character of Flynn is a computer genius who somehow figures out a way to transport himself into "the Grid," an alternate universe inside of the computer.
TRON: Legacy starts in flashback seven years after the action of the first film. Flynn suddenly mysteriously disappears after becoming a computer mega-tycoon. Flash forward to the present day and his grown son, an idealistic slacker, learns of a secret office of his father's. While exploring, he sets off a machine which transports him to the grid – where he is thrown into the updated arena of computer games that his father conquered decades earlier.
While searching for his long lost father, Sam gets intimately involved in a cyber revolution because his father's computer program has become a monarch of the world.
The story doesn't always make sense and the action scenes ride upon rather pedestrian ideas, but the effects are so spectacular that you almost overlook all of TRON: Legacy's little faults.
A new BluRay special edition also comes with the original film so that you can revisit how well it has aged. Surprisingly, the computerized art – though of course primitive by today's standards, still often is surprisingly evocative. This is not true in all cases – the human characters in the computer grid have an ashy unnatural black & white hue to their faces in the computerized outfits and the super Master Computer is somewhat simplistic computer graphics. That said, the landscapes and the machines of TRON do have a stunning artistic vision – even in those early phases of the art form.
As far as the story, it is probably a bit more slow-moving than you recall. There is a lot more talking and less fighting than there is in the more hyperactive TRON: Legacy. However, in many ways the original story sets the template for the remake/remodel to come. There are also more of the "games" that did not make the new version – including marauding tanks, a version of jai alai with laser balls and a shootout where you have to blow blocks through a circular wall.
Jeff Bridges is as always a natural star here, likable and fun – and it is nice to see him young with his face moving realistically, unlike the Legacy CGI scenes. And it is nice to see David Warner again – one of the great screen villains for the 70s and 80s.
Looking back, TRON was certainly a flawed film, but it was also in some ways visionary. Maybe it's not a surprise at all that it was revisited so many years later.
Jay S. Jacobs
Copyright ©2010 PopEntertainment.com. All rights reserved. Posted: April 5, 2011.


Copyright ©2010 PopEntertainment.com. All rights reserved. Posted: April 5, 2011.