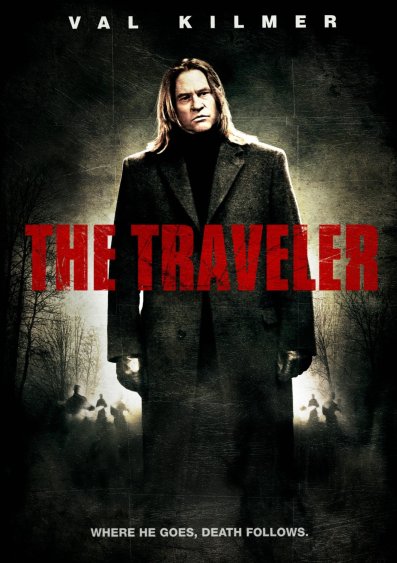 THE TRAVELER (2010)
Starring Val Kilmer, Dylan Neal, Paul McGillion, Camille Sullivan, Nels Lennarson, Christopher Gauthier, John Cassini, Sierra Pitkin, Panou and Denyc.
Screenplay by Joseph C. Muscat.
Directed by Michael Oblowitz.
Distributed by Paramount Pictures. 96 minutes. Rated R.
The Traveler
The Traveler is a kind of low-budget, low-brow mash-up of 70s cult favorite film Assault on Precinct 13 and one of Stephen King's lesser novellas. It has some scary moments, sure, and some interesting twist and turns, but mostly it seems over-the-top and kind of impossible to believe.
It has one hell of a setup, though. On Christmas Eve in a mostly deserted New York police station, a mysterious nameless man played by Val Kilmer comes in to turn himself in for murder.
The only officers working happen to share a deep, dark secret – having brutally beaten an incarcerated drifter who was a suspect in the kidnapping of the head detective's little seven-year-old daughter.
Years later, the daughter was found dead, the apparent killer was caught and the drifter is still in a coma. And this man – who looks kind of like the comatose drifter – shows up saying he has to give a confession, but refusing to give any other information.
Kilmer's mysterious character is only referred to in this film as the drifter or Mr. Nobody, which leads you to wonder why the film isn't called The Drifter rather than The Traveler.
Then again, a lot of The Traveler doesn't really make sense – starting with the basic narrative decision to sort of vilify a man whose daughter was apparently murdered by a pedophile.
This narrative thread is dropped in the prologue and flashed back to regularly through the film, and honestly is much more disturbing than any of the murder and mayhem that goes on at the precinct house. A cute-but-overly-precocious little girl is playing in a sun dappled meadow with a baby kitten. The cat was named Shining – an odd name for a cat but I assume it is a tribute to Stephen King as one of his best-known novels was called The Shining. Then, suddenly out of nowhere, the girl is grabbed.
Yes, it is understandable that the father would be desperate to find his daughter. No, that does not excuse his actions in getting his officers to help him in beating and torturing his suspect into a coma. And now he and his cronies are gonna face some vengeance, supernatural style.
As Kilmer's drifter starts giving his confessions, people start to die. Mostly in extremely violent, disgusting manners – a murder with a shovel is particularly vile and disgusting. Yet, everyone involved – from the drifter to the law enforcement officers who are his targets – are unlikable and despicable human beings, so it's tough to build up too much sympathy. Honestly, of all the murders committed in the film, the most disturbing one to me – even worse than the off-screen killing of the little girl – was that of Shining the cat.
The police station here is supposedly part of the NYPD, although their NYPD police cars are at least a decade out of use and their station appears to be a smallish free-standing warehouse building next door to a cheesy motel and a honky tonk bar, within close driving proximity of a huge wooded area. I have been up and down the length of Manhattan hundreds of times, and I've never seen an area that even remotely looked like the setting of The Traveler. (Ironically, a few years ago in a remake of Assault on Precinct 13, they also were in one of these oddly remote and rural-seeming big city stations – though in that case they were supposed to be in Detroit.)
Then, after all the murder and mayhem, the movie tosses in an only half-surprising surprise ending that completely unravels any chance of the audience having any kind of sympathetic reaction to any of the characters. Everyone here is probably pretty much damned – and each and every one of them pretty much deserves it.
Jay S. Jacobs
Copyright ©2011 PopEntertainment.com. All rights reserved. Posted: January 11, 2011.

Copyright ©2011 PopEntertainment.com. All rights reserved. Posted: January 11, 2011.