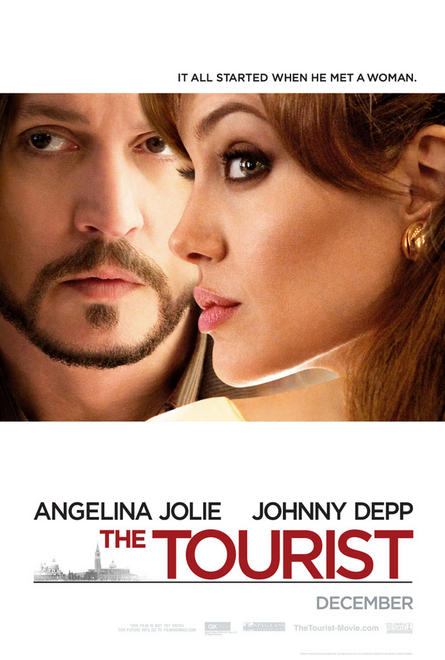 THE TOURIST (2010)
Starring Angelina Jolie, Johnny Depp, Paul Bettany, Timothy Dalton, Steven Berkoff, Rufus Sewell, Ralf Moeller, Raoul Bova, Clément Sibony, Igor Jijikine, Alessio Boni and Giovanni Guidelli.
Screenplay by Florian Henckel von Donnersmarck, Christopher McQuarrie and Julian Fellowes.
Directed by Florian Henckel von Donnersmarck.
Distributed by Columbia Pictures. 104 minutes. Rated PG-13.
The Tourist
I don't know why, but as I was watching early scenes of The Tourist, the slang word "Eurotrash" popped into my mind.
That's not exactly to say that The Tourist is trash – though it is certainly formula. However it takes place in two of the most beautiful cities in the world, stars two of the most beautiful actors in the world, has some decent action sequences and some very witty repartee – there must be something to recommend here, right?
There is, but sadly not as much as you would hope.
The Tourist is actually noticeably similar to Angelina Jolie's last movie Salt, in which she plays a gorgeous and inscrutable femme fatale with some big secrets and dozens of men following her every move. And, détente be damned, the bad guys are once again Russians and bureaucrats.
Like Salt, the action of The Tourist is flashy, but only occasionally makes sense. In fact, out of context of the final twist ending very little that Johnny Depp's character does really seems plausible at all.
The Tourist also has the modern action film problem of having its characters survive – without a scratch – attacks and stunts which would certainly kill (or at least badly injure) them in real life.
They also try to force a merging of extreme action and whimsical romantic comedy: a style that Hollywood has been trying to cram down our throats recently with very little success. Other examples include Killers, Knight and Day and Angelina's own Mr. & Mrs. Smith.
I mean, I get it, they are looking for a foolproof date night formula – the guys will love the mayhem and the women will love the love.
However, these films rarely ever work either as a romance or as a thriller, leaving a queasy, schizophrenic quality.
Therefore the positive qualities of the film – and The Tourist certainly has some – get overwhelmed by all the conflicting plot lines.
Depp plays Frank, a Wisconsin widower math teacher who is touring Europe alone when a woman of mystery approaches him on a bullet train from Paris to Venice. Elise (Jolie) is gorgeous, charming, flirtatious, and has a constant team of Interpol spies and Russian gangsters on her tail.
It seems that Elise is the former lover of a master thief who absconded with billions of dollars from a Russian mobster. He has been back in touch and tells her to meet him in Venice and pick up a man who is the same basic size and shape as him on the train to be a decoy for all of her surveillance teams. After all, there is a rumor that he has spent millions on total reconstructive surgery, so no one knows exactly what he looks like.
You never quite get why Frank is falling so easily into lockstep with her wants and needs – particularly when she lures him to share her huge Venetian hotel suite but then makes him sleep on the couch – other than the very basic shorthand that she looks like Angelina Jolie. Still, when Russian gangsters start shooting at the guy and he's barely gotten to first base, maybe it's time to look for a perhaps slightly less attractive but much lower-maintenance woman.
Of course, if he did that, there would be no movie. I'm on the fence about whether or not that would be such a bad thing.
Dave Strohler
Copyright ©2010 PopEntertainment.com. All rights reserved. Posted: December 10, 2010.


Copyright ©2010 PopEntertainment.com. All rights reserved. Posted: December 10, 2010.