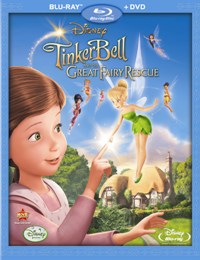 TINKER BELL AND THE GREAT FAIRY RESCUE (2010)
Featuring the voices of Mae Whitman, Michael Sheen, Lauren Mote, Kristin Chenoweth, Lucy Liu, Jesse McCartney, Pamela Adlon, Raven-Symoné, Jeff Bennett and Rob Paulsen.
Screenplay by Joe Ansolabehere, Paul Germain, Bob Hilgenberg and Rob Muir.
Directed by Bradley Raymond.
Distributed by Walt Disney Home Entertainment. 76 minutes. Rated G.
Tinker
Bell and the Great Fairy Rescue

Disney has done it again with their latest adventure in the Tinker Bell saga - Tinker Bell and the Great Fairy Rescue, available September 21st on DVD and BlueRay.

In this latest movie, Tink, who is again voiced by Mae Whitman (Parenthood) and her friends learn a valuable lesson about friendship, putting their differences aside and working together for the greater good.

When Tink comes face to face with a sweet little girl named Lizzie in the countryside, they become fast friends, which is something that Lizzie doesn't have many of. Lizzie loves fairies and always believed they were real, though her Dad always told her they were not. The new friends share wonderful moments together including a funny segment where Tink helps Lizzy feel like a fairy by flying and crashing around her room. (Which my kids thought was hysterical!)

But, when Lizzie's Dad finds Tinker Bell, he tries to catch her to take her to the museum and that's when some unlikely help shows up as Vidia (voiced by Pamela Adlon), Tink's enemy rushes in to help her and gets caught instead.

The rest of the movie is exciting and about friendship and faith as all the fairies and Lizzie rush to rescue their friend. It is captivating for kids of all ages and as with most Disney animation, it leaves you with a good feeling and very positive message.

The animation in Tinker Bell and the Great Fairy Rescue, as in the past Tink movies is brilliant, with intricate details and beautiful colors proving that Disney still does animation the best. Other actors again lending their voices to make these friendly little fairies come to life include Kristin Chenoweth as Rosetta, Lucy Liu as Silvermist, Raven-Symoné as Iridessa and Jesse McCartney as Terrance.

DVD and BluRay extras include lots of animated fun including deleted scenes, an all new music video "How to Believe" performed by Bridgit Mendler, A Design a Fairy House and a Fairy Field Guide Builder.

Deborah Wagner

Copyright ©2010 PopEntertainment.com. All rights reserved. Posted: October 1, 2010.


Copyright ©2010 PopEntertainment.com. All rights reserved. Posted: October 1, 2010.