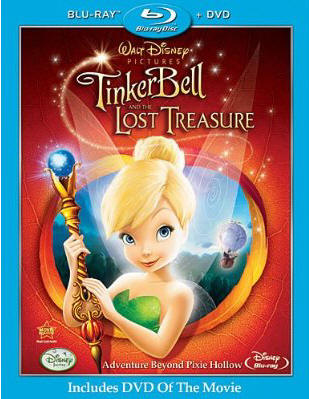 TINKER BELL AND THE LOST TREASURE (2009)
Featuring the voices of Mae Whitman, Jesse McCartney, Lucy Liu, Pamela Adlon, Kristin Chenoweth, Raven-Symoné, Jane Horrocks, Grey DeLisle and Anjelica Huston.
Screenplay by Evan Spiliotopoulos.
Directed by Klay Hall.
Distributed by Walt Disney Home Video. 78 minutes. Rated G.
Tinker Bell and the Lost Treasure
In Tinker Bell and the Lost Treasure, everyone's favorite fairy once again delights the young and old with her exciting adventures in and outside of Pixie Hollow! With breathtakingly beautiful animation, the artists at Disney outdo themselves once again while making Pixie Hollow and beyond come alive on your TV screen.
Returning to lend their voices to this delightful, direct to video, full length sequel are talented voice actors including Mae Whitman as Tinker Bell, Jesse McCartney as Terence, Anjelica Huston as Queen Clarion, Lucy Liu as Silvermist and Raven-Symone as Iridessa.
When Tink is entrusted with the extremely important task of creating a scepter to use with a rare moonstone to help replenish the pixie dust tree's pixie dust, her friend Terence offers his help. However, as we all know from the last movie as well as Peter Pan, Tinker Bell doesn't always work or play nicely with others. So, when Terence constant attention is annoying Tink, she sends him off on an errand. But when he returns, while trying to help complete the job, the scepter and rare moonstone crumbles into pieces. Tink is furious with Terence and takes off alone to try and find a new moonstone. Is their friendship over for good?
During her search, which takes her well beyond Pixie Hollow, Tinker Bell shares some fun with new friends like Blaze, a delightful firefly with quite a little personality. The film has excitement, laughter, and some close encounters including a daring rescue by Terence. And in pure Disney style, along the way Tink will learn some important lessons about accountability, responsibility and the true meaning and importance of friendship.
Bonus features on this disk include: a Magical Guide to Pixie Hollow with Tinker Bell and Terence as your hosts and Pixie Hollow Comes to Disney World – showing how filmmakers helped transform Epcot into Pixie Hollow. There are also never-before-seen scenes from the movie and a music video for "The Gift of a Friend," performed by Demi Lovato, a Disney Channel favorite who stars in Sonny With a Chance. Tinker Bell and the Lost Treasure is available on DVD and Blue-Ray.
Deborah Wagner
Copyright ©2009 PopEntertainment.com. All rights reserved. Posted: October 27, 2009.
Copyright ©2009 PopEntertainment.com. All rights reserved. Posted: October 27, 2009.