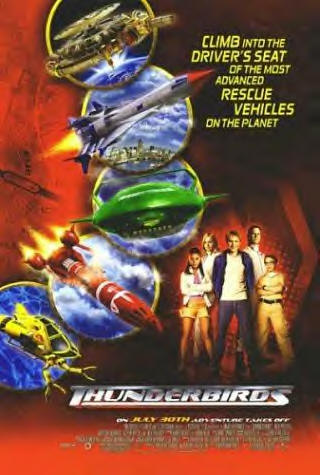 THUNDERBIRDS (2004)
Starring

Bill Paxton, Anthony Edwards, Sophia Myles, Ben Kingsley, Ron Cook, Brady Corbet, Soren Fulton, Vanessa Anne Hudgens, Rose Keegan, Deobia Operai, Lex Shrapnel, Philip Winchester, Domenic Colenso, Ben Torgerson, Debora Weston and Genie Francis.

Screenplay by William Osbourne and Michael McCullers.

Directed by Jonathan Frakes.

Distributed by Universal Pictures. 95 minutes. Rated PG.
Thunderbirds
I have no real memory of Gerry Anderson's old marionette children's series Thunderbirds. In fact, all I really remember about the old TV show was that the puppet strings were clearly visible throughout, making the show look a little cheesy for my tastes. (It's not a coincidence that Trey Parker and Matt Stone are lampooning Mr. Anderson's animation style in Team America: World Police.)
Well, I have to give the producers of this movie mad props that they did not try to dust off the animation of this old show. However, Thunderbirds was a show that was very specific to its time and place. It was made in a style that was quaint (to be kind) even when it first appeared forty years ago. For better or worse, with Pixar and computer generated animation – which, by the way, I personally feel is overrated and just a newer version of the questionable realism of those marionettes – makes the original feel hopelessly dated.
So, instead, the producers of this film decided to make it into the mold of a Spy Kids – three young children from the Thunderbird extended family have to prove themselves to their elders. Which is just fine, but I don't believe it is the storyline of the old TV series. While the original show still has a small cult audience (a good friend of mine is a huge fan), it sort of makes you wonder why they felt this was a series that needed to be revisited. The fans of the old TV series are too old to appreciate the kid power storyline. The normal target audience for this kind of movie will have never heard of the series. It seems like kind of a tough sell.
One thing that this film does seem to have lifted correctly from the series is the coolly retro vibe of the spaceships and lair of the Tracy family, a clan of superheroes who keep the world safe for democracy while wearing stylized uniforms and stylishly spiky hair.
Bill Paxton plays Jeff Tracy, the patriarch, and in honor of the original series, his acting is eerily reminiscent of a marionette – all Jeff really does is sit around, look stoic and save the world. His crew is made up of his sons. The youngest son, Alan, wants to break into the family business, but keeps getting told that he is not ready yet. Alan is well played by Brady Corbet, who is a far cry away from his last role as the worried older brother in the disturbing drama Thirteen.
Alan's chance to prove himself comes when the Thunderbird's secret island lair is taken over by a mysterious villain with super powers named the Hood, and his three or four bungling henchmen. (Apparently the Tracys need to work on their security system.) The Hood is played by, of all people, Oscar winner and master thespian Ben Kingsley. I'm sure this film is going high up on Kingsley's resume... star of Gandhi, Schindler's List, Sexy Beast, The House of Sand and Fog and Thunderbirds! Kingsley's acting is oddly distracted throughout, like he is trying to figure out what exactly he is doing there. (Hey, we are, too!)
There are some other amusing adult roles. Sophia Myles and Ron Cook are actually extremely funny as a beautiful, unflappable British spy woman and her chauffeur/bodyguard. Anthony Edwards plays Brains, the stuttering but brilliant scientist who helps out behind the scenes. (I'm sorry, but Edwards left ER for this???) There is also a funny cameo by Genie Francis, former General Hospital star (and wife of director Jonathan Frakes), as a news reporter who just happens to be on the scene wherever the Thunderbirds happen to show up in the world. (At least I'm giving the filmmakers the benefit of the doubt that was meant as a joke.)
However, the adults really don't matter here. This film is about and for the kids. Alan has to save the day, the Thunderbirds, and by extension the world. All he has to help are his bookish best friend Fermat (Soren Fulton) and Tin Tin (Vanessa Ann Hudgens), the girl who he has grown up with but he is just now starting to notice is getting hot. Will Alan and his friends triumph? Will he prove himself to his family? Will he become a member of the family crime fighting franchise?
I don't think you need to work that hard to figure out where this is all going. However, the action sequences are fast-paced and colorful. The danger is not too scary for young kids who will most likely be gravitating to it, and it has important life lessons, cool rockets, bad guys getting their comeuppance and even some green slime. Thunderbirds will never be called a great film, but it should work perfectly well at entertaining the kids it is targeting. (7/04)
Dave Strohler
Copyright ©2004 PopEntertainment.com. All rights reserved. Posted: December 17, 2004.


Copyright ©2004 PopEntertainment.com. All rights reserved.
Posted: December 17, 2004.