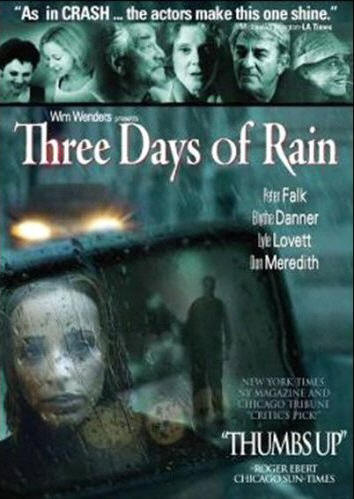 THREE DAYS OF RAIN (2002)
Starring Peter Falk, Don Meredith, Merle Kennedy, Joey Bilow, Erick Avari, Maggi Walker, Bill Stockton, Michael Santoro, Penelope Allen, Bruce Bohne, Chuck Cooper, Jason Patric, Max Perlich, Wayne Rogers, George Kuchar, Robert Carradine, Keir Dullea, Mark Feuerstein, John Carroll Lynch, Lyle Lovett and Blythe Danner.
Screenplay by Michael Meredith.
Directed by Michael Meredith.
Distributed by Radio London Films. 97 minutes. Not Rated.
Three Days of Rain
In Three Days of Rain, writer/director Michael Meredith adapts six short stories by Anton Chekhov and updates them to modern Cleveland. It looks at the life of about a couple dozen locals as they live through a three-day long rainstorm.
This movie sadly has somehow fallen between the tracks. It was filmed in 2002, but has just made the festival circuit in 2006 and now is being released on video in 2007. It's not a perfect movie, but it certainly did not deserve that fate.
Three Days of Rain is an episodic film in the tradition of Crash (though it was actually filmed before that movie), Robert Altman's Short Cuts or the works of Wim Wenders (who is instrumental in getting the film a wider release, and who has been trying to get a movie version of another Meredith script made.)
Unlike those films, though, there is little in the way of overlapping. (There are occasional hints of connections, but none of them ever really come to fruition.) Also, in some ways this film is more of a character piece. Most of the stories are small and human -- not necessarily overly dramatic.
For example, Peter Falk plays an aging alcoholic who is constantly trying to patch up his relationship with his grown son, yet at the same time hitting him up for money regularly. Erick Avari plays a well-off businessman who recognizes a previously unnoticed fundamental rift in his relationship with his wife when she refuses to give a doggie bag to a homeless man. Joey Bilow plays a mentally challenged worker who is harassed in his job. Then there is a struggling tile maker (Michael Santoro) who has to collect some outstanding bills to avoid being evicted from his decrepit loft. The most dramatic story is about a drug addict (Merle Kennedy) who has to babysit for her own child who was was taken from her by a judge, who uses intimidation and sexual abuse to keep her in line.
Surprisingly, this is all held together by a subtly passionate performance by Don Meredith (yes, that's right -- Dandy Don, the former football quarterback and Monday Night Football personality) as a cab-driver trying to come to terms with the death of his son. Meredith has done very little acting over the years, so it is particularly surprising that someone would have seen the potential and picked him for this quietly heartbreaking role -- until you realize that writer/director Michael Meredith is his son. Well good for Michael for seeing it, sometimes nepotism really does work.
In fact, the acting here is almost universally well done and effective (with the exception of one stilted, affected supporting role -- I won't mention the actress by name, but watching the movie, you'll know who I mean...). There are lots of interesting cameos -- Blythe Danner as a woman who feels the selfish need to take on the pain of the people she meets, Jason Patric as a combative drunk, cult director George Kuchar as a compassionate newsstand dealer and Lyle Lovett as the smooth-voiced jazz DJ whose patter connects all the characters (he is only briefly physically seen at the very end of the film.)
All these people try to muddle through their hard lives in the rain-soaked streets of Cleveland, a city which suits the film completely, mixing great splendor with squalor. Three Days of Rain is not a happy or uplifting film, but in its own melancholy way it is quite beautiful.
Jay S. Jacobs
Copyright ©2007 PopEntertainment.com. All rights reserved. Posted: October 13, 2007


Copyright ©2007 PopEntertainment.com. All rights reserved. Posted: October 13, 2007