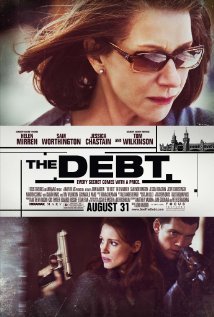 THE DEBT (2011)
Starring Helen Mirren, Sam Worthington, Jessica Chastain, Tom Wilkinson, Marton Csokas, Jesper Christensen, Ciarán Hinds, Romi Aboulafia, Tomer Ben David, Ohev Ben David, Jonathan Uziel and Brigitte Kren.
Screenplay by Matthew Vaughn, Jane Goldman and Peter Straughan.
Directed by John Madden.
Distributed by Focus Features. 114 minutes. Rated R.
The Debt
The Debt moves with the hushed confidence and self-satisfied seriousness of an important movie – and in many ways it is – but that does not halt the film's potboiler aspects from shining through. Whether that was intended or not is probably a question for the filmmakers.
They treat their story with deadly seriousness and it is only sometimes worthy of this gravity. Yes, they take on some explosive subject matters and themes – the Holocaust, the Mossad, political propaganda, conspiracies, torture, kidnapping, vengeance, living a lie – but the storyline is not always as interesting as the debates and arguments that it is obviously designed to raise.
Perhaps the problem is that the film is just a hair too comparable to Steven Spielberg's Munich, which told a similar story with a bit more depth and believability. (And which also co-starred Ciarán Hinds, who has a small but very significant role in The Debt too.)
Therefore, thought The Debt is an arresting political thriller and a very well-made and spectacularly acted film, it is occasionally a bit less than satisfying.
The Debt is based on an Israeli film called Ha-Hov, and takes a look at a fictional 1960s Mossad (Israeli Secret Service) plot to capture a gynecologist which they believe is an escaped Nazi war criminal.
The film is broken up into two time periods. The film bops back and forth between the original mission in 1966 – in which three young officers (Sam Worthington, Jessica Chastain and Marton Csokas) run a partially botched attempt to kidnap the doctor and smuggle him out of the country.
The rest of the film is played out in 1997, when the three operatives (Now played by Hinds, Helen Mirren and Tom Wilkinson) have become national heroes for their exploits, but when a book is coming out about the mission, certain lies the trio have allowed to be taken as fact start to come back to haunt them.
It's an interesting situation, with some fascinating political and personal ramifications, and yet the film moves a bit too slowly, blunting some of the effect.
The actors as young agents have a particularly tricky road to take – a great deal of their dialogue is in German. Chastain in particular is able to make for a fascinatingly conflicted heroine.
The ramifications for them later are not quite as earth-shaking, though Wilkinson and Mirren are physically unable to be anything less than watchable and Hinds makes a great impression in his much smaller role.
However, the biggest problem with The Debt is probably its bad guy. The doctor, played with hand-wringing evil viciousness by Jesper Christiansen, seems to be too black and white a portrayal. Yes, the guy is supposed to be a heartless Nazi, but is it too much to expect some nuance to the character – like, for example, Laurence Olivier in Marathon Man or Ralph Fiennes in Schindler's List or Christoph Waltz in Inglourious Basterds? Those men were totally evil Nazis also, but they were much more complex as people.
The Debt is a tense and slightly paranoid thriller, even when it does start to drag. Honestly, the climax is a bit of a let down, but overall The Debt is well worth seeing.
Jay S. Jacobs
Copyright ©2011 PopEntertainment.com. All rights reserved. Posted: August 30, 2011.


Copyright ©2011 PopEntertainment.com. All rights reserved. Posted: August 30, 2011.