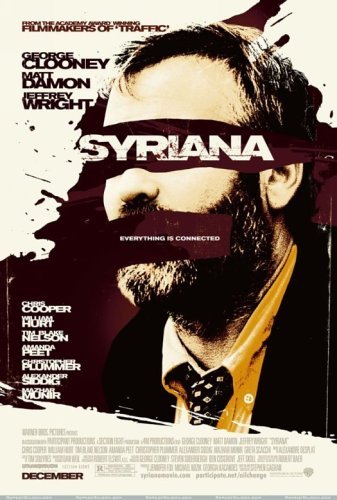 SYRIANA (2005)
Starring George Clooney, Matt Damon, Jeffrey Wright, Chris Cooper, Tim Blake Nelson, Amanda Peet, Christopher Plummer,

William Hurt, Mazhar Munir,

Alexander Siddig

, Kayvan Novak, Amr Waked, Robert Foxworth and Peter Gerety

.

Screenplay by Stephen Gaghan.

Directed by Stephen Gaghan.

Distributed by Warner Brothers Pictures. 126 minutes. Rated R.
Syriana
A lot of TV series brag of being "ripped from the headlines." When it comes to current events entertainment -- Syriana is the real deal. It is not only a wonderfully complex (some may say too complex, granted) and entertaining storyline, but it is about problems that are at this time incredibly relevant for most everyone on Earth.
Syriana is a multi-character story based on the oil business and the Middle East, but it has a dizzying understanding of the intricacies and dark areas of the seemingly eternal conflict stemming from the region.
It is an area where fuel, wealth, political discontent, religion, poverty and espionage create an impenetrably soupy morass of double dealing, violence and greed. There are no starring roles in Syriana per se, but there are well over a dozen major characters haunting the periphery of the plot. George Clooney's aging and out-of-shape CIA spook is no more vital than any of the others -- despite getting the notice and the poster face time.
Syriana is the directorial debut of screenwriter Stephen Gaghan, who a few years ago penned the equally trenchant script for Traffic, and that notoriously labyrinthine and layered script seems almost simple by comparison. At least in that film, you had a basic idea of who the good guys were and who was bad.
Syriana refuses to be that black and white. Everybody does good and everybody does evil. Sometimes it is for the right reason. Sometimes it is completely selfish. There are no clear answers here, just like in real life.
Still, the movie works as a fascinating look at the heart of darkness that fuels the conflict -- all the different dimensions and the dirty little dealings which involve governments, oil companies, lawyers, rich sheiks and impoverished revolutionaries. It is a world where life is cheap and violence can be instantaneous.
Business and tragedy do intertwine in a particularly horrifying way in the story of an American business consultant who has a family tragedy (his son dies at the party of a sheik) become a business opportunity for him. Despite his horror at the situation ("How much for my other son," he asks the sheik's son astonishedly) he does try to do good with this chance. The sheik's son is also trying to use the arrangement for the betterment of the region. So is Damon wrong for taking the offer? The movie tries not to judge -- instead letting the man and his wife (Amanda Peet) come to terms with what has happened in their own way.
Jeffrey Wright is also unforgettable as a Washington lawyer who has to straddle his political and the ethical worlds to protect a major corporate merger between two oil companies by serving up as sacrificial lambs two executives. While he rationalizes his stance, he also has to deal with an alcoholic father with whom he has a mutually antagonistic relationship.
Clooney plays an aging CIA agent who has lost his value in the agency. He is frantically trying to find a lost missile that his superiors seem completely apathetic about. Now he is just trying to survive and maneuver all the sides despite the fact that his superiors have pretty much distanced themselves from him.
Syriana has no pat answers to the problems it explores. In fact it is smart enough to realize that there really are probably no answers. Money, politics, power, anger and religion make for a combustible combination and Syriana is a powder keg that is always just on the verge of blowing. Between Crash earlier in the the year and now this movie, there is good reason to believe that Hollywood is going back towards the complex multi-character dramas which last flourished in the 70s. It's about time. (12/05)
Jay S. Jacobs
Copyright ©2006 PopEntertainment.com. All rights reserved. Posted: April 8, 2006.

Copyright ©2006 PopEntertainment.com. All rights reserved. Posted: April 8, 2006.