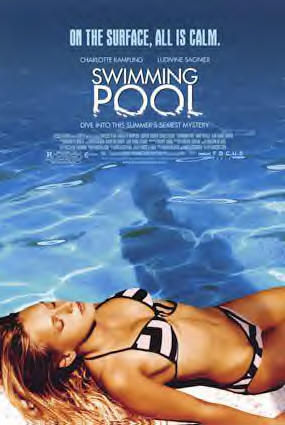 SWIMMING POOL (2003)
Starring

Charlotte Rampling, Ludivine Sagnier, Charles Dance, Marc Fayolle, Jean-Marie Lamour, Mirielle Mossé, Michel Fau, Jean-Claude Lecas, Emilie Gavois-Kahn, Erarde Forestali, Lauren Farrow, Sebastian Harcombe, Frances Cuka, Keith Yeates and Tricia Aileen.

Screenplay by François Ozon and Emmanuelle Bernheim.

Directed by François Ozon.

Distributed by Focus Features. 102 minutes. Rated R.
Swimming Pool
Sarah, an aging and slightly uptight mystery novelist (Charlotte Rampling) is unhappy with the direction her life is taking. Her publisher (and possible lover?) offers to loan her his cottage on the French countryside, so that she can work on her latest novel in peace. She is relishing the solitude, but is surprised by the publisher's beautiful, free-spirited, sexually active daughter Julie (Ludivine Sagnier) arriving to stay.
This simple set-up leads to one of the most fascinating character studies in recent films. At first, the novelist is annoyed by the intrusion. Soon, the young girl fascinates her, though. Sarah spies on Julie as she swims in the nude by the pool, sneaks peeks into her diary, witnesses the subtle nubile power the girl uses to get men do anything for her. Sarah becomes amazed by the way Julie uses the natural animal sexuality as an extension of herself, envying the freedom and ability that Sarah feels that she has lost; yet at the same time she tentatively tries to see if she can still tempt men in the same way.
Julie's reaction to Sarah is nearly as complex; she enjoys tormenting the older woman with her erotic power, and yet she does come to see her as a bit of a mother figure and feels a strange need to get the woman's approval. The two start a subtle game of one-upmanship, each one raising the sensual tension. The writer grows attracted to a waiter (Jean-Marie Lamour) in a neighboring town. Julie spitefully invites him back home… to flaunt her power over men, but also to tempt the older woman to break out of her shell.
This disastrous move escalates quickly to anger, then violence. Rampling and Sagnier are exquisite in the roles, doing a sensuous tango of spite and lust. Rampling, who would have played the young femme fatale a few decades ago, still can portray a fire of passion in her eyes and can show the streaming need in simple body language. Sagnier, on the other hand, is able to juggle a casual sensuality with a charming innocence and naiveté and a very real need for approval.
The mystery aspects of the film are not as important as the fascinating war of wills that leads to it. In fact, I believe the conclusion of Swimming Pool might be a bit too surreal for most audiences. (I pride myself in my ability to decipher most any mystery, and I think I do understand what writer/director François Ozon is trying to do here, but if anyone can explain exactly what the ending means, please email us and clarify it.) Still, the acting and the pace and the directing and the story are so exquisite that any confusion you may feel at the finale does not spoil what is otherwise a wonderful cinematic experience. (6/03)
Jay S. Jacobs
Copyright ©2003 PopEntertainment.com. All rights reserved. Posted: July 21, 2003.


Copyright ©2003 PopEntertainment.com. All rights reserved. Posted: July 21, 2003.