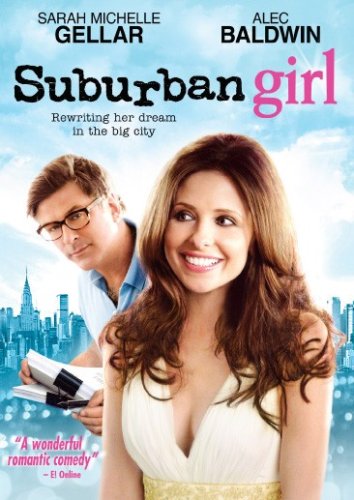 SUBURBAN GIRL (2008)
Starring Sarah Michelle Gellar, Alec Baldwin, James Naughton, Maggie Grace, Chris Carmack, Vanessa Branch, Ebon Moss-Bacharach, Peter Scolari, Nate Corrdry, Jill Eikenberry, Marion Seldes, Corinne Russell, Jason Antoon and Stephen Payne.
Screenplay by Marc Klein.
Directed by Marc Klein.
Distributed by Image Entertainment. 97 minutes. Rated PG-13.
Suburban Girl
Suburban Girl pops into the suddenly very crowded sub-genre of bright young women moving to the big city in search of romance and professional gratification while enduring a hellish job. (See also: The Devil Wears Prada, The Nanny Diaries and more.) Not that this New York fantasy is that new -- these stories date back to even before His Girl Friday (which, in fairness, took place in Chicago), but there seem to be a torrent of them lately.
This one has somehow fallen through the cracks and never even got a theatrical release, instead getting slipped out directly onto video. It is too bad, because Suburban Girl is an intelligent romantic comedy that probably deserves a bigger audience than the straight-to-DVD tag will likely afford it.
It was obviously made with great care and a reasonably good budget. It's certainly a better movie than Nanny, though the movie doesn't quite live up to Prada. It's even catching lightning in a bottle in the fact that, by coincidence, its theme song, "Love Story" by Sara Bareilles, is on the top of the pop charts as the film gets its release. (Ironically, Prada's opening credits song, "Suddenly I See" by KT Tunstall, also happened to follow the movie up the charts without any particular cross-promotion.)
Sarah Michelle Gellar plays Brett, a beautiful and literate woman who dreams of making it big in the book publishing biz. However, she is getting nowhere fast, and when her boss is fired and replaced by a Eurotrash glitterati fast-tracker (Vanessa Branch) who is rumored to be sleeping her way to the top, Brett is nearly ready to give up on her dreams.
It is then what she meets Archie Knox, a fast-talking, romantic, alcoholic legend in book publishing. They become friends, then he becomes her mentor, then they are lovers -- despite the fact that he is nearly as old as her father. Alec Baldwin captures the perfect balance in this fascinating and complicated character. Archie is a contradiction of confidence and neediness, swagger and insecurity, caring and selfishness, satisfaction and gnawing emptiness.
These two well-drawn characters and the fine literacy of the script almost make you overlook the fact that the movie all too often clunks into melodrama and cliché, particularly on some subplots centering on Brett's father (James Naughton).
Still, perfect or not (and it's not, sadly), what is good about Suburban Girl for the most part outpaces its bad patches, so it is worth a rental.
Alex Diamond
Copyright ©2008 PopEntertainment.com. All rights reserved. Posted: February 1, 2008.
Copyright ©2008 PopEntertainment.com. All rights reserved. Posted: February 1, 2008.