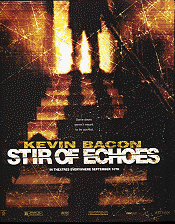 STIR OF ECHOES (1999)
Starring

Kevin Bacon, Kathryn Erbe, Illeana Douglas, Kevin Dunn, Zachary David Cope, Conor O'Farrell, Liza Weil, Lusia Strus, Stephen Eugene Walker, Mary Kay Cook, Larry Neumann Jr. and Jennifer Morrison.

Screenplay by David Koepp.

Directed by David Koepp.

Distributed by Artisan Entertainment. 94 minutes. Rated R.
Stir of Echoes
Maybe because he hasn't been the lead in a popular smash film since 1984's silly Footloose and he's best known now for a parlor game, it has slipped under the radar that Kevin Bacon has quietly become one of our most intriguing actors. He is never afraid to go the extra mile, take chances for his character and look foolish, demented or worse. Bacon does not so much act as become enveloped by his characters. This makes it nice to see that he is helming this clever ghost story.
Following after The Sixth Sense in the new thinking man's horror genre, this story of a Chicago electrical lineman (Bacon) who is opened up to a constant barrage of supernatural forces when hypnotized by his sister-in-law (Ileana Douglas). Kathryn Erbe is fantastic as Bacon's frightened and somewhat exasperated wife and Douglas does fine work here too.
Sadly, because the film does follow in the footsteps of The Sixth Sense, this movie may be dismissed because it is not quite as clever as that film, and this has a much more standard Hollywood ending. That would be too bad, because even though Stir of Echoes isn't quite as good, it is still a very spooky and thought-provoking film. (9/99)
Jay S. Jacobs
Copyright ©1999 PopEntertainment.com. All rights reserved. Revised: April 01, 2022.
Copyright ©1999 PopEntertainment.com. All rights reserved. Revised: April 01, 2022.