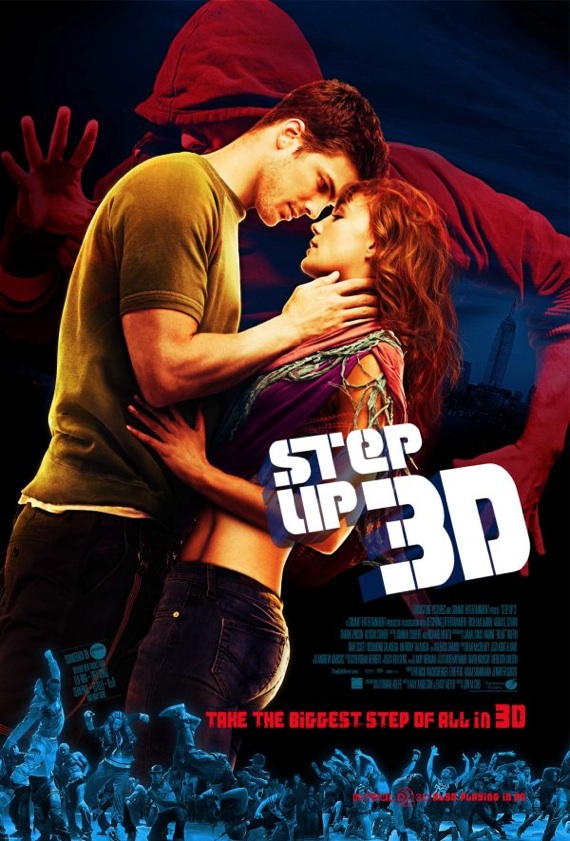 STEP UP 3D (2010)
Starring Rick Malambri, Adam G. Sevani, Sharni Vinson, Alyson Stoner, Keith "Remedy" Stallworth, Kendra Andrews, Stephen "tWitch" Boss, Martín Lombard, Facundo Lombard, Oren 'Flearock' Michaeli, Joe Slaughter, Daniel 'Cloud' Campos, Harry Shum Jr., Jason Etter and Kathy Najimy.
Screenplay by Amy Andelson & Emily Meyer.
Directed by Jon M. Chu.
Distributed by Touchstone Pictures. 107 minutes. Rated PG-13.
Step Up 3D
Calling Step Up 2 a sequel to the original film was a bit of a stretch. Other than the taking place in the same setting (The Maryland School of the Arts in Baltimore) and a brief cameo appearance by one of the characters, all the two films had in common were a title and a variation on the same premise.
Step Up 3D is divorcing itself even further from the original film. The action has moved three hours north on I-95 from Baltimore to Manhattan. It has graduated from high school to go to college at NYU. As far as I can remember, there is not a single character from the first two films that appears in the new one.
Still it has the same premise – or at least partially the same premise – as the first two films: young kids involved in huge group dance-offs for pride, love and money. Of course it has mostly lost the rich vs. poor class warfare which were so vital to the first two. It also mostly disregards the classical dancing world which was explored in the first two films (there was only one brief group tango at a party) and instead swings to a hip hop beat.
The storyline is a little simplistic, the dancing is surprisingly awkward at times (the first official dance "battle" in particular was rather painful to watch with its jerky, non-rhythmic moves) and the acting can be rather broad. Also, because this film was made in 3D you have the requisite shots where people are throwing things or jumping specifically so they can fly out towards the audience. (This is particularly distracting when you see the film in 2D – as I did.)
I suppose it sounds like I hate Step Up 3D from the above, but the funny thing is I actually don't. It's far from a great movie, but Step Up 3D has enough spunky charm that it is hard to completely write off.
It's just a cheesy dance movie (as were the first two Step Up films), but it has enough heart and energy and funkiness and gorgeous kids to kind of work.
Step Up 3D will never win any Oscars (even in choreography, which is supposed to be the film's strong suit), but it never intended to. It's a teen-dance-love story, so as long as you know what you are getting into – and most of the teen dance genre staples are in place here – you will probably mostly enjoy yourself.
Beyond all the highly over-choreographed dance offs (where do these street kids get the money for all these serious production values?), this is really the tale of two couples.
Moose (Adam G. Sevani) is a goofy-looking-but-talented hip hop dancer whose parents want him to be serious about college and learn to be an engineer. His best platonic friend is the cute-but-shy Camille (Disney Channel regular Alyson Stoner) who obviously has a serious crush on the kid, if he'd just notice it and stop thinking of her like a sister.
The other couple is the more photogenic pair. Luke (Rick Malambri) is a hunky aspiring filmmaker who runs a colony for dancers which was started by his late parents. He discovers (and eventually falls for) Natalie (Sharni Vinson), a gorgeous-but-mysterious dancer who is suddenly showing up in the clubs. Is it real love or does she have some sort of hidden agenda?
They all meet, flirt, fight, dance, double-cross, kiss, battle, confide, cry, make love (discretely off camera) and do the Robot way more often than you would think possible.
Cheesy? Yes. Sappy? Sure. Ridiculous? Probably. Kind of fun, anyway? Definitely.
Step Up 3D is reaching out for a very specific audience (mostly young teen girls) – and in the case of delivering the goods to its target crowd, it really does have all the right moves. Even when those moves are a new millennium variation of the Robot.
Jay S. Jacobs
Copyright ©2010 PopEntertainment.com. All rights reserved. Posted: December 10, 2010.


Copyright ©2010 PopEntertainment.com. All rights reserved. Posted: December 10, 2010.