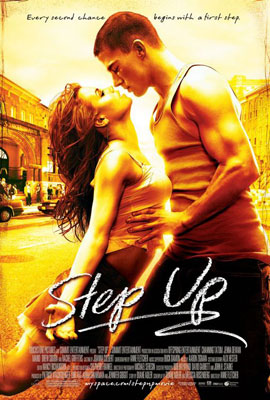 STEP UP (2006)
Starring

Cha

nning Tatum, Jenna Dewan,

Rachel Griffiths, Mario, Drew Sidora, Heavy D, Damaine Radcliff, De'Shawn Washington

, Alyson Stoner, Deidre Lovejoy, Josh Henderson, Tim Lacatena, Jane Beard, Richard Pelzman and Carlyncia Peck.

Screenplay by Duane Adler & Melissa Rosenberg.

Directed by Anne Fletcher.

Distributed by Touchstone Pictures. 98 minutes. Rated PG-13.
Step Up
If you've seen Fame, or Save the Last Dance, Center Stage or even the Cutting Edge, then you have seen Step Up. However, despite the fact that the movie is all too obvious in its inspirations, you have to admit it does reenact them in style.
You know the story. Tough street hood is dragged kicking and screaming into an artistic world, but he slowly starts to learn to respect art and the work that the people around him are doing. He starts working with a beautiful, rich, extremely uptight girl who hates him at first but can't deny the smoldering sexual tension.
The cast is made up of a series of unbearably beautiful actors in their mid-twenties as these talented high school students.
Channing Tatum (She's the Man) does a good... if perhaps a little too understated... job of making the male lead of Tyler likable. It's not an easy job sometimes. Honestly, his character is a self-centered asshole through most of the movie. He is a criminal (a vandal and a car thief). He is a very overdone stereotype in the movies – the white guy who thinks he's a gangsta. But he is an impressive street dancer (well, sometimes it seems he's more of a spectacular athlete and incredibly limber than actually a good dancer, but that's an argument for a choreographer rather than me.).
When he is arrested and given public service at the Maryland School of the Arts, he quickly falls for a beautiful and talented dancer named Nora (Jenna Dewan of Tamara). She goes through the requisite problems – her mother doesn't respect her aspirations, she doubts her own talent, she needs to be perfect in a dance exhibition to become a professional. Unfortunately, her dancing partner hurts his leg (that never happens...) and she is stuck unable to practice. When Nora can't find anyone else to dance with (sure, any guy in that school would walk through glass to spend everyday twirling her) she decides to give the streetwise tough a chance. Through dance they grow to like and then love each other.
They are surrounded by fine supporting performances as their friends. R&B singer/hip hop artist Mario ("Let Me Love You," "Just A Friend 2002") stretches to play an R&B singer and hip hop artist. Drew Sidora almost makes up for appearing in White Chicks playing Dewan's beautiful and sassy best friend. Damaine Radcliff is Tyler's old hood friend (and very bad influence) who feels he is being left behind now that Tyler is in amongst the rich kids.
Besides, how many movies in history will be able to say that they had supporting roles by both Rachel Griffiths (Six Feet Under) and Heavy D (the 80's rapper most remembered for "Now That We've Found Love"). Not that any of the adults in this movie really matter for anything. They are just here to look on in either disapproval or pride. They may as well be cardboard cut-outs.
The film is atmospherically filmed in Baltimore – at least most of it – there was at least one scene where an entire family was eating takeout from a Carl's Jr. restaurant even though the closest restaurant in that chain is in Oklahoma, at least a two day drive away.
Eventually we go through arguments, fistfights, the requisite neighborhood shooting, several juggling love interests and incredibly diverse parties – all leading to the big dance performance which will change all of their lives.
Step Up is not the tiniest bit original and not a single thing in it will be a surprise to anyone in the audience, but it is still a slick and fun genre flick. (8/06)
Dave Strohler
Copyright ©2006 PopEntertainment.com. All rights reserved. Posted: August 17, 2006.


Copyright ©2006 PopEntertainment.com. All rights reserved. Posted: August 17, 2006.