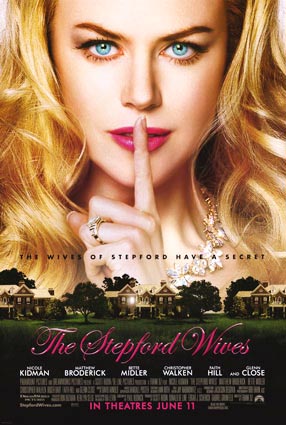 THE STEPFORD WIVES (2004)
Starring

Nicole Kidman, Matthew Broderick, Bette Midler, Glenn Close, Christopher Walken, Roger Bart, David Marshall Grant, Jon Lovitz, Dylan Hartigan, Fallon Brooking, Faith Hill, Matt Malloy, Kate Shindle, Tom Riis Farrell, Lorri Bagley, Robert Stanton, Lisa Masters, Christopher Evan Welch, Colleen Dunn, Jason Kravits, Emily Wing, Meredith Viera and Larry King.

Screenplay by Paul Rudnick.

Directed by Frank Oz.

Distributed by DreamWorks Pictures. 93 minutes. Rated PG-13.
The Stepford Wives
It's always tricky to remake a movie from the past, particularly a movie that has been extremely influential. Late movie critic Gene Siskel used to always say that there was no reason in the world to remake a good film, if you are going to remake a film take a bad one and make it better. In this originality-challenged era of Hollywood, the studios are trying to put a new coat of paint on every old title they can, not trying to fix a missed opportunity but to take advantage of brand names. This summer alone three films I loved (this film, The Longest Yard and particularly The Manchurian Candidate) are being regurgitated and it is worrying me to no end that they are going to ruin them. This is the first of the three that I've seen, and it is not reassuring me all that much.
One thing the studios have going in their favor here is that The Stepford Wives has actually reached a very odd place in the pop culture zeitgeist. It captured a moment and unique idea so brilliantly that everyone knows about it. It even created its own slang; if you mention the term "Stepford wife" to someone they will most likely know what you are talking about. And yet, I'd be willing to bet that the great majority of people out there have never seen the original film.
Well I have seen the 1975 version starring Katharine Ross and Paula Prentiss. In fact, I've seen it several times over the years. While it was far from a perfect film, it was a very effective mix of humor, social commentary and thrills. I have also read the novel that it was based on written by Ira Levin (Rosemary's Baby), and that was pretty close to perfect.
One thing that I worried about right off the bat is that the new Stepford Wives was conceived as a comic version of the first film. This completely overlooks the fact that in many ways it was always a comedy. A very, very dark comedy, granted, but much of the story was absurdly funny. It sort of worried me that the people conceiving the film had overlooked (or ignored) this rather obvious point.
On the plus side, they put together a terrific cast. Nicole Kidman seems to be an ideal choice for the lead, and Matthew Broderick, Bette Midler, Christopher Walken and Glenn Close are a pretty impressive supporting cast. Paul Rudnick is a very funny… if slightly flamboyantly snarky… writer, both as a screenwriter (In & Out, Addams' Family Values) and as a critic (in his Premiere magazine alter-ego Libby Gelman Waxler.) Director Frank Oz (a.k.a. the voice of Miss Piggy and Yoda) has been a pretty underrated comic filmmaker over the years (Bowfinger, In & Out, Dirty Rotten Scoundrels, What About Bob?, Little Shop of Horrors).
For the first hour or so, The Stepford Wives almost works on it's own terms. It is a pastel colored, fast-talking, tres stylish goof. It doesn't take itself or its source material seriously and so we don't either. There are some very funny lines sprinkled throughout. The film has a very gay sensibility, every line by every character sounds not so much like dialogue, but like Rudnick trying to snap the intricate narrative up. It's no coincidence that the character of Stepford's first homosexual male "wife" gets many of the best lines. Rudnick is most comfortable writing the kind of catty, oh-so-clever lines that you used to see in Sex & the City.
What he isn't comfortable with is telling a complicated story. The screenplay just throws things at the wall and hopes it will stick. For example, unlike the original film's turning women into robots, Rudnick came up with the more technically current idea of having the women's brains implanted with microchips to control them. Great idea, nice update, but... Kidman's character sees a robot of herself, as does (we are led to believe) the gay man. In other scenes, we see the women of Stepford used as an ATM machine or have their breasts enlarged by remote control. So what is it? Real women with microchips or robots? How is it possible that the filmmakers forgot the rules they set themselves? In fact, most of Rudnick's updates just don't work. Instead of the women of Stepford being anonymous housewives, all the women of the new Stepford are high profile professionals… lawyers, writers, doctors, television executives, business CEO's. It is hard to believe such women could disappear into Connecticut domesticity without anyone noticing the change.
Still, with all its problems, I was okay with The Stepford Wives up until about an hour fifteen minutes in. I didn't love it, didn't hate it. However, towards the end the film tacks on a stunningly misjudged revisionist happy ending. And it is awful. It sucks. It is a travesty. It took whatever positive feelings I had been able to muster up for the film and destroys them. It is the worst new ending for an old story idea since Hester Prynne and Reverend Dimmesdale lived happily ever after in the 1995 Demi Moore/Gary Oldman version of The Scarlet Letter. I can only assume that the wholesale changes were due to focus groups and studio meddling, I find it hard to believe that savvy talents like Rudnick and Oz really could be that totally deluded to believe that it worked as a storyline. However, because of this ending, a movie that I was going to give a lukewarm review to will instead get a scathing evaluation. Rent the original film. Better yet, read the book. Don't bother with this version of the movie. (6/04)
Jay S. Jacobs
Copyright ©2004 PopEntertainment.com. All rights reserved. Posted: June 19, 2004.


Copyright ©2004 PopEntertainment.com. All rights reserved. Posted: June 19, 2004.