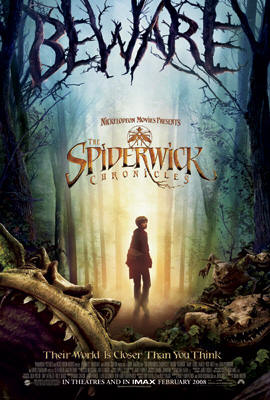 THE SPIDERWICK CHRONICLES (2008)
Starring Freddie Highmore, Sarah Bolger, Mary-Louise Parker, David Straithairn, Joan Plowright, Nick Nolte, Andrew McCarthy, Jordy Benattar and the voices of Martin Short, Chris Parson and Seth Rogen.
Screenplay by Karey Kirkpatrick and David Berenbaum and John Sayles.
Directed by Mark Waters.
Distributed by Paramount Pictures. 101 minutes. Rated PG.
The Spiderwick Chronicles
Fantasy films for children are hard to pull off. It's a difficult balancing act separating what is fun from what is foolish, what is whimsical from what is weird.
The Spiderwick Chronicles mostly stays on the right side of this divide.
This charming story of a family moving into an old mansion only to find that it is surrounded by goblins, sprites and fairies, The Spiderwick Chronicles is based on a series of books which have a huge following. This gives the movie the feel of the start of a series – a series that may or may not come after the muted reaction to the film in its theatrical release.
The movie stars Mary-Louise Parker as a separated mother who moves her three children to a family manor which has been given to her by her supposedly insane great aunt (Joan Plowright). Parker is probably the biggest name in the starring cast, but she is really a supporting character. Mom disappears for long chunks of the movie. In fact most of the known actors here get very limited screen time – including Plowright, David Straithairn, Nick Nolte and Andrew McCarthy.
This leaves the heavy lifting to the children, twin boys (both played by Freddie Highmore of Finding Neverland) and their older sister (Sarah Bolger) are left alone to deal with a supernatural infestation.
The main character is Jared, the moody twin. Jared is homesick and distraught over his parents' separation (though he doesn't quite understand the cause of the split.).
Exploring the quirky old manor, he finds an old book called Arthur Spiderwick's Field Guide to the Fantastical World Around You in the attic. Despite a note attached to the book warning not to open it at risk of your life, Jared ignores the warning and opens the book, unleashing the powers of evil on his house.
Apparently Spiderwick is their great-great-uncle, a man who has discovered the magical dimension of gremlins, hobgoblins, sylphs and goblins. He placed all the info he could in his book – a book that the head of the goblins (Nick Nolte) would do anything to get his hands (paws?) on, for it would give him unlimited power.
The children have to fight off the fantastical challenge as well as save themselves, their family, the house and the book.
It's mostly thrilling, exciting stuff, though more than occasionally it doesn't completely make sense. Still, if you buy into the mythology of The Spiderwick Chronicles it makes for a great ride.
However, fair warning – for a movie which is aimed at children, The Spiderwick Chronicles has several parts that seem a little intense. I know that at first I was looking forward to showing the movie to my nephew, until an offbeat (and off-camera) scene where it appears that the goblins had cooked and were eating the family cat. That would spark a conversation with small children that I (and most people) have no interest in having. It turns out that the cat was okay, but later scenes confirmed that The Spiderwick Chronicles is great fun for older children, but may be a little too scary for smaller ones.
Jay S. Jacobs
Copyright ©2008 PopEntertainment.com. All rights reserved. Posted: June 24, 2008.


Copyright ©2008 PopEntertainment.com. All rights reserved. Posted: June 24, 2008.