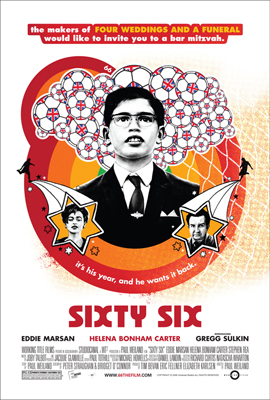 SIXTY SIX (2006)
Starring Gregg Sulkin, Helena Bonham Carter, Eddie Marsan, Stephen Rea, Catherine Tate, Peter Serafinowicz, Bill Hader, Thomas Drewson, Matt Bardock, Alex Black, Cameron Crighton and Nick Shrim.
Screenplay by Peter Straughan and Bridget O'Connor..
Directed by Paul Weiland.
Distributed by First Independent Pictures. 94 minutes. Rated PG-13.
Sixty Six
This little feel-good British coming-of-age memoir has taken about two years to make it across the pond to the US.
This delayed release is probably not about quality - while it is far from a perfect film, Sixty Six is sweetly nostalgic and enjoyable.
It has nothing to do with cast. The mom is played by acclaimed actress Helena Bonham Carter - and it is nice seeing her back playing a sensible common British woman after the eccentric characters she has been playing in her husband Tim Burton's films. Also, the performance of twelve-year-old Gregg Sulkin in the lead role is a revelation - this kid is one of the most natural child actors to appear onscreen in quite a while.
It's hard to say why it took so long to make it to the US, however there are a few contributing factors which are impossible to ignore. These don't make Sixty Six an unlikeable film, just a hard sale.
Sixty Six is about growing up Jewish and nerdy in the not-so-swinging suburbs of 60s London.
The storyline essentially revolves around a Bar Mitzvah and a football match.
It is a decidedly old-fashioned film, a look at the financial, relationship and political problems of a more-than-slightly neurotic working class family.
It may seem to some to be too much of a specialty story to reach a wider audience. Once upon a time - and not ALL that long ago - films like this could be made and released to a small appreciative audience - see The Apprenticeship of Duddy Kravitz, Joshua: Then and Now and even something like Crossing Delancey.
It would be a real shame if American audiences looked at a capsule review of Sixty Six and went, "Soccer? The Torah? Ummm... what else is playing?"
While those are definitely aspects of the film, they are just garnish. Sixty Six is a semi-autobiographical (director Paul Weiland calls it "a true-ish story") look back at family life in the less-rocking avenues of 1966 London - sort of a Brit equivalent of The Wonder Years. The seismic political and cultural changes which are going on just miles away from this family only tangentially effect these characters. In many ways they are in a cocoon of family and community. The world is changing around them, but they are stubbornly staying the same.
This lack of changes is being witnessed by a twelve-year boy who craves change, but can not figure out quite how to bring it about. Bernie (Sulkin) is a complete loser in school. He doesn't relate with the other kids and is always the last person chosen on sports teams. He starts to obsessively, probably delusionally, become convinced that his ticket to popularity is to have the best Bar Mitzvah party ever. He starts planning a grand blow-out that will live on in history. Then he learns that his Bar Mitzvah is planned on the same day that England may very well be playing in their first-ever World Cup football championship.
Of course, the football match is only one of the problems in his plan. His father Manny (Eddie Marsan), who in many ways Bernie takes after, can't really afford to have the grand party of his son's dreams. Manny is a complete mess: obsessive compulsive, a total hypochondriac, depressed, unwilling to take any chances or even drive over 25 KM/H. For a change, though, his neuroses do have a real cause - his family mom-and-pop grocery store, which he runs with his brother, is being driven out of business by a new shiny supermarket which opened down the street.
The family is really held together by the mother, who smartly juggles her family's problems, soothes hurt feelings and puts out fires (sometimes literally). Bonham Carter gives the character a surprisingly understated strength, she is mostly a diplomat but can be fierce if someone threatens her family.
The film puts the family through a series of miniature disasters before coming to a just slightly too abrupt epiphany, but it is mostly a pleasant ride. Sixty Six is a small, quiet coming-of-age film, but it is one of abundant charm.
Jay S. Jacobs
Copyright ©2008 PopEntertainment.com. All rights reserved. Posted: July 15, 2008.

Copyright ©2008 PopEntertainment.com. All rights reserved. Posted: July 15, 2008.