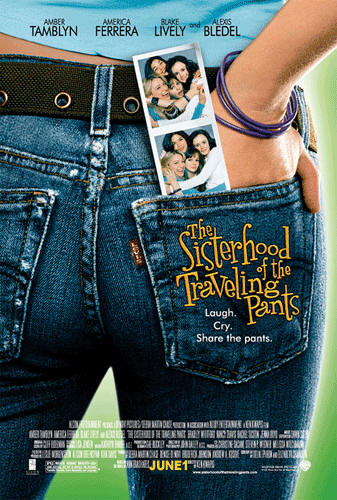 SISTERHOOD OF THE TRAVELING PANTS (2005)
Starring

Amber Tamblyn, America Ferrara, Blake Lively, Alexis Bledel, Bradley Whitford, Nancy Travis, Rachel Ticotin, Jenna Boyd, Mike Vogel, Michael Rady, Leonardo Nam, Maria Konstandarou, George Touliatos, Kyle Schmid, Erica Hubbard, Emily Tennant, Jacquelyn Stewart, Sarah-Jane Redmond, Ernie Lively.

Screenplay by Delia Ephron and Elizabeth Chandler.

Directed by Ken Kwapis.

Distributed by Warner Brothers Pictures. 115 minutes. Rated PG.
Sisterhood of the Traveling Pants
As a man, I have to admit that I have a natural distrust of films with the word "sisterhood" in the title. Okay, the only other one I can remember seeing was The Divine Secrets of the Ya-Ya Sisterhood, but two hours of watching women dance around fires and complain about men was more than enough to make me want to go cold turkey on the sisterhood. So it is with a certain degree of pleasant surprise that I can report what a very good movie Sisterhood of the Traveling Pants turned out to be. It certainly aimed at girls, but men can enjoy the film just as much because it tells interesting stories and deals with important issues in life without getting overly preachy or treacly.
Based upon a popular series of books by Ann Brashares, the movie tells a series of four stories about best friends who are spending their first summer apart. In the days leading up to their goodbyes, they find a pair of pants in a vintage clothing shop that magically fits all four very different (and radically differently shaped) girls. They make a pact to share the pants, sending it back and forth between them so that they can share adventures in the same pants. Then they must write to convey the story of what happened to them in the pants to the next to wear them.
Alexis Bledel (Gilmore Girls) is Lena, the shy, smart one. She is flying to Greece to stay with her grandparents in their impossibly picturesque fishing village. While she is wearing the pants, she is rescued from drowning by a gorgeous local fisherman (Michael Rady.) As she is growing to love the Mediterranean life and her cute guy, she finds out that her family has a feud with his.
Carmen (America Ferrara from Real Women Have Curves) is a chubby Latina going to visit her father (Bradley Whitford of The West Wing) in South Carolina, whom she almost never gets to see since her parents' divorce. When she gets there, she is shocked to find out that he is about to get married to a WASP (Nancy Travis) and adapt her white-bread kids.
Bridget is the beautiful, fearless, outgoing one. Blake Lively does fine work in her movie debut, unless you count her role as the Tooth Fairy in Sandman when she was ten. However, Bridget's constant attempts at acting happy can't hide the sorrow she feels over her mother's suicide and her distant relationship with her father. She goes to an all-girl soccer camp in Mexico and quickly sets about capturing her coach's eye.
Amber Tamblyn (Joan of Arcadia) is Tibby, the rebel of the group. She wears her clothes black and her hair blue and is sulking because she is the only one left behind. She is an aspiring documentarian who gets a job in a soulless superstore called Wallman's (wonder where that's supposed to be) so that she can film her co-workers' quiet lives of desperation. It is only when she befriends a little girl (Jenna Boyd) that she sees that she may be judgmental of people because she doesn't understand their lives.
The episodic structure of the film keeps it fresh -- none of the stories is stretched out so that they wear out their welcome. The stories may seem a bit familiar, but the filmmakers keep them fresh, driving them in unexpected directions and exploring real emotions. For example, when Carmen starts obsessing that her father prefers his new family to her, it is an intriguing concept that we find out that perhaps she is not totally wrong. The two come to a tentative understanding, but you never know how long that will last.
The stories are not always happy, and they aren't always sad. The girls don't always do the right things -- in fact mostly they don't. It sometimes seems that all they have that they can depend upon are themselves and each other. For in the end, their stories may be a little worn and frayed, but they are able to make them fit and be comfortable for all four friends. Just like the pants. (6/05)
Jay S. Jacobs


Copyright ©2005 PopEntertainment.com. All rights reserved.
Revised: August 19, 2022.