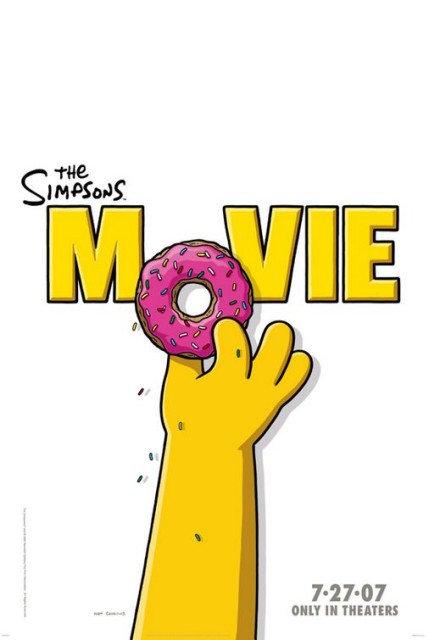 THE SIMPSONS MOVIE (2007)
Featuring the voices of Dan Castellaneta, Julie Kavner, Nancy Cartwright, Yeardly Smith, Harry Shearer, Hank Azaria, Marcia Wallace, Pamela Hayden, Albert Brooks, Joe Mantegna, Tom Hanks and Green Day.
Screenplay by James L. Brooks, Matt Groening, Al Jean, Ian Maxtone-Graham, George Meyer, David Mirkin, Mike Reiss, Mike Scully, Matt Selman, John Swartzwelder and Jon Vitti.
Directed by David Silverman.
Distributed by 20th Century Fox. 87 minutes. Rated PG-13.
The Simpsons Movie
With more than 400 half-hour episodes made over nineteen seasons widely available, you can't help but wonder what the point is in making a movie of The Simpsons. Sure, the TV series is one of the pop-cultural touchstones of the generation, the most subtly subversive comedy of its era.
However, in order to make a Simpsons Movie worth the time, they have to give the audience something that they can't get from the regular series -- and I'm sorry, a few seconds of Bart going full monty isn't going to do it. In fact, at the beginning of the film Homer mocks the audience for paying for something they could see at home for free. I know it was meant to be post-modern and ironic -- but it's not wrong.
If The Simpsons Movie were a special three-part episode on TV, it wouldn't be one of the classics. In fact, it would be one or two pretty good episodes which went on way too long. I can think of dozens of episodes of the show that are funnier than the movie -- and I'm only a casual follower of the show.
The Simpsons were always about character and jokes over plot, and you have to give them credit, they did not sell out the show's narrative thrust for the multiplexes.
The problem is, that lack of storyline which is fine in tiny chunks gets more and more noticeable in an extended feature timeframe.
The excuse for a plot has the town of Springfield becoming the most polluted town in the US when Homer dumps a silo full of pig droppings in the lake. The government -- as represented by an unscrupulous EPA agent voiced by Albert Brooks -- places a huge bubble over the town, trapping them all in. So there is a slight political slant to the humor, but it's really mostly kind of toothless, the parody is on the level of the chortling at the idea of President Schwarzennegger. The Simpsons are usually much sharper than that.
As the air and supplies dwindle in the bubble, the town turns on Homer and the Simpsons. If you've seen more than a few episodes, you'll have a good idea what they will do. Bart will sass, Homer will be his normal boorish self, Marge will be mostly selflessly patient and Lisa will try unsuccessfully to balance her beliefs and a cute boy.
In the meantime, most of the vivid supporting characters which make Springfield such a vibrant place are shuffled off to the side. There are some slight surprises -- Ned Flanders is actually something of a heroic character in this film rather then the source of ridicule he normally is. With the rest, each and every one of them gets quick little cameos, but none of them have the time or material to really make much of an impression. It seems they are mostly just coming in and rerunning scenes from any number of episodes.
Is the movie worth seeing? Sure, it's The Simpsons. It's a given a lot of it will be extremely funny. However, it's not so special that you need to run out to the theater. You may as well wait a few months and stumble across it on TV, where it will inevitably be rerun over and over, ad infinitum, for many years to come.
Dave Strohler
Copyright ©2007 PopEntertainment.com. All rights reserved. Posted: August 7, 2007.

Copyright ©2007 PopEntertainment.com. All rights reserved. Posted: August 7, 2007.