PopEntertainment.com > Miscellaneous > Save the Sitcom
Don't Let the Sitcom Die
by Mark Mussari
Copyright © 2005 PopEntertainment.com All rights reserved. Posted: July 19, 2005.
God help the sitcom. By all accounts the once hugely popular television genre is on its last breath. One can only hope that reports of the sitcom's imminent death are premature.
Long regarded as the poor relative of the revered television drama, the sitcom has lately suffered from a series of fatal ailments: lack of originality, weak concepts, paper-thin characters, mindless writing, fleeting network support. Most recent attempts at the sitcom only leave the viewer wondering: was that supposed to be funny?
In today's vapid sitcom universe, three-dimensional complex characters like Archie Bunker and Hawkeye Pierce have gone the way of pet rocks and word processors. Instead "types" have replaced the thoughtful characterizations of years gone by. As F. Scott Fitzgerald warned us: "Begin with a type, and you find you have created nothing."
And what a lot of nothing we now have: there is the fat husband/beautiful wife sitcom, the "those crazy ethnics" sitcom, the exasperated boy versus quirk
y girl sitcom. Even critically lauded attempts at something purportedly different—like the painful Arrested Development—are simply not very funny. Once it was enough to surround Bob Newhart with a cast of zanies (twice, no less) and let the yucks fly.
The sitcom's development during the 1960s and 1970s was a movement toward behavioral comedy that focused on situational conflict played out by a talented ensemble. This phase reached a pinnacle with the Mary Tyler Moore Show, which taught us that using accomplished actors (Ed Asner, Cloris Leachman) instead of attractive tyros elevates the sitcom. Would a network today give two mature talents such as All in the Family's Carroll O'Connor and Jean Stapleton their own sitcom?
In the 1980s the golden and silver age sitcoms gave birth to Cheers and The Cosby Show, two notably different yet equally accomplished examples of the genre. Cheers offered intelligent comedy in darker tones than a television sitcom set had ever seen, and Cosby, though refusing to genuflect at any cultural altars, taught indelible lessons about family and race.
In the 1990s the sitcom took a sharp left turn with Seinfeld, that rich show about "nothing" that brought a weekly dose of absurdist comedy into our unsuspecting living rooms. Still, the basic sitcom skeleton remained in tact: a cast of extremes (all played by solid comic actors) encircled the pivotal lead (the befuddled Jerry).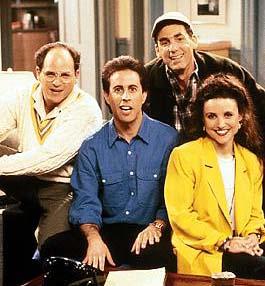 Seinfeld's greatest achievement was its ability to address the same basic issues as Mary Tyler Moore (how does a single person make it in the city?) from a postmodern perspective (she doesn't) and still be clever and funny.
Three other 1990s sitcoms proffered the last truly admirable efforts in the genre: Frasier dared to be sophisticated even as television began to eschew making us think. Will and Grace, especially in its early years, used wit and panache to make being gay seem both hilarious and irrelevant.
And Everybody Loves Raymond abandoned anything redolent of "family values" with the most dysfunctional fictional relatives to grace the small screen. As the hapless Ray warned us in the first intro: "It's not about the kids." Instead, acknowledging the lessons of All in the Family, Raymond gave us two great actors—Doris Roberts and Peter Boyle—in supporting roles as disturbing and flawed as a sitcom gets.
Because it shares reflective qualities with the culture that gives birth to it, the sitcom's legacy is too great to abandon. There is no reason for the genre to die. Lock some writers in a room and force them to watch "Mary Tyler Moore" for a few months.
Maybe they'll get it.
Photo Credits:
#1 ©1972 CBS Entertainment. All rights reserved.
#2 ©1977 MTM Entertainment. All rights reserved.
#3 ©1994 Castle Rock Entertainment. All rights reserved.
Copyright © 2005 PopEntertainment.com All rights reserved. Posted: July 19, 2005.