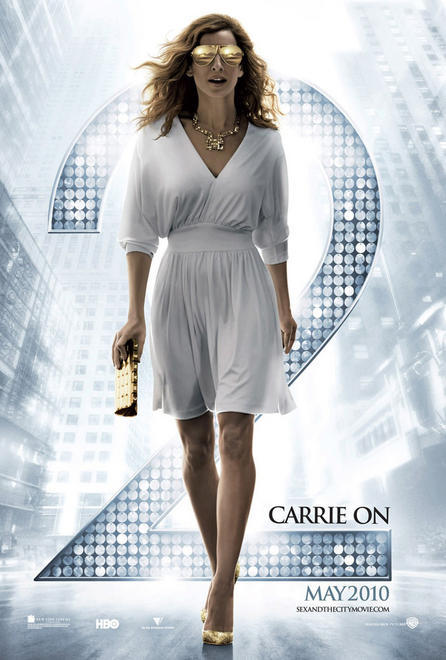 SEX AND THE CITY 2 (2010)
Starring Sarah Jessica Parker, Kim Cattrall, Cynthia Nixon, Kristin Davis, Chris Noth, John Corbett, David Eigenberg, Evan Handler, Mario Cantone, Willie Garson, Jason Lewis, Max Ryan, Raza Jaffrey, Alexandra Fong, Parker Fong, Lynn Cohen, Joseph Pupo, Alice Eve, Kelli O'Hara, David Alan Basche, Walton Nunez, Noah Mills, Omid Djalili, Penelope Cruz, Liza Minnelli and Miley Cyrus.
Screenplay by Michael Patrick King.
Directed by Michael Patrick King.
Distributed by Warner Brothers Pictures. 146 minutes. Rated R.
Sex and the City 2
I didn't like the first Sex and the City movie, but I was a big fan of the series, so I did have a certain amount of hope for the sequel.
Sex and the City 2 has done an amazing thing. First of all, it is vaguely surprising that it could be even worse that the first movie. In fact, far worse… and I truly would not have believed that possible.
However more than that, Sex and the City 2 has ruined the TV series for me. Literally, I may as well throw away all the DVD box sets I own – and I have them all, even the weak final season – because after seeing what became of these characters I can not imagine ever watching even a single second of the series ever again.
This movie is that bad.
Sex and the City is dead to me.
Congratulations, Michael Patrick King, you have finally figured out the way to kill the golden goose.
At least, I assume that this was an attempt at a very public hari-kari by the creator of the series. He can't truly believe that fans of the show – that anyone – really wants this. Does he?
I mean, yes, the Sex and the City ladies have always been shallow and superficial, but in the series they did it with style.
Now, their tone-deafness to real world realities is quite astonishing. The 90s are over, ladies. The 00s, too, for that matter. The dream world of promiscuous fashionistas living in a fantasyland New York without worrying about any financial restrictions, dress codes, sexually-transmitted diseases and outlet shops seems so out of step with the current state of the country.
Here, the four friends vaguely acknowledge that the economy is bad in a vague, shadowy way, then consume with shocking abandon.
Of course, perhaps another huge part of the problem is that the women have really become insufferable in the two movies, constantly whining about their perfect lives and feeling like they are put upon.
At least, once upon a time, these four women had been funny. That is long gone, too. Now they are dour and depressing.
The series used to be somewhat insightful and clever about modern mating rituals. This is long gone, too, with two of the women – Charlotte (Kristin Davis) and Miranda (Cynthia Nixon) more interested in their problems with children and their jobs than sex. Carrie (Sarah Jessica Parker) is too busy looking for cracks in her rock-solid marriage to worry about it too.
In fact, all four of them are involved with men who are astonishingly tolerant of these women's constant foul moods and neediness.
The film also makes a huge mistake by taking the women outside of their comfort zone of New York. (After all, "The City" is so important to this franchise as to be a part of the title!) Instead they have taken the girls on an all-expense paid vacation in an obscenely decadent Middle Eastern resort. Literally, there was a period of about fifteen minutes or so that nothing happened other than showing off the opulence of the place.
Of course, the women are staggeringly insensitive to local customs. And why not? They are staggeringly insensitive to everyone, each other included. It is to be expected.
A sing along of "I Am Woman" is not going to overcome sexism in Muslim countries. And, frankly, if you actually listen to the lyrics of the song, you realize that these pampered fashion victims are hardly symbolic of the "girl power" of Helen Reddy's song.
The characters can't even tell a joke anymore. Instead, the script is an endless string of banalities and groan-worthy puns, probably the worst of which has Samantha seeing a sexy man walking across a desert and purring, "Lawrence of my labia."
Yucccck! I need a shower.
The movie, like the last one, is an insanely long two-and-a-half hours. Between the two films there is the equivalent of ten episodes of the series – nearly an entire season of the show.
Worst. Season. Ever. By far.
Goodbye Carrie, Samantha, Charlotte and Miranda. It was nice knowing you once upon a time. Don't let the door hit you on the ass on your way out of my life. And, by the way, this time around, it wasn't me. It really was you.
Jay S. Jacobs
Copyright ©2010 PopEntertainment.com. All rights reserved. Posted: May 30, 2010.

Copyright ©2010 PopEntertainment.com. All rights reserved. Posted: May 30, 2010.