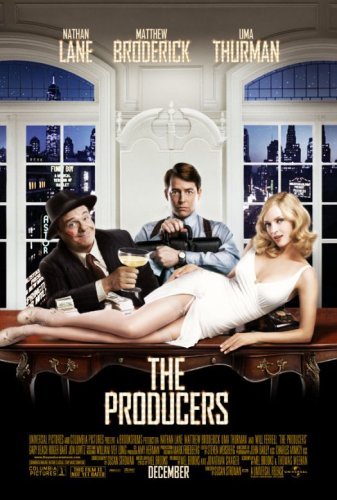 THE PRODUCERS (2005)
Starring Nathan Lane, Matthew Broderick, Uma Thurman, Will Ferrell, Gary Beach, Roger Bart, Michael McKean, Eileen Essell, David Huddleston, Debra Monk, Andrea Martin, Jon Lovitz, Bryn Dowling, Meg Gillentine, Kevin Ligon, Ray Wills, Richard Kind and Marilyn Sokol
.
Screenplay by Mel Brooks and Thomas Meehan.
Directed by Susan Stroman.
Distributed by Universal Pictures. 135 minutes. Rated PG-13.
The Producers
Sorry, Mel Brooks, there are only so many times you can go back to the well, and this musical movie version of the musical version of your classic movie comedy (got that?) is one too many.
Granted, you have not quite milked your story nearly as much as your former This Show of Shows co-writer Neil Simon has done with his 60s comedy The Odd Couple, which is currently going through yet another revival on Broadway – ironically with the same stars as this movie, Nathan Lane and Matthew Broderick.
However, The Producers was perfect in its original incarnation as a black comedy starring the late great Zero Mostel and a then unknown Gene Wilder. They were pitch perfect as a sleazy producer who tries to make a fortune by purposefully creating a complete flop of a show and the neurotic accountant who innocently sets off the scheme.
When the play was converted to a musical a few years back, starring veteran Broadway hoofers Lane and Broderick, it wasn't perfect. However, it did capture a sweet nostalgia and sense of fun and outsized tastelessness and it became one of the biggest hits on the Great White Way in recent years.
Ironically, this movie version of the musical doesn't work very specifically because it was too faithful to the stage version. This is essentially a filmed version of the play, which kind of gets overpowering because theater and motion pictures are such different art forms. Lane and Broderick are still hamming it up, yelling, playing for the cheap seats without seeming to remember cinemas have no cheap seats.
There is no acting on display here, per se, just overacting, overly broad comedy and overbusy musical set pieces. It kind of gives you the feeling that it was too bad that you missed the whole thing on stage. However, it does not really make you happy to see it on film or video. Given the choice, there is no reason in the world not to just watch the original. (12/05)
Jay S. Jacobs


Copyright ©2006 PopEntertainment.com. All rights reserved. Posted: May 20, 2006