One of the reasons that Scottish actor Ewan McGregorís career has been so fascinating is because he is constantly reinventing himself.
The guy is just as comfortable in rough-n-tumble violent drug gang stories (Trainspotting) as arty period pieces (Emma, Miss Potter), black comedy (his breakthrough Shallow Grave, I Love You Phillip Morris), action blockbusters (Star Wars Episodes 1-3, The Island, Angels & Demons), quirky dramas (BlackHawk Down, The Ghost Writer) and even musicals (Moulin Rouge).
His latest fascinating reinvention is in Mike Millsí intimate comedy-drama Beginners. A highly autobiographical story for Mills, McGregor plays Oliver, a numbed man who learns to love through a few major events in his life. First, his father (played by Oscar winner Christopher Plummer), at 75 years old, decides to come out of the closet as a gay man and live happily for a few years before contracting cancer. When his father passes away, he opens his home to his dadís beloved Jack Russell Terrier (played by a scene-stealing dog named Cosmo). Then he meets a free-spirited but neurotic French actress (Mťlanie Laurent) and enters into a tempestuous and passionate relationship.
Beginners is enjoying enviable buzz as it heads to the multiplexes, picking up wonderful early reviews and film festival acclaim. Soon before the filmís debut, McGregor was nice enough to talk with us and a few other media outlets about Beginners and his career at the Waldorf-Astoria Hotel in New York.
I have to ask you about the dog, who is so cute in this. How did the two of you bond? Was he always following after you? Did you have little treats?
Kind of both things happened. Thereís technical ways you work with animals. Partly that is little treats Ė actually it was little bits of his food. You have food and there is that thing where you feed the dog Ė you hold up the food in between your eyes and feed him like that. So when he looks at you, heís looking where the food came from, up here. Otherwise he might look at your hands. Then the other thing with Cosmo, who is a lovely dog. Heís an amazing character, that dog. You have to when youíre making a film have two dogs Ė I think for the insurance or something. There was another dog who looked the same. And Cosmo in fact is a white dog. He didnít have any brown. So he had a colorist. There is an animal colorist in LA. Of course thereís an animal colorist in LA. So, there was another dog who was colored the same way. He was a sweet dog and everything, but he didnít have nearly the character of Cosmo. So when we were acting with him Ė and it was very rarely that we did Ė it just felt whatís wrong with this? There was this big void. That was just he didnít have the character that Cosmo has.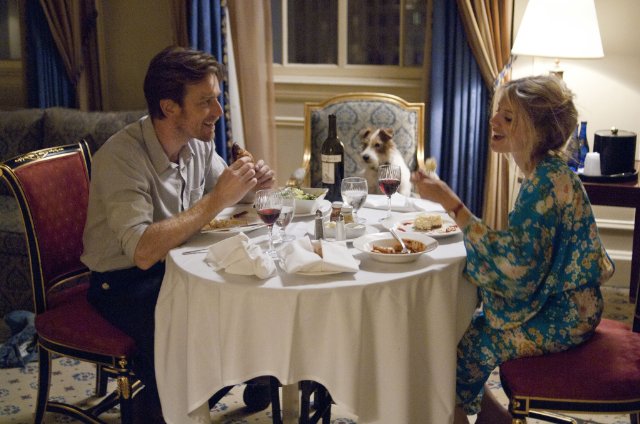 Did you want to take him home with you?
I did. I couldnít. My very first idea about the film with Mike was maybe we could rescue a dog and we could use the dog in the film and then I would keep the dog afterwards. I really would like to have a dog, but my wifeís allergic to dogs and he sheds Ė Cosmoís a long-haired dog. I did find a little rescue dog on the last day of our shoot. I found a little dog called Sid who is my dog now. And really replaced Cosmo. I do see Cosmo now and again, with Sid, but I actually found a real Cosmo replacement. Heís the same size. Heís a poodle-mix, but heís the same size, heís white. Itís just like having Cosmo around. Itís funny. Heís also got a very strong character.
Did your children take to the dog?
Oh yeah, they love him. Heís a real member of the family now.
With the characters of your parents, why do you think their marriage lasted so long?
I think the marriage lasted so long because they had a partnership. Their marriage absolutely worked, on the levels it worked on. Mike talks very fondly about his mom and dad. In the film, you see him looking back at his relationship with him mum, mainly, because she wasnít around I guess to talk to anymore about it. I think it was a functioning marriage in that it worked to the purposes that it was there for. Mike talks very fondly about his parents, and also about his dad. And about his dad after he came out and his dad when he came out. He refers to him as his gay dad. His gay dad was more emotionally available to him and more present in his life than he had been when he was repressing his sexuality.
Do you think the way the film handles the coming out is a statement on what is going on in our society?
There is something right about our society now in that people are coming out. In the film, Mike looks back over his fatherís history and looks very specifically at what it might have been like to be a homosexual man in the early 1950s in America. The pressures that led him into feeling he had to suppress that. It was considered to be a mental illness, homosexuality. People were arrested for sitting in a gay coffee house together. People were thrown in the back of police vans. It would ruin your life, the stigma that was attached to it. Thatís changed and is changing. So, I think the reasonsÖ and itís very personal, I think, for every single individual that causes a gay man to not come out and try and live some idea of normalcy.
Christopher Plummer has been working for so many years, probably before even any of us were born. What was it like to work with such a legendary actor?
Really, really wonderful. Heís a fantastic man and a great actor. Heíd tell stories about some of the people he used to work with. He was in Hollywood in the 50s and 60s. He worked with some incredible people. But heís very modern actor, a very contemporary actor. When we were playing the scenes, I didnít feel like I was playing the scenes with an older actor, who is giving a great performance, but he really gives a great performance in this film. Absolutely fantastic. I felt like I was working with my dad in those scenes. Itís like I was Oliver, he was my dad. He was a very modern, contemporary actor to work with.
Itís been said not to mention The Sound of Music to him, because it pisses him off to talk about that...
Oh, yeah. (laughs)
Did you find yourself having to hold back?
No, because I donít think of him just from that film. I think heís a great actor. I didnít come with any judgment or ideas. I try not to do that. And I found him to be just the most charming man. I loved being around him.
How much input did Mike allow you to have in regards to your character?
You always bring more than whatís on the page, because the page is just words and youíre a human being. Thatís our job to do that. Thatís something we always do. There was never any pressure from Mike to make a kind of impersonation of him or to copy him in any way. He wanted the character to be my character Ė for me to have the freedom to create Oliver as I wanted to. But, I did want him to be like Mike. I wanted him to sound like him and to move like him. Although, I think if you walked onto our film set and you didnít know what was going on, I donít think you would look at me and then look at Mike and go, ďOh, heís playing him.Ē It wasnít like that. But I worked on his voice. I had Mike record all the dialogue, so I could listen to that and work on his accent, work on his voice. I would watch him and try and incorporate some of his physicality into what I was doing.
Did Mike tell you about his relationship with his father on a personal level?
Yeah, absolutely. We talked a lot about his life and his memories of being a child and his mother. We talked a lot about his mother. Iím not really involved in the scenes because Oliver, is the young boy whoís a brilliant actor [Keegan Boos], as is the mother [Mary Page Keller], sheís brilliant in the film. But I wasnít in those scenes, but it was important to know who Oliver was and where he came from. So we did talk about that a lot. Yes we did.
The film also examines marriage. Youíve been married sixteen years. Thatís a pretty big accomplishment in Hollywood. You read more about them falling apart than staying togetherÖ
Thatís reflective more of the media than the marriages themselves. We donít read about the marriage Ė ďStill together!Ē It isnít quite as big a headline as ďTheyíve broken up!Ē
When you do a film that really examines marriage Ė and this shows a more offbeat relationship Ė do you ever stop to think of what youíve accomplished from the work youíve done in film?
I donít feel like our marriage is an accomplishment. An accomplishment sounds like an effort or something. Iím just in love with my wife, I was when I met her and Iím in love with her now. Iím very lucky that we found each other. And this film looks at marriage from a different perspective, youíre right. But I still think there was love in their marriage. I think, there obviously wasÖ it was complicated. Of course it was. But as Mike says Ė Iíll tell you this story because he told it in front of journalists, so Iím sure heís happy to tell it Ė but he has two sisters who donít appear in the film, He didnít write them in the script. Theyíre older than him, ten years and seven years older than him. So, his parents Ė his gay father and his straight mother Ė had his sisters and then, seven years later, had Mike as an accident. Heís a product of their recreational sex. So, itís not that they were... I think people imagine that maybe it was a terrible marriage and a terrible struggle, but there they are. They were fooling around, so.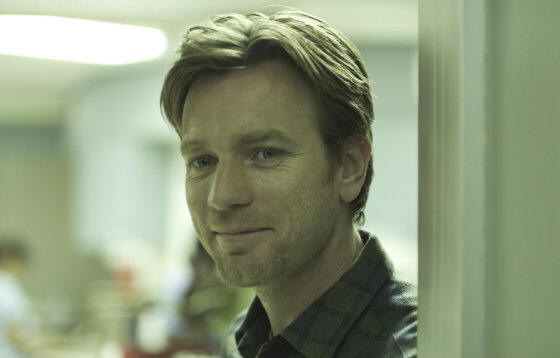 How do you feel about gay marriage? Do you support it?
Yes, absolutely. I find it difficult to understand why it would even be an issue. I donít know why we would not support gay marriage. Marriage is the union of two people who are in love with each other, thatís all. I really donít, in my life, have any prejudice against peopleís sexuality. I never have had.
I think itís mostly religion and the religious issues and connotations.
I donít know. Religion should be much more about love and less about all of the stuff that it seems to bring around in the world.
The motorcycle journeys that you do Ė what are they all about? Do you have any coming up?
No, I havenít got any plans at the moment. They were just adventures. Me and my friend Charlie decided to do a long motorcycle trip. Weíd done lots of other things with motorcycles. Itís one of my passions, riding bikes and collecting old oily ones that donít run very well. It was a thing we hadnít done. I read a book written in the 70s called Jupiterís Travels, which is a wonderful travel book written by a journalist called Ted Simon. It was an inspirational book to read, about seeing the world from the back of a motorcycle. It offers you a great deal of freedom. People are very nice to you when youíre on a bike, because they appreciate the vulnerability of it. So itís a lovely experience to go into some of the more remote parts of the world that you might not otherwise see and see what people are up to there.
Did you ever have a major breakdown on the bike?
Yeah, we had our troubles. The bikes we rode are BMWs, which are pretty bulletproof. Itís difficult to break them. And we tried. (laughs)
CLICK HERE TO SEE WHAT EWAN McGREGOR HAD TO SAY TO US IN 2007!
CLICK HERE TO SEE WHAT M…LANIE LAURENT HAD TO SAY TO US ABOUT BEGINNERS!