Paul Giamatti cuts an unusual figure in image-conscious Hollywood – however that is one of the reasons that his career has been so fascinatingly diverse. He'll readily admit he was not blessed with leading man looks, therefore he had to work harder and seduce movie audiences with pure talent and quirky project choices.
The son of former Major League Baseball commissioner A. Bart Giamatti, Paul Giamatti came from a theatrical background and early in his career seemed to be stalled at bit parts in major films – like the hotel bellman who shared a cigarette with Julia Roberts in My Best Friend's Wedding or the "kissing guy" in Singles.
It was his role as Howard Stern's obnoxious boss in Private Parts that broke Giamatti from the pack and he has never looked back. Since he has done a dizzyingly varied and eclectic selection of roles in the likes of Saving Private Ryan, American Splendor (playing cult comic artist Harvey Pekar), The Illusionist and The Nanny Diaries. He was nominated for a Best Actor Golden Globe for his performance in the popular film Sideways playing a character he found pretty reprehensible – more on that later. He was nominated for a Best Actor Oscar for Cinderella Man. He also won an Emmy for Outstanding Actor in the HBO miniseries John Adams.
Now he has won yet another Best Actor Golden Globe for Barney's Version – the long-in-the-works adaptation of the final book by respected Canadian novelist Mordecai Richler. Barney's Version takes a panoramic look at the life of Barney Panofsky, a cynical Canadian television exec who is married three times – literally meeting the third wife at the wedding with the second – and also survives the scandal of his best friend's mysterious disappearance.
Giamatti plays the character over a span of 30-40 years, going from a 20-some expatriate experiencing the artistic world in Rome to a jaded aging executive who mourns his lost youth. Barney's trials and tribulations and eventual illness are handled with surprising humor and pathos.
Rosamund Pike, the British actress who plays Barney's third wife and his one true love, called working with Giamatti a dream. "I adore Paul," Pike said. "I really just believed in him as Barney. He made me laugh. I find him intellectually inspiring. I feel we have similar kinds of appetites for life and literature and curiosities and art and that kind of stuff. Then, you know, there was no bullshit with him. There's no tricks. There's no trying to save his performance until it's on his side – until he's on camera – and all these kind of stupid things that some arrogant actors do. He's got no ego. I just love it."
Right before the opening of Barney's Version, Giamatti sat down with us and some other media outlets at the Crosby Street Hotel in the SoHo section of New York.
How did you first become familiar with the book? Did you know of it before getting involved in the movie?
I knew of the book, but I read the script before I actually looked at the book. I didn't read the book until the movie was done.
Have you been to a Jewish wedding before in real life, because that's a big part of this film?
I had one! But it was kind of a low-key, small-scale hippie one. So we didn't do the whole Hora thing. I did the low-key, cool-guy hippie thing, Jewish one. But I've been to them, yeah – never one quite as over the top as the one in the movie. A big, sweaty, crazy thing like that? No.
You just said that the Barney's Version book was really funny. The movie is actually serious, compared to the trailer. What do you think about that?
The trailer makes it look funnier than it is? This movie is impossible to put into a trailer. That's the thing. Even with the way they butcher movies to put them into trailers to try to sell them, this one is particularly hard to put into a trailer. I think they are terrified of showing me old, too, in the trailer. I saw it, and I was like, "You never see me old in the trailer." It's funny. It's a movie about an old man! It's not jokey.
Your character had to go through several decades in the Barney's Version story. Is there a particular decade you enjoyed filming the most?
The back-in-time thing was not that much fun. The young guy thing was hard, and the character is not as interesting either. The funnest thing is when he's oldest, because he's at the point where he cares the least about what people think of him. So the oldest stuff is the funnest, and it's also the most – literally and figuratively – mask-like. I'm wearing the most stuff, which was fun – the most prosthetic stuff. I really like wearing that stuff. It's the most that you're hidden and covered – and the furthest I feel from myself. Young, actually, you feel some weird obligation to be more truly some essential version of yourself. You're stripping stuff away and you have to be youthful. It's really hard. That was tricky, and actually somewhat anxiety-inducing. The old guy thing was the funnest.
How long did it take for each of you to sit in the makeup chair to transform into different ages?
It depended. That beard is not real, ever in the movie, that I have. He laid it on by hand every day, so that took a couple of hours. I was usually in there for at least two hours, if not more. And then with the prosthetics, it was three, three-and-a-half, almost four, sometimes. But the beard alone would take a couple hours. Always at least two hours, because of that beard.
How did they age Rosamund for the Miriam character?
Time machine! (laughs) It's harder to age somebody who looks like Ros than it is someone like me.
What do you think attracted Miriam to Barney, considering that he started pursuing her at his wedding to another woman?
He's sincere about it, actually. He's not just hitting on her, actually. That's the difference.
Don't you think the way he treated his second wife was not very nice?
It was stupid to get married for stupid reasons. He takes it out on her, which is unfair.
All things considered, despite some obvious bumps in the road, Barney did have a pretty good life – he was very successful, he had a great relationship with his father, he found his true love, he had two wonderful children.
He boozes and smokes.
What do you think it was about him that he couldn't stop sabotaging himself and just allow himself to just be happy?
I don't know. He's got a lot of self-destructive tendencies. He's insecure. I think he's got a fatalistic notion of things, because I think he is very romantic, but I think he's frustrated by it. He's constantly trying to reinvent himself – unsuccessfully – and live authentically in a world where you really can't, in a lot of ways. I just think he's got a lot of insecurities that leaves him descending and spiraling into crazy, insecure places. He does have a pretty good life, yeah, but I think he's just a tortured guy in a lot of ways.
Is that what attracted you to the role?
Yeah. Frankly, it was a lot of the things that you would look at as negative were what I thought would be fun. It would be a lot of fun to play a guy who punches a guy in a hospital waiting room or pulls a gun on somebody or tells his father-in-law to get lost or gets drunk all the time. The energy of it was really fun. Chasing a beautiful woman down on the train. There was nothing unappealing about him to me. I thought he was great. And he was a lot of fun to play. He's got a terrific energy that was really fun to go with every day.
Can you talk about how you choose your roles?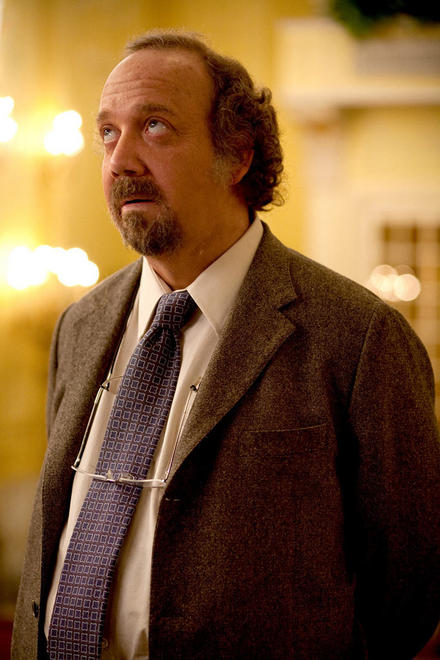 Dartboard! I don't know. I got lucky that something like this comes along. That's one of the reasons I did it – this kind of epic, intimate character study comes along very often, so I took advantage of it. It is kind of. It's weirdly both things. [epic and intimate.] It's rare. Other than that, the only sort of plan that I've ever had was to try and keep as much variety in my life as an actor as possible, because I get bored very, very easily – fatally, suicidally bored very easily. One of the reasons I am an actor is because I don't know what the hell I'm going to do next. So I don't know why I pick the things that I get. (laughs) Because it just sounds like it'll be fun.
So that explains why you've played John Adams and Santa Claus (in Fred Claus).
Exactly! Yeah, totally! Actually, there were fiscal reasons for that as well, but not entirely. I also was like, "Yeah! Santa Claus! That'll be fun to do. That'll be fun." Fun is the big motivator for me. Can't you tell?
What's up next for you?
More fun, hopefully. I am doing a movie called The Ides of March in February – ironically enough – which is about two nasty political campaigns. Just how dirty those things can get, is what it's about.
At the Toronto press junket for Barney's Version, you said that playing Ben Bernanke in Too Big to Fail would be a big challenge for you since he has such a bland personality. What was the biggest surprise in playing that character?
It was weirdly hard, because he's such a blank, that guy. It was hard, weirdly hard. It was only a couple of scenes, and it was really difficult to try and give him some kind of life. Because he's really just very… I mean, you've seen him, Ben Bernanke, he's the Chairman of the Federal Reserve. He's impenetrable. He seems dead! He's like a corpse! It's unbelievable. This was like, how do you play this guy and make him interesting at all? So I don't know if I did. We'll see.
What was the hardest role you've ever played?
I don't know. None of it feels easy to me. That Sideways movie was not very easy, actually, for me. That was probably one of the hardest things to play.
You were great.
Thank you. That was hard. That guy was a complete loser!
He's a regular guy.
He's not a regular guy. He's an asshole, that guy! He's a horrible human being! He's a loser. I'd much rather be like this guy in this movie. I think that's what I found hard about it, too. I was like, "This guy is horrible!" He is a nightmare, that guy! That's a guy I would never want to be caught in a room with for more than… That was much harder to be how do I make this guy sympathetic? I just thought that guy was a jackass.
So who's the bigger jerk: Miles Raymond in Sideways or Barney Panofsky in Barney's Version?
I think the guy in Sideways, actually. I think the guy in Sideways is worse. Yeah, that guy is just so whingey and done with everything. Barney's actually got a lot going for him.
CLICK HERE TO SEE WHAT CO-STAR ROSAMUND PIKE HAD TO SAY TO US ABOUT BARNEY'S VERSION!
Email us Let us know what you think.