Many bands consist of a sibling or two, but the pop rock group R5 takes that to a new level with four Lynch siblings on the roster – Riker (bass/vocal), Rocky (lead guitar/vocals), Ross (rhythm guitar/lead vocals) and Rydel (keyboard/vocals) along with their close friend Ellington Ratliff (drums/vocals).
Since originally forming in 2009, the band has signed with Hollywood Records and have been writing and releasing original music. They have also been touring extensively, playing many shows across the US and overseas in places like Argentina, Brazil, Great Britain and Portugal. The group has gained a huge and loyal fan base with people from all over the world, including millions of followers on YouTube, Twitter, Facebook and Instagram.
In addition to being in the band, all the Lynch siblings and Ratliff have some acting on their resumes. Notably, brother Riker has been on Fox's hit show Glee and most recently was awarded second place on season twenty of ABC's Dancing with the Stars. Ross, on the other hand, is a familiar face on the Disney Channel playing Austin Moon on their hit TV show Austin and Ally. He also plays Brady in Disney Channel's popular Teen Beach Movie and Teen Beach 2.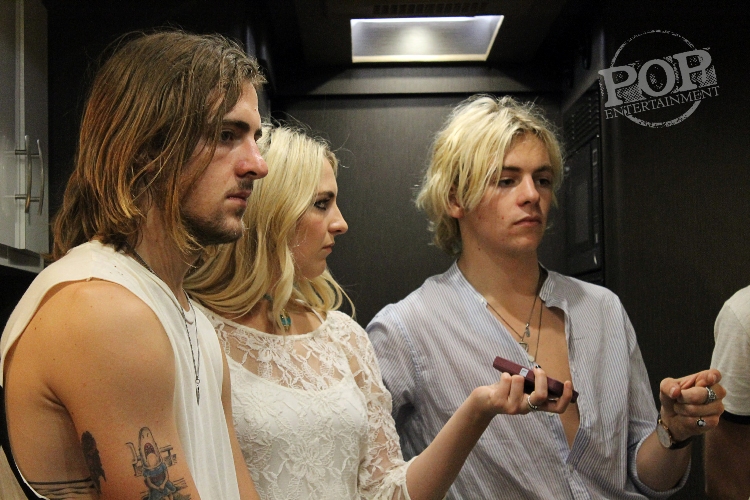 As a band, R5 has made appearances in many different places to perform: including the annual Easter Egg Roll at the White house in Washington DC, the Radio Disney Music awards and the American Music Awards Pre show.
Back in the beginning, the band had a series on YouTube called R5 TV where they posted covers and videos to keep their fans updated on their everyday lives. R5 put out their first self released EP "Ready Set Rock" in 2010.
After the release of their debut album Louder, the band hit the road on tour around the world. The band originally had an album ready to be released after Louder that included songs that were mostly written by writers outside the band, but decided against it so they could start over and write their own music to release. As a result, five years later, the band released Sometime Last Night their newest album on July 10th, 2015.
The band has released two full length albums and a number of EPs over the years and show no sign of slowing down. Last week they talked to us about recording their newest album mostly in their garage and how that was different from recording in a "perfect studio." They also told us about touring and much more.
The Sometime Last Night Tour runs through next March and includes the US and many additional stops abroad. When we caught their set at the festival grounds of Mercer County Park in New Jersey, it was lively and energetic and their fans screamed with every note.
How are you guys today?
Rydel Lynch: Pretty good
Everyone : Hot
Riker Lynch: Hot and sweaty.
Ross Lynch: It's so humid. They said it was 70% humidity.
Riker Lynch: Kinda smelly.
Ellington Ratliff: I'm not smelly because I showered.
Rocky Lynch: I'm not smelly because I used some deodorant.
Ellington Ratliff: It's hot.
Rydel Lynch: I don't know what any of you said because you're all talking at once.
Ross Lynch: The day is going smooth. Basically all we have left for the day is our show. We really look forward to that. I think it's going to be really good tonight.
You guys are on your Sometime Last Night tour. How has that been so far?
Ross Lynch: It's been incredible. Every venue and gig ups the last.
Riker Lynch: Yeah.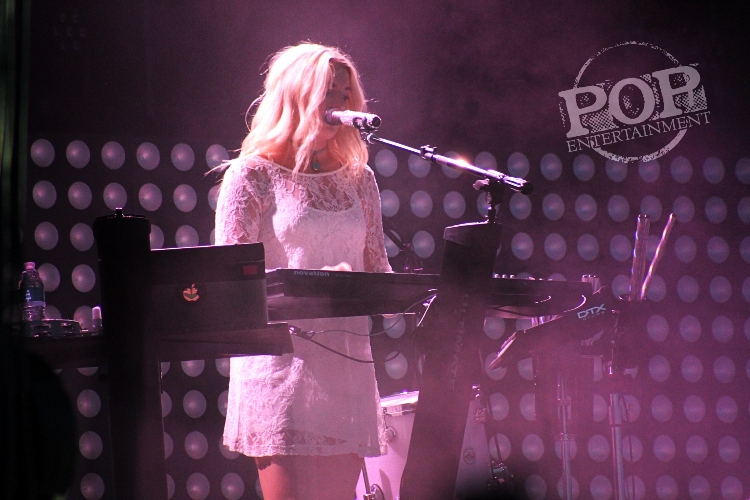 Rydel Lynch: Each show just keeps getting better and better.
Ross Lynch: Boston was our last show and it was possibly the best show on the tour I think.
Ellington Ratliff: I mean Canada was pretty good, too.
Rocky Lynch: I mean I'm still daydreaming of the Bahamas. (At the Atlantis.)
Ross Lynch: The Bahamas were incredible.
Ellington Ratliff: Take me back, right now!
Rocky Lynch: Every show has been good, though.
Ross Lynch: The fans seem to be reacting to the new songs really well. When we were writing we weren't sure. You never really know how people are going to react to it, but it's been all positive.
What was the creation process of the album like?
Ross Lynch: The creation process of the album was pretty... most of it had to do with time, which was the reason our first... I got to start over... (laughs)
Rocky Lynch: Recording this album, we started the whole thing in our garage. So actually when you click on it today if you're on Spotify or iTunes whatever, there's actually sounds that came from the garage. There's a lot of synth sounds. All the synth sounds are from the garage.
Ellington Ratliff: I had a bag of sticks.
Rocky Lynch: A lot of the gang vocals we recorded in the garage as well, because it has a way cooler sound than recording in this perfect studio. We also recorded the crowd in Tucson on this song "F.E.E.L.G.O.O.D." which was really cool. We tried to add different things. It's not just like this album that's recorded perfectly in a studio.
Ellington Ratliff: We had a lot of fun recording weird sounds and just being experimental with that. I even recorded a trombone.
Rocky Lynch: He had a xylophone and we recorded a xylophone.
Ellington Ratliff: Like a pen toy thing.
Rocky Lynch: I put it through a guitar amp and put a bunch of distortion on it while he played. It sounded really dope. It was like wahhh. It was cool.
What are some of your favorite songs on the album?
Rocky Lynch: Let's just go down the line, right now. I really like "I Know You Got Away" because it's very different from the rest of the album and just what's on the radio nowadays.
Rydel Lynch: Right now I like playing "Did You Have Your Fun?" I think that's fun.
Ross Lynch: I think my favorite right now is probably "Dark Side" or "I Know You Got Away" as well.
Riker Lynch: For me it's a cross between "Did You Have Your Fun?", "F.E.E.L.G.O.O.D.," "Dark Side" and "All Night."
Ross Lynch: Just name the whole record.
Ellington Ratliff: My favorite is "F.E.E.L.G.O.O.D" and I think it will always be "F.E.E.L.G.O.O.D" just because the experience of writing it was really fun and it's an awesome song.
Since you guys are around each other all the time, do you guys have pet peeves about each other?
Ellington Ratliff: Oh yeah, definitely.
Riker Lynch: A couple, nothing too drastic.
Ellington Ratliff: You can't be in a room with somebody for you know six months and not find something.
Riker Lynch: But like him (Ratliff), he leaves his stuff all over the place.
Ellington Ratliff: That's a great point. Have you seen anything?
Rydel Lynch: That's because our super secret magical fairy keeps cleaning the bus.
Riker Lynch: (to Ratliff) I will give you that.
Rocky Lynch: Actually there's nothing really. I don't know of anything off the top of my head. Maybe in the moment it might be like: Hey you! Oh right, I forgot. This is what I hate about you.
Ross Lynch: One thing that us guitar players get ragged on occasionally is we play our guitars more often than the other musicians play. We're dialing in tones and gain structures and certain things like that and practicing.
Ellington Ratliff: A little pet peevish.
Ross Lynch: Sometimes like the rest of the band doesn't appreciate us playing during sound check as much.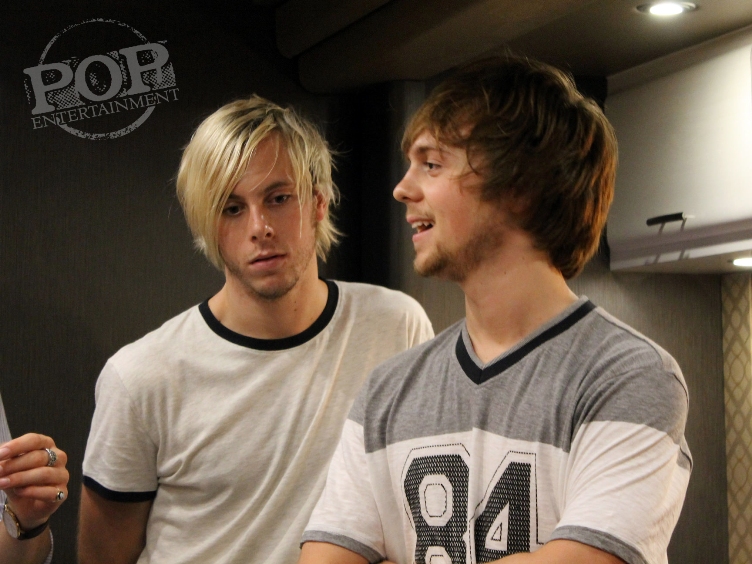 Riker Lynch: Only when I'm trying to talk and have a conversation with the rest of the band.
Ross Lynch: Yeah, but it's sound check time.
Ellington Ratliff: That's a dangerous question.
Rocky Lynch: This could start something.
If a fan were coming to one of your shows on tour what should they expect?
Ross Lynch: If a fan were coming to one of our shows on tour? Honestly, if you're already a fan, you've probably already been to a show. If you're not a fan and you want to come to one of our shows, just come willing to have a good time. Don't expect much, because then it'll be that much better.
Rocky Lynch: Expect it to be really bad. Then you get there and you're like woah!
Ellington Ratliff: No, but we're really good though. So you can expect a lot and it would still be like woah, you know what I'm saying.
Riker Lynch: You can come expecting a great show. We will put on a great show for you, absolutely.
Ross Lynch: Yes.
Email

us
Let us know what you

think.