After an ill-fated first pitch for the New York Mets (ahead of their game against Pittsburgh Pirates), rapper/actor/producer Curtis "50 Cent" Jackson has been trending on television lately. But soon he will be more than just a music moment — such as his recent Good Morning America's summer concert appearance — on the tube.
Once the Starz original series Power debuts June 7th, his acting and storytelling will be showcased regularly. The series — created by show runner/executive producer Courtney Kemp Agboh (Emmy nominated for The Good Wife) — also has 50 Cent, Mark Canton (300, Immortals, 300: Rise of an Empire), Randall Emmett (End of Watch, 2 Guns, Lone Survivor) and David Knoller (Big Love, Carnivàle) as co-executive producers.
This crime drama straddles both the glamorous NY club scene and the brutal drug trade. Power focuses on drug baron James "Ghost" St. Patrick and his hot, up-and-coming nightclub, Truth. While the club caters to the famous and infamous elite boldface names that run the city, the ugly reality is that it's a front for Ghost's lucrative drug network which serves the wealthy and powerful. As Ghost is seduced by a legitimate life, everything precious to him is at risk. The Starz original series asks the question, "Once you're in, can you ever get out?"
Actor Omari Hardwick (Sparkle, For Colored Girls, Kick Ass, Being Mary Jane) stars as St. Patrick, Joseph Sikora (Jack Reacher, Safe, Boardwalk Empire) plays his longtime best friend and business partner Tommy Egan and Jackson himself plays the imprisoned mentor Kanan.
From the beasts to the beauties, the series also features Naturi Naughton (Fame, The Client List, Mad Men) as his wife, confidant and willing accomplice Tasha St. Patrick and Lela Loren (Snitch, Gang Related) as Angela Valdes, an old flame who unexpectedly reenters his life.
Born on July 6, 1975, in South Jamaica, Queens, Jackson went from being at 12-year old dealer during the '80s crack epidemic to pursuing a rap career until he was shot coming out of his grandmother's house in 2000. He recovered, suffered setbacks, but after releasing his indie debut Guess Who's Back? in 2002, 50 Cent was discovered by rapper Eminem and signed to Interscope, Shady Records and Aftermath Entertainment.
With the help of Eminem and Dr. Dre (who produced his first major commercial successes), Jackson became one of the world's top selling rappers with hit albums such as 2003's Get Rich or Die Tryin' — RIAA-certified eight-times platinum — and 2005's The Massacre as well as being the de facto leader of hot East Coast hip hop group G-Unit. In 2003, he founded G-Unit Records, which signed several successful rappers such as Young Buck, Lloyd Banks, and Tony Yayo.
Jackson has garnered the following stats during his incredible music career: over 30 million albums sold worldwide, 13 Billboard Music Awards, six World Music Awards, three American Music Awards, four BET Awards and a Grammy. He's been ranked Billboard's sixth-best artist of the 2000s, its fourth top male artist, its third top rapper behind Eminem and Nelly, its sixth best and most successful Hot 100 Artist of the 2000s and the number one rap artist of the 2000s. Get Rich or Die Tryin' ranks as the 12th best album of the 2000s and The Massacre was the 37th best album of the 2000s.
Now that 50 Cent's fifth studio album, Animal Ambition, has been released, he's making the commensurate appearances at everything from Hot 97's Summer Jam 2014 (where he reunited with G-Unit Members) to GMA.
He has also pursued acting, appearing in 2005's semi-autobiographical Get Rich or Die Tryin', the Iraq War film Home of the Brave in 2006, and Righteous Kill in 2008. But now he plays a recurring character in Power.
Recently Jackson and Kemp Agboh sat down with a small group of journalists to describe the genesis of this series and the challenges facing both this hip hop entrepreneur/investor and his veteran television partner and as they launch this edgy new series.
Describe the first meeting you two had.
Curtis Jackson: The first conversation…?
Courtney Kemp Agboh: We met at your Cheetavision film office with [producing partner] Randy [Emmett]. 50 Cent and Mark Canton were having a conversation about making their own TV show and having it be music driven. At the same time I was working on my own idea for a blacksploitation show. I really wanted to do something with action and fun. But my dad passed away and there were some larger, more difficult themes I was wrestling with. So I was working on this pitch and Mark was like, "You should meet Curtis." It may not go any further than this, but what a great opportunity to meet someone rather than not know?
What were the first words out your mouth?
Curtis Jackson: "Hey, how you doin'?" [laughs]...
And then you got the show?
Courtney Kemp Agboh: Not exactly. I sat down with my index cards and we started to talk. When you walk into a conversation with someone who's a giant superstar, you have no idea what you're in for, so I went in with no expectations. Having no expectations makes it easier. [It was just like], "Here's another storyteller, he's another artist, let's talk like artists." Then it was like everyone else in the room just disappeared and we were talking to each other.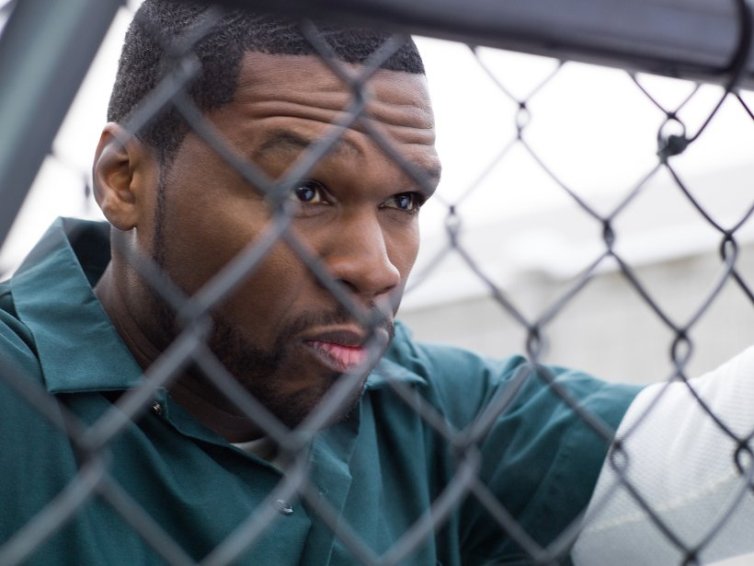 Curtis Jackson: I had found things to use as inspiration and draw from. Mark and I talked about having music play as a [big] part in it. I was looking at [the movie] Superfly and I was looking at Curtis Mayfield. It's probably the best soundtrack ever made. He wrote music related to the scene so the music says what you need to think. So in the process when Courtney and I started talking it was easy because sometimes you meet someone and they're like, "I got it."
It was her idea to do something with blacksploitation that was fun and she already had a concept in their mind. She was like, "Look, there it is. You get the full presentation before you get to say a word. It's for you to judge whether to decide if the work is good and you don't want to turn it away if it is."
I was open to everything. What happened was we had such a good communication that it was real easy. It develops so fast that the outline of the show was developed so fast… Usually you have to make an appointment to call or talk about a show or an idea but… this just went so fast...
Courtney Kemp Agboh: We had three meetings, three pitch meetings and we collaborated and made something together that was really exciting. We were fully invested in both as individuals and as a group and that made it so powerful.
Curtis Jackson: By the time we went to have the meetings, I was so engaged with Courtney in the creative process that I created 11 songs to match.
So the music was there early on?
Courtney Kemp Agboh: I was listening to his music while I was writing.
Curtis Jackson: Once we figured out what it was, I started writing the music. So she would say, "Let us explain what we want to do." She would explain the actual show and I would just press play.
That doesn't always happen.
Curtis Jackson: A pitch meeting with music for a show? They're already going, "You know how much we're not going to have to spend on this show because he's doing that?"
Courtney Kemp Agboh: When we turned in the first pilot, we turned it in with the music; we did it together. We both have the same title on the show, executive producer. I did the writing, I'm the one sitting in front of the keyboard, but this is the two of us working together.
Curtis Jackson: To be honest, she doesn't get the credit she deserves. At the end of the day you see that the characters are not over-speaking. When you watch an episode of something and you can feel with expressions that the actual acting is in the right proportion with the action and you go, "This shit is going to be good." The more you watch, the better and better it is. It's the sign you got a great thing on your hands.
Was placing the music easier?
Courtney Kemp Agboh: We had some music first. The great thing about Curtis that he's just like "put whatever music in, I don't care who's in it." It's not just 50 Cent.
Curtis Jackson: It's not the "50 Cent Experience."
It's an integrated experience...
Curtis Jackson: Right. And you have to mix it up at different points. One night you go to a night club and the audience is the kind you would see in Miami. Then you come back Friday night and it's a dream. It's like the extremes of two different dance cultures. Dance and EDM are there one night, then hip hop the next. You want to be able to have those things that capture those moments the right way.
Courtney Kemp Agboh: We said, "Let's make it real." Part of it is by design because I want the episodes that he's in for you to forget about 50 Cent the rapper and look at the character.
Curtis Jackson: We put music in the episodes I'm not in so you can feel a presence there if you're watching the show solely based on my participation in the market and promotion. In the shows I'm actually acting in it, we leave as little in music-wise so you can concentrate on my character.
Is acting a challenge for you?
Curtis Jackson: Creatively I'm conditioned for music. I've been writing full time since '97. The acting process is a bit of a challenge for me, but it's also a vacation. We don't ever get away from media, and at any point there's going to be some film and television and as soon you take a break there's going to be something with music and television related to what you're doing at that point. It's whether you're watching hardcore programming related to what you're doing or relaxing and doing what you want.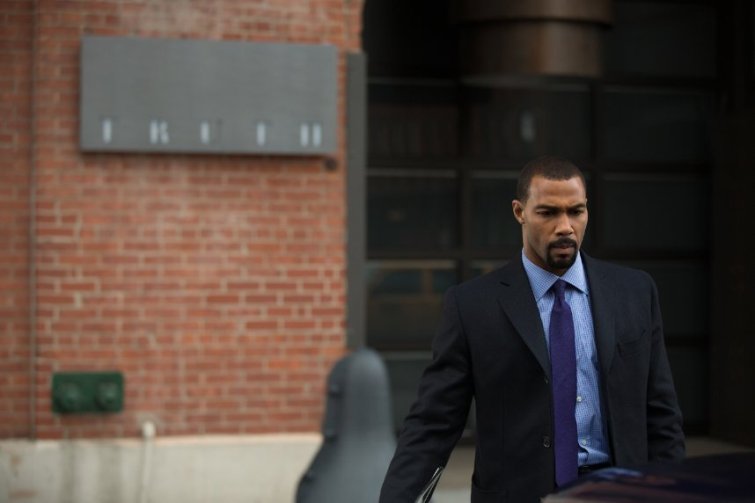 How were the actors chosen?
Courtney Kemp Agboh: In terms of Omari and Joe… My story is that I was a black girl growing up in a very white area. So I was different and had to adapt in two different directions. And that's Tommy's story to some extent. I wanted to put that story in and write about what it's like being the only one because he's a white character that grew up in a black neighborhood. I also wanted to talk about the relationships that you have that cross racial lines because there's a shorthand there and a weird thing where the white person understands what it's like to be black more than the average white person.
And the black person understands a little more about being white or an outsider than the average black person. And I wanted that brotherhood. You got a sense when Tommy was picked on for being white that Ghost was in there with his fists.
Curtis Jackson: He overcompensates. It makes it even more dangerous; he likes the trouble. When I ask who's a good guy and who's a bad guy people generally say Cain but it's only because his grandparents got a religious thing going. And they showed his compassion, but he sold drugs and committed robberies when he wasn't with Old Dog — and was his accomplice. He just has this internal struggle. There's no good guy, just two bad guys. The thing people connect with are the values. In Omari's case, he's living the American dream coming from nothing and now he's on top financially. And now he's going, "because of my route [of how I got here) I have to change something."
But people around him are conditioned to say no, we want things to stay the way they are — but it's a dead end. This route is old, so we've got to get out now. He's just being a little more sophisticated than the people around him and is looking for something different as an option. He says what if I went left instead of right, and that's the point of Angela [Lela Loren's character].
Lately you've been on a tear releasing music. Is it true rappers Big Rich and Birdman are recording for the show?
Curtis Jackson: I recorded the theme song, "Big Rich Town." He has something that spoke to the opening scene, so we used it. Joe and I mention The Power and it's used there. It feels like I'm giving him a shout out.
What challenges are left? Do you want to do something else that's different?
Curtis Jackson: Only entertainment. I enjoy the whistle-while-you-work concept, so I never feel overworked. I had too much time off when in Budapest [shooting my scenes for the Melissa McCarthy comedy Spy]. I'm sitting there for three or four days and they give me that room because it's such a big production and the style of the director was completely different from what I've done in the past.
When you work with comedians you don't want to put them in a box, you want to let them do what's organic at different points and say, "Okay, this one's yours. You do the take and whatever you have in your mind comes out and we have that as reference."
I'll do different jokes and we can use that for a different shot. It didn't work for all the talent. Nia [Long, who is also in Spy] had a difficult experience because she's conditioned for something different.
Why is the story of Power set in New York City?
Courtney Kemp Agboh: There's no other place to tell the story bottom line. New York is the center of the world. I grew up in Connecticut, outside of the city and my father commuted to the city for work. 50 grew up in Queens, and we both looked to Manhattan as that's where I need to go. It's a place where you can go from nothing to everything and still be in the same place. You can be 212 and have nothing, and you can be 212 and have everything.
Curtis Jackson: 212 and struggling, and 212 and not struggling. You look at the skyline and you can be at the low end building, at the end of it you got the same red bricks. Then you end up on the other end and you're in the super high end condos.
Courtney Kemp Agboh: If you look at the back pages of New York Times Magazine and they talk about these 6.5 million dollar condos with a great view, like you're going to pay for a great view. Well, the top floor of the projects have a great view too.
Email us Let us know what you think.