PopEntertainment.com > Feature Interviews - Actresses > Feature Interviews P to T > Zuleikha Robinson
Zuleikha Robinson

Following Her Bliss

by Jay S. Jacobs
Copyright ©2015 PopEntertainment.com. All rights reserved. Posted: April 26, 2015.
In a career that has lasted over a decade now, exotically beautiful actress Zuleikha Robinson has been consistent in always taking off-beat projects.
Robinson, who currently plays Kevin Bacon's love interest in FOX's serial killer drama The Following, wouldn't have it any other way. She loves the twists and turns her career has taken. Robinson started working mostly in film, getting her first role in Mike Figgis' (Leaving Las Vegas) 2000 drama Timecode and quickly graduating to the female leads in Hidalgo (with Viggo Mortensen) and Mira Nair's The Namesake.
However, she probably has made her name in cult TV series. She started out as a regular in Chris Carter and Vince Gilligan (Breaking Bad)'s spin-off of The X-Files called The Lone Gunmen. (Robinson also played the same role on an episode of The X-Files.) She has never looked back, popping in to play arresting (and often evil) characters on a group of popular TV series, including arresting runs on Homeland, 24 and Lost.
Her current role in The Following, on the other hand, is a little bit of light in the darkness for the main character, the flawed but basically righteous FBI agent Ryan Hardy, played by Kevin Bacon. Robinson plays Dawn, his new love, a doctor who is the only proof he can find of good in a world filled with violent sociopaths. As the third season of The Following has commenced, Dawn has become his anchor, the one person who makes him want to be a better man.
We recently had the opportunity to chat with Robinson and find out the latest about The Following as well as her fascinating career.
According to what I could find on the internet, you were born in London and brought up in Thailand and Malaysia. How did you end up coming to the US?
My father was in shipping, so as a child we moved around every few years. When I finished school in England, I decided that I'd had enough of the rain and wanted to move to LA. A friend of mine graduated the year before and suggested I try out the acting program that I ended up going to, at the American Academy of Dramatic Arts. I did the summer program there. They invited me back and I decided to jump over.
Gwen seems to be pretty much the only sane, positive thing in Ryan Hardy's life. Is it interesting as an actress to be the lone area of calm in a swirling tempest of evil? Does that affect how you play Gwen?
(laughs) No, it's been especially wonderful for me, because I've tended to play darker characters. As much as I love playing them and exploring the psyche of those types of characters, it has truly been refreshing to me to connect to someone in the way that I connect to Ryan Hardy. It's very beautiful. Working with Kevin Bacon has been an absolute dream.
What is Kevin like to work with?
It's really, really easy. Very open and generous. I feel the energy between us. It's always quite effortless. There's so much to play off of. It's just so natural to me.
So far your character only interacted with the darker side of Ryan's profession a couple of times, but the criminals keep asking about his new girlfriend so I can only imagine eventually you will be dragged deeper into the darkness of his world. Without giving away any spoilers, does Gwen eventually get more intimately involved with the case as well?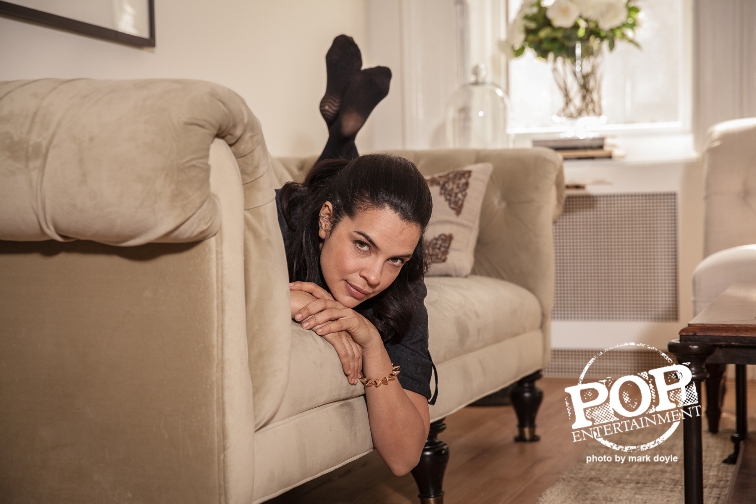 She doesn't really get involved in the case, per se. But there will be some struggles, just as Ryan is struggling to stay on the lighter side of things. Gwen is trying to be the anchor to keep him balanced. Things definitely get off-kilter a little bit.
In the most recently aired episode, Ryan and Gwen were starting to have some problems, he did not tell her about getting shot, he forgot about dinner with your boss and then threw the boss out over an argument on the death penalty. Will the relationship continue to be tested in that kind of way the rest of the season?
There will be a few more bumps that might come out during the season. There will definitely be some interesting storylines as well. Ryan does want to be good and wants to embrace that part of himself, though I think there is a part of him that doesn't really trust that it is possible. So we still continue to talk and share a great deal. And, yeah, there will be some fun stuff to get into later during the season.
The Following can get very dark. I know you haven't been involved in the most upsetting scenes, but as an actress, is it ever hard to shake off the darkness of the show?
No. I think when shooting that darker stuff, I actually find it quite fun as an actor. I like getting into stuff when you're dealing with crazy things happening around you. It really helps to plug you in, I feel.
You have a tendency to play extremely strong, competent women – not only here but also in Homeland and Lost and other roles. Is that something you look for in a part, or has it simply been a happy coincidence that the casting directors see that in you?
Well, I'm glad they see me that way. It's been interesting in this show because I've been a lot more vulnerable. Although that's been really great, I remember there have been some moments where I had to reset my brain a little bit, because I'm used to being more proactive in roles. I really appreciate most to always be able to play different things. I'm grateful that casting directors do see me as being able to play the stronger and more competent women. That's always really wonderful. And television really does leave a lot of room for that.
In this show, also like on Lost and Homeland, you joined the cast after the show had been going for a while. Is it difficult to fit in to a show when they have been working together for some time and know each others' rhythms, or do you find that the casts try to help you feel welcome from the start?
That depends on each job, I suppose. On Homeland, I knew Morena [Baccarin, who played Jessica Brody on the show and is currently on Gotham] a little bit before, so she was really wonderful. When I told her I was reading for the role, she sweetly called the producers for me. So when I came onto that set, I had a really beautiful time. The cast would socialize quite often. There were dinners and stuff like that. The producers were really actor-friendly, too. We had a really good time, socially. On this show, the cast and crew are amazing. Everyone works together really well. I definitely felt welcome on the show. It's just a different dynamic, because on Homeland, people there are alone and this time has people who the partners are married. So it just depends on each job. Mostly, it's generally easy.
I read in an article that you were about to give up on Hollywood when you got your first film role in Timecode. How did that come about?
Funnily enough, it's the only time that someone in the industry has ever just helped me out. I'm so lucky to have had that. Without it, I don't really know how long it would have taken me to get into the door. I'd gone to school with Mike Figgis' son. I remember he was shooting One Night Stand and I came to visit his son here in New York. Mike was like, "Hey, do you want to be in this film?" I was like: Oh! I can't! Film school and I have to get back. So, randomly, out of the blue, the following year and the year after that, my friend called me and said, "Hey, my dad is doing a movie in LA. Do you want to do it? He asked if you wanted to be in it." I was like: Sure, absolutely. So I got to be a part of that group of wonderful actors. It was very exciting for me. I was thrilled because there were so many well-known people in the film. I got to play with them. It was very lovely.
Another of your earlier roles was on the X-Files spin-off The Lone Gunmen, and you eventually played the character on The X-Files. What is it like to be part of such a legendary cult series as X-Files, Lost and 24?
That was my first job that I booked, ever, The Lone Gunmen. I had an audition actually for CSI. The casting director said we love you, but we actually think you are more right for this other role on this other show. They had me read for that and I booked audition. It was pretty great. I had just signed with my manager and was desperate to prove to them that I was worth their while. I was thrilled. The X-Files, I was always a huge fan of it. I used to watch it when I was younger. To work with Chris Carter and Frank Spotnitz and of course Vince Gilligan, it was a really wonderful experience.
You'd only been getting acting professionally a few years when you were hired for the female lead of Hidalgo. What was that experience like?
Yeah, oh my gosh. I had seen Lord of the Rings and I was such a huge fan of Viggo Mortensen and it was like – I'm going to work with him! When this came along I was just so thrilled. I remember the first day I went to visit the set when they were shooting down in Palos Verdes, California. I couldn't breathe. There was just so much money put in to the building of this world. It was just incredible. I was so excited.
Soon after that you did The Namesake with Mira Nair. It's interesting, early on you seemed to work mostly in features, but lately you've mostly done TV work. How are films and TV different to work in?
Well, it's been such a long time now since I've had a lead or supporting [role] in a film. So I really don't know how to compare. My world has tended to be more television. Not by choice, necessarily, but it's just ended up being that way. In film, I really did appreciate the amount of time that you had to layer in the character. I tend to work slowly in general, so sometimes TV is so fast paced for me. You have to get everything together in two days and prove you're worth it and then audition. And I'm a terrible auditioner. (laughs) Once I have a little bit more time... I need time for the character to sink into my body. Oftentimes I never have that.
I did notice on IMDB that you do have a film coming out called The Boy. What is that about?
That's a really lovely film. I just have a small part in it. A friend of mine asked me if I would be a part of it. It was shot in Colombia. I was very excited to go down there and check it out. It was a beautiful script about this young kid who was in the middle of nowhere who... it's basically the making of a psychopath. It's a very slow film. I haven't actually seen it yet, but it's being screened and doing well at South by Southwest and all these other things, so hopefully we'll get to see it. The script was really fantastic.
What would people be surprised to know about you?
Umm... surprised to know about me? (long pause) I don't know. Let's see. (another long pause, then laughs.) I'm so sorry. I don't know. I'm a pretty good cook. I don't know if that would be surprising to anyone.
How would you like for people to see your career?
I would just hope that people really enjoy what I do and the fact that I feel that I can fit into different types of characters. I want to be different in each role that I do. It's part of the excitement of acting. So I hope that's what they come away with.
Features Return to the features page

Photo Credits:
#1 © 2015 Mark Doyle/PopEntertainment.com. All rights reserved.
#2 © 2015 Mark Doyle/PopEntertainment.com. All rights reserved.
#3 © 2015 Mark Doyle/PopEntertainment.com. All rights reserved.
#4 © 2015 Mark Doyle/PopEntertainment.com. All rights reserved.
#5 © 2015 Mark Doyle/PopEntertainment.com. All rights reserved.
#6 © 2015 Mark Doyle/PopEntertainment.com. All rights reserved.
Copyright ©2015 PopEntertainment.com. All rights reserved. Posted: April 26, 2015.