One of the consummate actors of his generation, the English-born Ralph Fiennes has earned not only numerous awards and nominations (Oscar noms for his portrayal of Nazi war criminal Amon Goeth in 1993's Schindler's List and for his performance as Count Almásy in 1996's The English Patient) but also a huge geek fan base for efforts as the evil Lord Voldemort from the Harry Potter film series (2005–2011).
As the Potter series ended, Fiennes went from the reign of one brutal dark lord to portraying another when he made his directorial debut with a film adaptation of Shakespeare's tragic Coriolanus — another tale of a power hungry leader. The 51-year-old actor not only proven himself behind the camera, but did double duty playing the lead. Fiennes then won a Tony Award for playing Prince Hamlet on Broadway.
Thanks to this year's New York Film Festival, Fiennes' latest directorial turn, The Invisible Woman, received the special attention it deserved despite its rather obscure source material and controversial story.
Though the secret 13-year love affair between Charles Dickens and Nelly Ternan — which lasted until his death in 1870 — remained private for a long time until Claire Tomalin's book came out, it is relevant today. Dickens's status as the premier celebrity of his day (having written many classics such as Great Expectations, A Tale of Two Cities and A Christmas Carol) was not without a struggle to find the balance between his public and private persona.
At an NYFF press conference preceding the film premiere screening, Fiennes conducting a revealing discussion about his passion for directing the film, playing Charles Dickens and working with a remarkable Felicity Jones as Ternan.


Few people have read the book this film is based on, which was a revelation in academic and literary circles though it hasn't had much effect on Dickens in the popular imagination. Why did you want to make this film?
I was largely ignorant about Dickens's work and about Dickens himself. I hadn't seen many adaptations. I hadn't ever chosen or been asked to study Dickens.
I was handed this screenplay by Abi Morgan, which was an early draft based on the book The Invisible Woman. The story of Nelly Ternan affected me. In an early draft — which is very different from the shooting script that we finally locked [on] — it was essentially a similar structure of a woman living a life, married, running a school, and then we go back in time and learn about her past.
I think what hooked me was the idea of someone carrying within them an unresolved relationship. Then I read Claire's book and was smitten by the story of Nelly Ternan.
Suddenly my eyes were opened to Dickens, in all his complexity and many facets. I haven't read every single Dickens, but I gobbled up David Copperfield, Bleak House and Great Expectations.
In both this and Coriolanus, a remarkable Shakespeare film, you are the director/actor. Did you think twice about taking on that double position?
I did think twice. With Coriolanus, it was very difficult doing both.
When I was invited to do this, it came with the same invitation to direct and to possibly play Dickens. I initially said, "No. I don't think I could."
But in the process of working on the screenplay with Abi, I got to rehearse things. I got to read, test and speak out loud in my kitchen with Abi banging away on the computer.
I suppose I became enamored of the role of Dickens in the process. Having said no and been reluctant, I then said, "I think I should play him."
In a way, the film has a double ending. It's a bit parallel to what is said about the original ending of Great Expectations and that he had to change it. Is that what you were trying to do with the film?
Well, there are two endings, I suppose. For the story of Dickens and Nelly, this is the story of how she came to be the mistress of Charles Dickens, not their life together. This wasn't going to be a full biopic of Nelly Ternan or Charles Dickens.
It was her story, but the story I thought was dramatically the most interesting was the path that led Nelly to say to Dickens, "Yes." The choice was in the situations she was confronted with.
The final scene between them, which sets them up in the house, that's the conclusion of that story. The other ending is the ending in the school. I felt very strongly that we needed to have Nelly somehow give utterance to what had happened to her.
The Reverend Benham, who was played by John Kavanagh, was a real figure. Claire Tomalin writes about him in her book, and he was the only person, apart from maybe her mother or her sisters, that [Nelly] talked to. So I used the idea of Benham as someone who would listen.
She has been able to speak about it. It's given her a degree of closure. But she goes back into her life and she says to her husband, "I am here" — meaning "I am here fully for this continuing life with you."
And she sits there and watches a play with her son. It's a play co-written by Charles Dickens. I want the audience to watch her face and to engage with what she might be [thinking], which is a massive thing: her life, the future, her son, the theater where she was an actress. It's all those things.
Felicity [Jones] — who I'm very sorry can't be here because she's filming — does an extraordinary piece of film acting in that one moment. It's a mystery what goes through her. Her whole world goes through her face.
Then we end on Abi Morgan's little epilogue from the play. I guess it's better to have loved than to never have loved at all. For sure, Dickens and the memory of Dickens will always be there.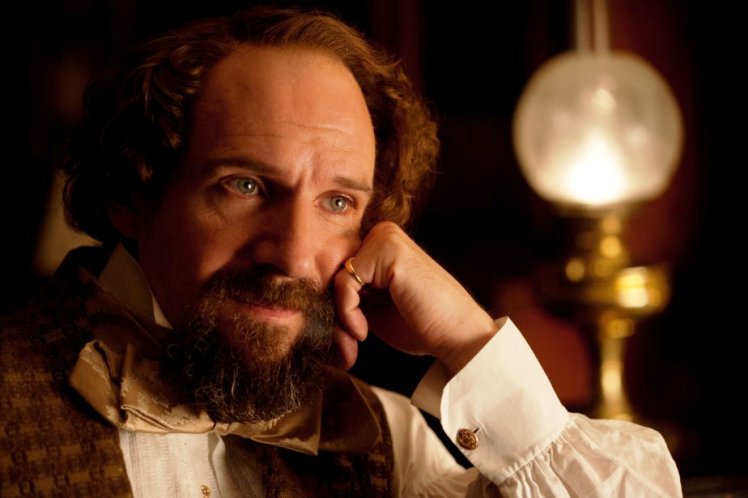 The film is visually magnificent. You have incredible cinematography as well as a great design team.
Yes, the design team — [production designer] Maria Djurkovic and set designer Tatiana Macdonald. One of the things I love was that they recently did Tinker Tailor Soldier Spy. We met and there was a creative love there about the period detail.
We both agreed that we wanted to embrace that specific time as accurately as possible. I did not want, nor did she, to give any kind of spin or alternative version of this period.
It's a fascinating period of design, [with] incredible patterns and colors. Some of it is very ugly, I think. The Victorian sense of dark wood is amazing. I wanted Maria to embrace that and she loved that. She was fantastic at the details. We wanted the details.
Michael O'Conner, who did the clothes, has been acknowledged many times. The wardrobe room that he [used] was an amazing place to go, because he found many original garments which he copied and remade.
I even got to wear one original Victorian waistcoat, in the post-theater party scene in Manchester. It's a beautiful black waistcoat, embroidered with tiny little grapes and vine leaves on the lapel. That small detail was a turn-on.
And then Rob Hardy, who lit it — we had a very creative love affair.
It's shot in film?
Yes. It's a combination of Fuji and Kodak, I think. Compositionally, it was important how we framed it. I wanted someone who would help shoot very strong frames.
This was not going to be a camera that would rush around a great deal, but was trying to look for the strength of composition that essentially would bring your focus into the face of the subject, the human, the character.
I really felt that the camera had to find the optimum place to view the interior life that we were all going to try to inhabit, and get inside.
You are an eloquent storyteller yourself, focusing on their faces and giving them time to develop that.
I think what a person is facing tells a story.
In many of the sequences, you give the audience access from an unusual perspective: not through the eyes of the character, but from behind them.
I think [having] the camera literally behind them is very potent, because backs of people's heads are a mystery. You want to know what's around the corner from that person. If we're behind them, we imagine what they're seeing.
When Catherine visits the Ternan home, I love the shot of the back of her bonnet. The bonnet is a thing you have to embrace during this period. It's a piece of feminine attire. It's protection that frames the face. It's also got a protective armor-like quality, so I think there is dramatic potential in that.
What is the face going to show me when I see it? I like watching people whether coming towards or going away. I like this scene of Nelly coming towards the church at the end. It's the silhouette.
The confession at the end is very important. The idea that if someone can confess and give utterance to someone who will listen, I think that's a really important thing to do.
Nelly doesn't speak. She doesn't express herself much. She's on the receiving end of this sort of fury called Charles Dickens. She has to make these choices. At last, she's found the courage and the ability within herself to speak.
It starts on the beach. When you're walking on a beach you confront your minisculeness and also confront your own essential humanness against the wind and rain. Maybe that is personal to me, that I think you can confront stuff on the beach when you walk.
That's why I like that she lived by the sea, but I wanted to explore what it meant to live by the sea. For me, the walking was a wrestling with these unresolved issues that she finds herself thinking about.
In this festival, the marvelous Martin Scorsese's The Age of Innocence gets a revival. This film has many things in common with it. Did you see it?
It was one of the films I saw, because I think that he embraces the period detail and the manners and the codes of behavior in the film.
I think some people shy away from that. I've seen other period films where the director was reluctant to embrace the details of the tact and manners. All these things I think say so much.
What's going on underneath, the complicated layers of behavior and hierarchy, is dramatically very strong. All these things to do with manners and how people address each other, they are all a sort of code for all the same human stuff that we can see in modern films.
I think what's going on underneath in that film is sort of sexy and dangerous. He definitely embraces that contradiction.
One of the most telling scenes about Dickens is one he is not in. When Catherine comes with the jewelry and the wife hands it to the mistress, is that something that was in the biography? Where did that come from?
It's mentioned in the book. There's no proof, but it is a story that existed and continues to be mentioned in all of his biographies. Dickens indeed had a piece of jewelry made for Nelly which was then wrongly sent to Catherine Dickens, and he insisted that she give it back.
I suppose in his head, he's thinking, "I've done nothing wrong. I'm not ashamed. Please return it to her." It was always a great scene. It's a scene that I think we barely touched, because it seems to me to read so strongly.
The proof of what a great scene it was is when Jones read it. Within seconds, what I believed to be a good scene was, in her hands, a great scene.
This scene is also a meditation on fame and media, in a sense, especially given the talk about sharing Dickens with the rest of the world. What do you think of that issue?
The first thing to say, that is really important for the audience, is that you see in the film what a huge star Dickens was. His readings sold out.
I think he became addicted to it. He loved an audience not only his theater audience who he read to, but also his readership which was very important to him.
This scene is based on the reality of Dickens's relationship with his reading public, and later on, the people who paid for tickets to come and see him read.
I think what Abi writes is that you will always be asking yourself whether it's [a person] or the public that he loves the most. That has a ring of truth about it. In Dickens's life, he discovered that he wanted to be an actor at one point and then he became a writer. But then he discovered that he could read his works and it was a huge success.
In fact, he made two trips to America in his life. The second trip, made shortly before his death, he came to New York and, as you know, he was a star. But he was an ill man. His body was breaking down, but I think he needed this connection with the public.
If Charles Dickens were alive today, what questions would you ask him?
I would ask him whether Nelly was the model for any of the heroines in the books he wrote when he was seeing her, particularly Great Expectations and Our Mutual Friend. I would love to ask him: is there any truth in this?