It feels like a perfect symmetry that Creed, the new reboot of the iconic Rocky series, is premiering on November 25, 2015. After all, that is forty years to the day from the date of the opening scenes in the original classic Rocky, in which Rocky Balboa wins a tough club fight against Spider Rico. Soon after, Rocky had his awkward first date with his soon-to-be true love Adrian, explaining to her "Yeah, to you it's Thanksgiving; to me it's Thursday."
This particular Thanksgiving weekend will be vitally important to the creators of Creed, though. They will find out if the world is waiting for a new generation of films about an underdog fighter with more heart than technique who pushes himself to the limit in order to become the world champion.
The early signs are good. A steady buzz has grown about the film, and the early reviews have been terrific. There is nowhere that the excitement is greater than in Rocky's native Philadelphia, the setting for the series since the start. Stallone grew up in Philly (though he was actually born in Brooklyn), so the films have long been not only a celebration of strength, courage and the will to succeed, but also a love note to Stallone's hometown. And, to paraphrase a not-totally successful old Chamber of Commerce tourism ad campaign, the city loves him back.
Philadelphia is showing their love by naming not one, but two days Creed day in the city. They gave the cast and crew Liberty Bell trophies, the key to the city and a whole bunch of memorabilia of the City of Brotherly Love. The second of these Creed days is the opening day of the movie, however, the first one recently passed when Creed stars Sylvester Stallone, Michael B. Jordan, Tessa Thompson and writer/director Ryan Coogler returned to the city to have a press conference announcing the release of the film.
Not surprisingly, the press conference was held at the top of the Art Museum steps, the site of Rocky's iconic run in the first film (which has been reused, in one way or another, in every other film in the series.) This was just one way that this press conference was unique for Hollywood film junkets. Local fans were allowed to watch the reporters asking questions from behind a barricade. The conference was introduced by former Philadelphia Eagle Vince Papale – no stranger himself to Hollywood filmmaking, because his life story was turned into the film Invincible in 2006 with Mark Wahlberg.
Papale did his best to whip the crowd (and the reporters) up, gushing, "Welcome to the Art Museum. How great is this? Are you pumped or what? Wait until you see Creed, because when you see Creed, you're going to be even more pumped. It is awesome! A great movie."
Not that the fans needed to be reminded of the awesomeness, however they enthusiastically listened to Papale.
"My name is Vince Papale, I used to play a little football here in town." Papale said modestly, because all the locals knew exactly who he was. "For those of you who have never been in Philadelphia, welcome to Philadelphia, the City of Brotherly Love. And of course the Art Museum that was made famous by Rocky. Can you believe that it was four decades ago that Rocky was running up these Art Museum steps? What he ran for: he ran for the dream, and he ran for hope and he put that run on for all of us that wanted a shot at the big time. He got it, did great and look what happened. Now we have Creed, and when you see that and there's so many great crossovers that will relate to you in so many ways."
Then Papale vacated the podium to the outgoing two-term Mayor of Philadelphia, Mayor Michael Nutter, who would introduce the stars and the film.
"I had the great pleasure and honor of actually seeing the movie last night at a screening," Mayor Nutter said. "I've seen all seven Rocky movies. This one should win an Academy Award, just like the first Rocky movie won an Academy Award for Best Picture. This is a great film, ladies and gentlemen. It shows Philly proud. It takes on a lot of issues and challenges. You'll see it. The first movie, in 1976, on a million dollar budget, shot in twenty-eight days. It put Philadelphia, literally on the map. There are so many people across the country and around the world who know about Philadelphia [from the film]. They know the theme music. We use it all the time in our city for all kinds of activities. The Philadelphia Eagles do as well."
Nutter continued to serenade the Rocky series, even talking about the famous Rocky statue that was less than a football field's length away from where everyone stood.
"Rocky the series and the theme really is the story of Philadelphia," Nutter told the crowd. "Tough times, tough challenges, never giving up, and always coming back. The statue is here. People take pictures. It moved around from time to time. It was just considered a movie prop at one point in time. Then finally, the art commission decided that it would be permanently here at the Art Museum. Where else would it be? The Rocky statue."
Nutter also discussed another recent statue, which celebrates yet another iconic Philadelphia boxer who had died a few years before.
"As I shared with...," Nutter started and then paused. "We don't know each other well, but I hear he actually enjoys being called Sly, so I'll take advantage. Irwin Winkler said I could call him that. As I shared with Sly and Michael, many of you know now that there is now a statue for Joe Frasier in Philadelphia. A real person who did real things here in our city. That's down in the sports stadium complex. We remember Joe Frasier."
Frasier was a 70s boxer, who about the time of the original Rocky was trading the heavyweight championship belt back and forth with Muhammad Ali. Stallone and Winkler were well aware of Frasier's impact in the sport. Frasier actually had a cameo as himself in the original film, trash talking and teasing Apollo Creed that he wanted to be his next opponent.
"I want to encourage all Philadelphians and everyone around the country and around the world, you want to see this movie," the mayor enthused. "It is a great movie. You know the basic fundamentals. There again are so, so many issues and challenges that they take on.... Rocky Balboa has been named the seventh greatest movie hero by the American Film Institute and ranked number thirty five on Empire Magazine's compilation of the 100 Greatest Movie characters. In 2011, Sylvester Stallone was inducted into the International Boxing Hall of Fame for his work on bringing Rocky to the screen and for the inspiration he gave to boxing fans across the globe. The story of Rocky. The iconic symbol of what can be accomplished if you work for it and try your best. Continue with the release of Rocky II, Rocky III, Rocky IV, Rocky V, Rocky Balboa and now the highly anticipated and soon to be released – Creed.
"Creed brings the message of Rocky to a next generation, starring Michael B. Jordan as Adonis Johnson Creed, the fictional son to Rocky's former opponent and friend Apollo Creed," Mayor Nutter wound up. "Rocky pays his world champion success forward by becoming a mentor to this young, at-risk fighter.... We congratulate the stars, the cast, the writers, directors and the producers of Creed for including a promising new generation in a timeless story. Inspired by the uplifting legacy of Rocky, we are encouraged to overcome all challenges to achieve the most in possible dreams."
The cast and crew came up to the podium. "Thank you, Mayor," Stallone said. "Thank you for everything."
Star Michael B. Jordan and writer/director Ryan Coogler returned the love as well, giving the mayor a massive stash of Creed swag.
Coogler said, "Thank you for all of your support. And the Film Office for supporting us and letting us come in to this great city and make another movie like this. We couldn't have done it without your help. We obviously couldn't have made this movie anywhere else, so we just wanted to say thanks and give you a little token of our appreciation.:
"We definitely wanted to give you some cool gear," Jordan concurred. "This is a bomber jacket, you know what I'm saying, to help you live out those young days. So, you going to go ahead and put that on? On behalf of Creed, there you go."
Legendary producer Irwin Winkler, the man behind not just the Rocky series but classic films like Raging Bull, They Shoot Horses Don't They, Goodfellas, Double Trouble, The Right Stuff and many more, looked out over the city skyline from the podium.
"My late partner Bob Chartoff and I came with Sly to Philadelphia some forty years ago," Winkler recalled. "I must say, this city is so different from what it was forty years ago. It is so beautiful, so culturally rich." Then he turned to the mayor. "Thank you, thank you so much for making this city even greater than it ever was."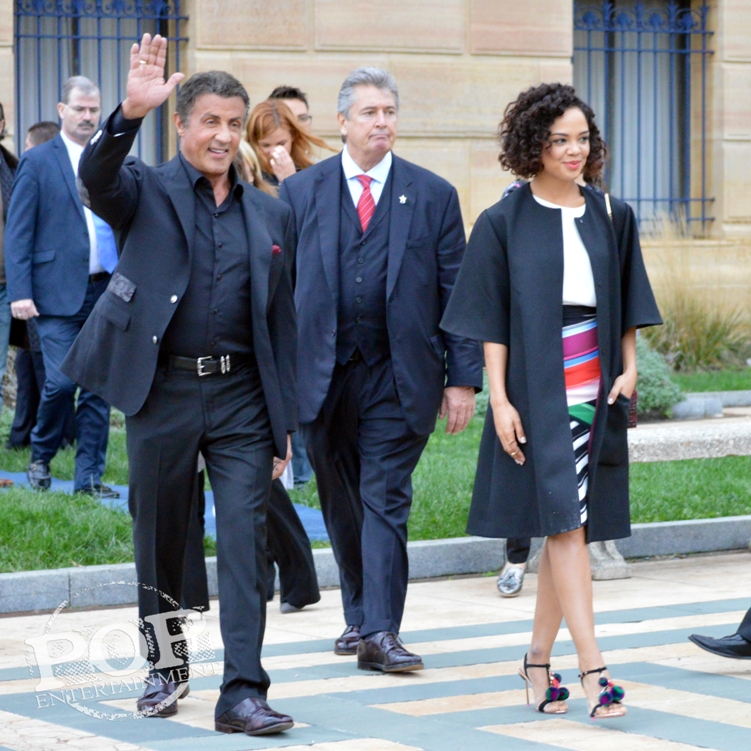 Stallone also shared his love for the city. "It seems like I've been here a long time," he said. "When I started these films, I think my voice was squeaky. That shows you how long I've been around. I started skipping rocks in the Schuylkill River over there when I was 12 years old, so all you kids in the audience there, if you don't think you can make it up these steps of life, which is represented here by this museum, don't you believe that. If I can do it, you can do it. It's just a matter of believing it and being reasonable with yourself and pushing yourself to the maximum of your abilities.
"That's what this film is about," Stallone continued. "It's about grabbing hold of an ideal, putting aside your fears, lowering your head and driving forward. And taking the ones that you love along with you, because without that support, without that family, without that person holding your hand in the dark, it's terrifying. So here's to Creed. Here's to the Rocky family. Most of all here's to the people of Philadelphia, who I love dearly. Keep punching."
Actress and singer Tessa Thompson, who plays Creed's love interest in the film, had never been to Philadelphia before she got the role. However, she too pledged her devotion to the city that became her home for the filming.
"I love Rocky, of course, but my favorite character I think in this movie is the city of Philadelphia," Thompson said. "I just had such an amazing time being here. All I did is hang out, basically. Ryan was like, 'Just get here as soon as possible, please.' Because there is no better way to learn how to be a Philly jawn than just spend a lot of time in some Philly jawn. So that's what I did. I just spent about two months just hanging out. I went to hair salons. I just went everywhere. He insisted I eat Philly cheesesteaks. I did that. I ate a lot of those. I just had such a tremendous time hanging out in this city. It's a really unique, special place. I feel really honored to get to play a woman that is born and bred here."
Stallone insisted it was an honor that she had earned, both as an actress and as a singer. He even started an impromptu duet of the first couple of lines of the Motown classic "Ain't No Mountain High Enough" with her, though he gave this up quickly enough.
"We could actually do a little live entertainment," Stallone laughed. "No, she'll just demolish me, anyway. She's shy, but she's incredible in the film. Believe me, her artistry will speak loudly for her."
Jordan, who turned so many heads starring in the indie hit Fruitvale Station, which was also written and directed by Coogler, had a challenge himself. Reinventing himself as a boxer was a test for him, but one that he was excited to take on. Jordan worked hard to look so legit as a boxer. He trained with fighters like Andre Ward, Gabe Rosado, Tony Ballew and Rob Sale, picking up the tricks of the sweet science. It was hard work, but it paid off. Jordan looks like the real thing in Creed.
"Honestly, Ryan and I knew about this project a few years ago, so I secretly was just getting in shape," Jordan explained. "Changing my diet. Not boxing hardcore, but just going through the motions of it at first. But, I want to say like ten or eleven months out, I really took the time.... I just wanted them to treat me like a boxer. I wanted to be method. I got up and did the road work. I changed my diet completely, which honestly is the main thing. Once you're consistent with your diet change, your body will definitely follow."
"Well, you did eat some Philly cheesesteaks," Thompson teased him. "Once a week."
"Cheat days! Cheat days!" Jordan insisted.
"I wasn't the only one there eating Philly cheesesteaks," Thompson continued. "You were there, too."
"Yes. Yes. Thank you so much," Jordan said to her. Then he got back on track of what he was saying. "So, yeah, [getting into shape was] a combination of all that."
Still, he admitted that some parts of his role were a little intimidating.
"The more challenging scenes for me were probably the fight scenes," Jordan admitted. "The boxing choreography. When you're mentally tired, you're mentally fatigued, it's very easy to make subtle mistakes. When you make mistakes in the boxing ring, that can be the difference between [being] knocked out or finishing the fight." He laughed. "So I think that was probably the more difficult scenes for me, all the boxing scenes."
Did he get hurt during the filming?
"Yeah, I took a few real punches, for sure," Jordan continued. "Thank Sly for that one."
"He deserved it," Stallone joked.
"Yeah, he enjoyed that one," Jordan smiled. "But ice baths are the key to recovery."
"I'll just add to that that Mike did all his own stunts in the movie," Coogler interjected. "Nobody else ever wore his shorts. He was in there every time."
Stallone, on the other hand, is long used to wearing the shorts. He's played the role over a canvas of seven films and almost 40 years. Yet he had to admit that even after all this time, he still finds out little things about Rocky Balboa that surprise him.
"Usually it comes through other people's eyes," Stallone said. "For example, when Ryan came up with this concept, I wasn't thinking along those lines. But I said: That really does open up a whole avenue to deal with a subject that many, many people have dealt with. That have family issues that is something that is out of your control. It's not in the boxing ring anymore. So yes, the idea is that I think as long as you are open to other people's suggestions, there is more to go. Really, there is more to go. I would like to follow this character until eventually he's an angel." He laughed.
So now that the robe has been passed (figuratively) to Adonis Creed, should we expect a Creed saga?
"Oh, absolutely, yeah," Stallone said. "Without a doubt. Rocky's story has been pretty much documented. This movie is called Creed. Following this young man's journey through all the trials and tribulations that lay ahead. So, yes, the idea is you'll see more color in the movie. For sure. Technicolor. It's a new day! And we will be back."
CLICK HERE TO SEE WHAT ELSE MICHAEL B. JORDAN HAD TO SAY TO US IN 2015!