It is rare for a band to explode on the scene like Evanescence did in 2003. It is also rare for a band to have so much turmoil in success' wake. However, not quite a decade into its popularity, a greatly changed but still rocking version of the band is back on the charts with their first new studio album in five years.
The group had been formed in Little Rock, Arkansas in the mid-'90s by singer/songwriter/pianist Amy Lee and guitarist/songwriter Ben Moody – who had met in summer camp when Moody overheard Lee playing piano. They caught a local buzz, releasing two EPs independently. They were joined by friends John LeCompt (guitar), Rocky Gray (drums), Will Boyd (bass) and David Hodges (a keyboardist who left the year before their international breakthrough.)
The band finally released their debut full-length album Fallen in 2003. On the strength of the smash hit singles "Bring Me to Life" and "My Immortal," the disk sold over 17 million copies.
However, at a time when they should have been on top of the world, the cracks started to show in the band. Moody left the group mid-tour in 2003 in a bit of a power struggle with singer Lee, who had become the band's face to the public. He was replaced by Cold guitarist Terry Balsamo. With the professional breakup with Moody, as well as her personal breakup with Seether leader Shaun Morgan, Lee and the band went to work on their follow-up album The Open Door. While recording the album, new guitarist Balsamo suffered from a stroke, from which he has since, thankfully, recovered.
The album did well and spawned the hit single "Call Me When You're Sober" (supposedly written about Lee's relationship with Morgan), but was not as big a smash as the original. Besides, Boyd left the band as the album was being finished and LeCompt and Gray took off the next year.
Five years later, the band is finally back with their new self-titled studio album, their first release in five years. The band is made up of several well known metal musicians who had been touring with Lee for years, including Revolution Smile guitarist Tim McCord and Dark New Day guitarist Troy McLawhorn and drummer Will Hunt.
Hunt, who has become the hard rock scene's go-to drummer in the past decade or so, was nice enough to give us a call and discuss the band, the new album and some of his other high-profile gigs.
How did you first get into music?
Well, let's see. I saw KISS on the Jerry Lewis Telethon and I think that's the thing that made me want to play. I saw fire, blood, and craziness. I'm like yeah, that looks cool. I think I'm down.
One of your first big time gigs was playing for Tommy Lee's solo band. How gratifying was it that a man who was famous for playing drums wanted you to play drums for him?
It was pretty surreal because growing up Tommy Lee was my hero. Man, he was the dude. Then a good friend of mine set me up for the audition. I went through the whole process and got chosen. It was just amazing. Hard to believe that you would ever meet your heroes let alone play with them. Then call them your friend? It's pretty awesome.
You toured with Evanescence for years when you were still a member of Dark New Day. How did you get together with Evanescence?
It came about through a producer, this guy named Dave Bendis. I had done a couple records with him. A band called Silvertide and he mixed a record from a band called Bloodsimple that I had done. He knew me. We're good friends. Amy's manager, Andy Lurie, called him saying "Hey, we're looking for a drummer. Who do you know?" Immediately he said, "Here, call this guy. You should talk to him." I was actually in Las Vegas doing a show with Vince Neil and I was in the hotel room, having just come up from sound check. I got the call from Andy. He said "Hey, you interested in playing in Evanescence?" I'm like sure man.
Obviously, you weren't with the band when they first hit it big with "Bring Me to Life" and "My Immortal." How familiar were you with the band's work before joining?
Oh man, I knew a lot about them. I had their first record. I hadn't gotten The Open Door yet at that point. But I knew exactly who they were and how awesome of a singer Amy was. I knew about Terry from Cold, because we're both from Florida and our bands played the same bars together sometimes. Yeah, I knew Terry a little before that. But, yeah man, it was exciting man to get that call, for sure.
When was it decided to make you a full-time member of Evanescence? How did you find out?
When Troy and I got the call back then, Amy said flat out "I'm just looking for guys to help me finish this run. It's going to be seven or eight months, Then I don't know what I'm going to do after that." So all we could do is just hope that she would want to come back to it again. I can't really say that I was like a full time member until she decided, "Yeah I think I want to do this Evanescence thing again. Is everybody ready?" I was like sure. Let's rock it, man. Let's do it.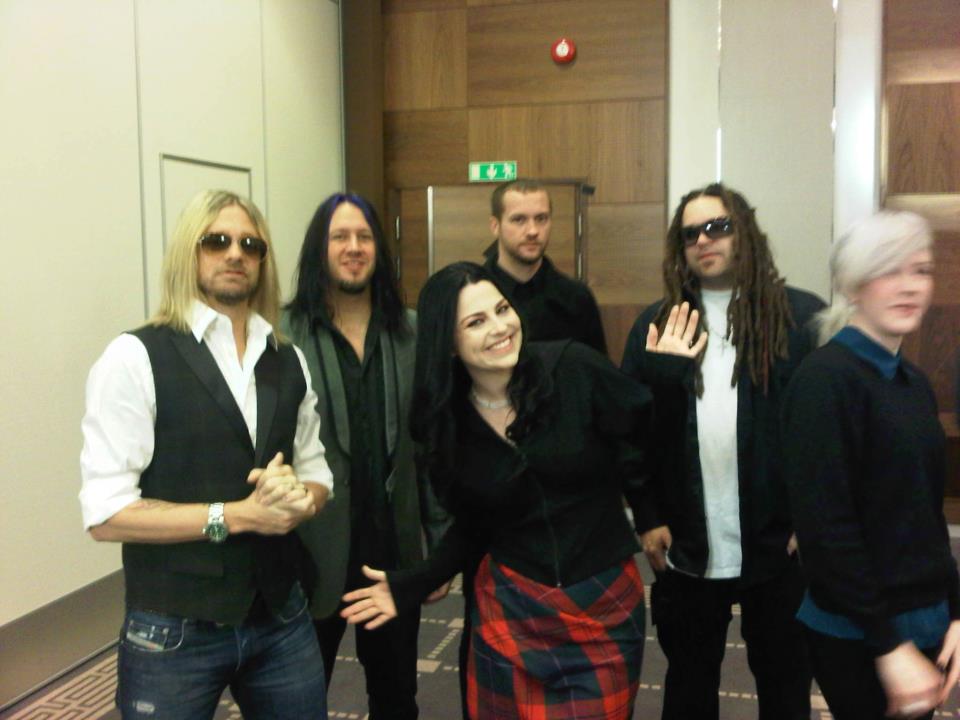 What has surprised you most about playing with Evanescence?
This band has really amazing fans. It's amazing to see the dedication that these fans have for this band and how loyal they are to the band and to Amy. It's a true testament that after being home for five years that the record popped into number one and the shows are all sold out. I would say that that was the most surprising thing is – just how passionate people were about the band.
All of the songs are credited to the entire band, but there are specific credits that you co-wrote "Made of Stone," "Sick," "End of the Dream" and "Swimming Home." What was the writing process like in the band?
I think in the past it was Amy and Ben [Moody]. They did it and then more recently on The Open Door it was Amy and Terry. They kind of sussed everything out. So it's been her and one other person… usually in front of a computer dialing stuff in. This time around it was different, man. It was a collaborative effort. I think on a couple of occasions Tim and Terry and Amy wrote together. Then on other occasions the four of us wrote together. Then in pre-production, it was obviously all of us together, hashing it out. It was cool, man. It was the first time that Amy has done a collaborative record with the band. But to be fair, I don't think that before now she had a band that she could have done that with. This is a different animal. Troy and I are used to working in dynamics like that with Dark New Day. That was five people in a room, writing songs together. For Amy, that was a very foreign thing. So it was cool to be there to show her what a cool experience it could be – if it's the right people and the right places with egos not coming into account. To create things together is just really beautiful.
In a quote I saw from you right before the beginning of the recording, you said you wanted the album to be "more rock" for the band. Do you feel that goal was met?
Absolutely, and that's not to say that neither of the albums before this didn't rock, because they definitely did. I really hoped that this record would bring out a heavier side of the band, and maybe a little darker side of the band. I think we definitely, definitely met my expectations with that, for sure.
I also did kind of notice that the band was sort of fooling around with some more commercial hooks, changing up the tempos and even having some slightly more upbeat lyrics. Were you all trying to show all the different moods of the band?
Yeah. I think that this is a record where we go in and out of a lot of different… it's all Evanescence, but we go in and out of a lot of different styles, in the rock format. To me, there are some songs on this record that are darker than anything I've ever heard the band do. At the same time, like what you're saying, there are some songs like the chorus for "What You Want" is… I don't want to say it's happy, but it's uplifting. It's a much faster-tempo song than maybe she would have done. I think it's just all part of being a really good band. If you look at a band like Led Zeppelin you know particularly say three, four records into their career, they were going in and out of a lot of different genres and it all sounded like Led Zeppelin, though. They owned it. When you're able to do that… that's something to talk about.
What songs on the new album are your favorites – both as a drummer and also just as a fan of the band?
My favorite is "Never Go Back," which is probably the heaviest tune on the record. I love… there's a song called "Sick" that that's just really got a great vibe to it. It's also pretty heavy but it's got a great vibe. There's this song called "Made of Stone." It's really, really cool. Umm, let's see, what else do we like to do live? What else is really kick ass? "What You Want" is cool. We like playing that one. That one is high energy. People really get off on that. The record is great, man, because we're playing like eight songs from it in the show, which is a testament to how much we dig it. The other thing is that the record was built to be played live. We wrote it as a band in a room and made it as a band in a room, together playing the parts. That was one of the things about [producer] Nick [Raskulinecz], he had it to where we would play these songs to the point where if we had to walk out and play it live that night we could do it, you know? That definitely comes across on the record. It also comes across in the show, because we're playing so many of the tunes live in the show.
You have been playing with a lot of other bands, such as Black Label Society, Crossfade, Dark New Day and Methods of Mayhem. Are you planning on continuing to work with lots of outside groups as well now that you are an official member of the band, or totally throwing yourself into Evanescence?
Well, for right now I'm 110% Evanescence. I don't have time to really do anything else, currently. On the down time, yeah, I just love to play man. Doesn't matter what I do, man, I just love it. It's like I can't sit, I go bat shit crazy if I'm sitting. I love to be home with my family and stuff like that. Recording records is something that I can do where I can still be home with the fam sometimes and I can still rock out. But right now, it's 110% Evanescence. We're going to be busy for a long time.
You have also been touring drummer with a lot of established acts – obviously Evanescence, but also Mötley Crüe, Slaughter and recently Staind. What is it like to come into an established band to join them on the road?
Oh, yeah, man. That's always a kick, particularly in a case like Mötley Crüe or even Black Label Society. I mean Zakk [Wylde] is probably in my top two guitar players of all time. Just being able to play with him, or to play with Mötley and Mick Mars and Nikki Sixx and Vince [Neil], stuff like that – it is really, really, really cool to be able to have those experiences and do that. Play those songs that you love listening to with the people that wrote them you know. It's awesome.
You're obviously in huge demand as a drummer over recent years. How does it make you feel as an artist that so many musicians respect your work?
Its amazing, man. I mean, at the end of the day, for me I'm just a huge fan of music. You know what I mean? You'll find me on tour usually in the dressing room or in the gym or whatever and I'm constantly just listening to music. To have respect of my peers like that is number one, kind of surreal and number two, just an honor. It's awesome just to be considered in that light, you know?
Who were some of the drummers who inspired you to become a musician?
Let's see. Getting started, I loved John Bonham. My mom turned me on to that. I loved The Who. My dad turned me on to that, Keith Moon. I loved obviously Tommy Lee. Bobby Blotzer from Ratt. Those are guys that I really got into when I was younger. Stewart Copeland from The Police is just an amazing drummer. Then later on, man, it's just become you Morgan Rose from Sevendust, Joey [Jordison] from Slipknot. Like I said, I'm just a huge fan. I listen to everything. I just love it, you know?
Between gigs do you ever wonder when you're going to find time to get some sleep?
(laughs hard) I'll sleep when I'm dead, man.
CHECK OUT EVANESCENCE'S VIDEO FOR THE SINGLE "WHAT YOU WANT!"
Email us Let us know what you think.