It all started with YouTube. Dylan O'Brien was just a typical teen living in Hermosa Beach, California when he started making a series of little films for the site. They built up a huge following – and suddenly O'Brien was in play in Hollywood.
This led to a large role on MTV's highly popular series Teen Wolf, in which O'Brien plays Stiles, the goofy best friend of the title character.
Now he has his first lead role in a film with the sweet romantic comedy The First Time. In the movie O'Brien plays Dave, a smart and funny boy who is in love with Jane (played by Nickelodeon superstar Victoria Justice) who sees him as just a friend. While working up the courage to ask Jane out at a party, he meets and befriends Aubrey (Britt Robertson of Life Unexpected). She has a boyfriend, he is interested in another girl, but as they get to know more about each other, both start to feel drawn to each other.
About a week before The First Time was due to open in New York, O'Brien gave us a call to talk about his movie and his career.
What was it about The First Time that attracted you to the project?
It was a job. (laughs) That typically attracts me at first always. They said that they would pay me. All right, no, I'm just kidding. The script is something that you immediately take notice of, because A) of how well written it is B) how smart it is and C) how rare it is today, in the way the industry is right now. The way the market is. So, it's really refreshing when you get an appointment email and it's for a movie. You read the script and it's a movie like this. You go, what, this is getting made? (laughs again) It's great. You immediately want to be a part of it. It's also a story that really rang true for me, in terms of specifics. Literally, I was 19 when I read this script and I was still not so much removed from the high school world. It was all still very fresh in my mind. Very recent and very true to form. The way it was done in the script is really easy to connect to and really easy to be inspired by, too. You always want to perform something that you know you can draw from personally.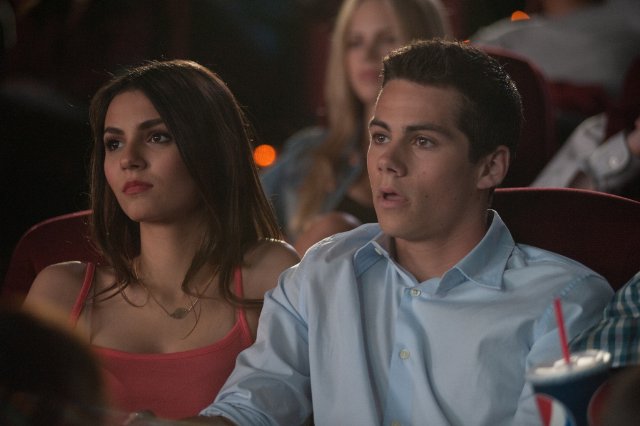 Jon Kasdan obviously has a good record with Freaks & Geeks and In the Land of Women. Did you know his work before taking the job? What was he like to work with?
I didn't know much of his work before getting the part. I hadn't seen In the Land of Women. I had watched Freaks and Geeks and everything, but I didn't know he had written on that staff. But I did my research. I knew obviously Larry, who his dad was. [Lawrence Kasdan co-wrote Raiders of the Lost Ark, The Empire Strikes Back and wrote and directed Body Heat and The Big Chill, amongst others]. I learned about his brother, too. [Jake Kasdan wrote and directed Orange County, Walk Hard: The Dewey Cox Story and Bad Teacher.] When I met Jon, the thing that stuck out to me was just how sweet he was. It makes perfect sense, because he wrote this script entirely from his own heart. (laughs) He's the sweetest man alive. Working with him was amazing. He's a guy who makes... me at least, he just puts me at ease. I feel like I can be really honest with him. I feel really comfortable around him. He makes you quietly confident and just makes you feel right. He doesn't ever make you feel like you are wrong with anything. I think that's really important. Especially for me, as an actor if I'm getting yelled at all the time and told that I'm awful, I probably will be awful. So it was good that he was encouraging.
You and Britt have some very intimate scenes together, emotionally as well as some physically. Since one or the other of you are on screen pretty much the entire running time, it is very important to feel that bond. How quickly did you connect with her in filming?
Me and Britt hit it off immediately. That's something that can either happen or not. It's just about who you guys are as people, in a way. We were really lucky, we had an immediate bond and an immediate friendship. A really healthy friendship, throughout. We were really just buddies – close, tight buddies – before we shot. Me, her and Jon in particular, the three of us became genuinely, genuinely close. We would share intimate details about our personal lives before we started shooting, during the rehearsal process. It's funny, because that's kind of what needed to happen. We were all going to be working so intimately and we were all going to be trying to achieve this intimacy onscreen, too. To do that, I think you have to achieve it off-screen, first.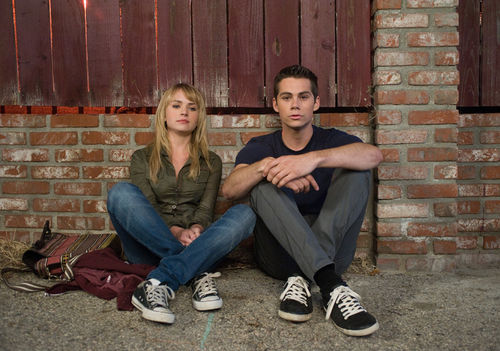 Victoria Justice is becoming so huge right now with Victorious. What was she like to work with?
She was great. Yeah, she comes on set and she's got this mega-superstar name to her and this hype about her in a way, because she is so famous. But she is just so sweet and so normal and so down to earth and has a really good part in the movie. It's really good for her. It's cool.
Obviously your character's concerns changed drastically over a few days. But in honor of his first dilemma, with Jane, do you think guys can ever get out of the friend zone once they are there?
Yeah, yeah, I think so. Whether or not it works out, that's an entirely different thing. Sometimes, maybe it's best just to be friends. You learn that, or you don't. I even specifically in high school had a friend who I was completely and totally in love with. Then something ended up happening and we dated for like four months, and then went back to be being friends. (laughs) There's that boring rendition of it. Then there's other possibilities. But it's really common, I think.
One thing I found kind of cool about the movie was that it wasn't the typical teen movie. Your characters were definitely deeper and more conflicted than in most of the teen party films. Why do you think that Hollywood tends to sort of dumb down their teen romances?
I don't know. That's something that's just been a trend over the last 10-20 years, but mainly 10, I'd say. I think it's all about what's successful at the time. Then trends take off from there. For instance in the 90s, things like American Pie took over and all of the sudden everyone is trying to make every raunchy comedy out there. The thing became, yes, dumbing-down teen story lines and themes and topics and whatnot. That's what I loved so much about Jon's script. He wasn't afraid to be intelligent. He wasn't afraid to make these teenagers smart. Not all teenagers are retarded. (laughs)
It actually reminded me a lot of Before Sunrise...
Yeah, yeah, yeah. You're seeing their whole relationship. You're hearing their every word between them. Yeah, definitely. It's definitely Before Sunrise-esque.
Would you say you are more like you for real – Dave or Stiles? Or neither?
It's funny, because there's blends of me in each. There's things in each that aren't so me. I don't know. I think something that is interesting about both Dave and Stiles that I don't necessarily have is that they both act externally. The have a very external way of feeling and processing and whatnot. Whereas I'm super internal and will go any distance to remain internal and not open up. But, when it comes down to it, I have so many similarities to each and so many differences to each.
How did you get involved in Teen Wolf? Have you been surprised by how much the show has taken off?
No, I haven't actually. From the beginning I knew. It was the first drama I ever got. I remember when I read the pilot of it loving it and thinking it was great and actually thinking this could be something very successful and very good. It's funny, because in hindsight there seems like a little more possibility of it failing, but when it was happening to me, I just always knew it would be successful, for some weird reason. Whether that be because I had confidence in what we were doing creatively or just because I'm just kind of a psychic or whatever. (laughs) I don't know, I always kind had a feeling it would do well. I knew it had a good, fun storyline. I knew it had good looking people. (laughs again) I knew we had interesting characters and a good script at the end of every day. That's something that could turn into a successful show, and it has. That's really amazing. That's such a testament to [show creator] Jeff Davis. It's all him, really.
Were you familiar with the original film? It certainly has a different vibe from the show.
Oh, yeah, entirely. It's impressive. He's created this whole new Teen Wolf world and it seems right. It seems like that's the Teen Wolf world, but it stems from this entirely different original Teen Wolf world. Which I think is cool.
Can you tell us a bit about what we expect from the new season?
I wish I could, man, I just don't know that much about what's going on yet. I haven't been briefed. I know there's like three of four months in between seasons. We're not picking up from where we left off like we did last year. This year, we'll come in and it will have been a few months. That'll be interesting, to see where everyone's at and what's going on. I think Beacon Hill may be forming a reputation of sorts and may attract other creatures that are out there. Or just maybe more wolves.
Before acting, you built up quite a following for your YouTube videos. How did you get started on that? Do you think that is a viable way for young actors to get discovered in the modern entertainment world?
That's a really good question, because I always tell people I was never trying to get into acting. It happened because I had this body of work that I put on the internet that got enough people's eyes on it. One of them happened to be a manager who wanted to represent me. (laughs) If anything, that just shows how lucrative it can be. Where it could put you. I really think that more importantly than being an extra on a show or getting a PA job or trying to be a stand-in or something. The most important thing that I tell everybody, is just to be pro-active. Make your own stuff. Write your own stuff. Always just be doing your own thing. Eventually, good things will happen. And if not, you're still doing what you want to do. The thing with me is that I never wanted to be in some insane platform. I never wanted to be on a show or in movies. Obviously, I wanted to make movies, but I was. I was making my own little things. If you want to get noticed, I think that's the way to do it. If you want to work and you want to make movies, that's the way to do it – because you are doing it. Who cares then if you don't get noticed by anybody or it doesn't work out or pan out? It's just the way to do it. Just do it on your own.
Email us Let us know what you think.