PopEntertainment.com > Feature Interviews - Music > Feature Interviews U to Z > Chuck E. Weiss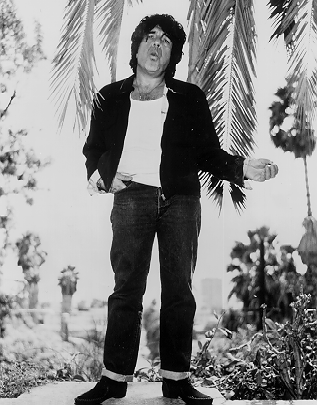 Chuck E. Weiss

Chuck E.'s In Love

by Jay S. Jacobs

Copyright ©1999 PopEntertainment.com. All rights reserved.

"How come he don't come and p.l.p. with me down at the meter no more..." With that opening line to a hit song in 1979, singer/songwriter Chuck E. Weiss was introduced to American popular culture. Problem was he didn't write the song -- or even sing it. In fact, "Chuck E.'s In Love" was about him, a tribute written by friend Rickie Lee Jones. No one really ever expected the song to become a smash hit. But it did, with it's boho-jazz vibe paving the way into the eighties as an alternative to the disco, punk and arena rock then making the music scene. Not only that, Chuck E.'s best friend, Tom Waits, has written songs about Chuck too, including "I Wish I Was In New Orleans Again" and "Jitterbug Boy."

This puts Weiss in the somewhat awkward position of being a singer who is better known for people's songs about him than for writing and performing his own work. Looking back, Weiss still seems to see this recognition as a double-edged sword. "I was, of course, very flattered [by being written about]," Weiss recalls. "But I never asked for it, or even wanted it."

While all of the songs about Chuck E. Weiss are terrific, it is a real shame that his own work is not better known -- because his music is every bit as good. Part of this comes from the lack of availability. His recent fantastic album Extremely Cool was only his second platter in a career which has lasted nearly thirty years. The first record, The Other Side of Town, doesn't even really count. It was just a demo tape that was released against Weiss' will in 1981, and was pulled off the market soon afterwards.

Actually, Weiss loved the idea of recording as a teenager in Denver, Colorado, but somehow it never consumed him. He has put together a very impressive career nonetheless. As a teen he hung out at the Ebbett's Field blues club in Denver, where he got a chance to play with bluesman Lightnin' Hopkins. Hopkins was impressed by this skinny little Jewish boy and took him on tour, becoming Weiss' mentor. Soon Weiss was playing with some of the royalty of the blues and country -- Muddy Waters, Howlin' Wolf, Roger Miller, Dr. John, and even rockers like Spencer Davis.

In 1972, while playing in the Ebbett's Field house band, Weiss met a new headlining act named Tom Waits. Weiss thought he was different and got to talking to the guy. They met again after Weiss moved to Hollywood and they became fast friends. They also started a long musical collaboration with the song "Spare Parts," which Waits recorded on his 1975 Nighthawks at the Diner album.

Weiss was living in the Silver Lake section of LA but eventually moved to the Tropicana Motel, a fleabag on Santa Monica Boulevard. The place had once been a legend in rock circles. Jim Morrison, Janis Joplin and Alice Cooper had all once made it their Hollywood base of operations. But the Tropicana had fallen on hard times again. Besides, the motel's storied past was not the reason Weiss moved in. That motive was a little greasy-spoon diner next door called Duke's. Weiss fell in love with the menu and the atmosphere. It became his favorite hangout.

"That's why I moved there," Weiss recalls, "because I was driving from Silver Lake to there every day to eat, and I thought I'll just move there. About seven-eight months later Tom moved in. There were a lot of different people there. Sam Shepard, the playwright, was living there. The Dead Boys were living there. Levi and the Rockats were living there. Pretty soon, Blondie would stay there. I'm sure this was because of Tom. As soon as he moved in, the place started to get an international reputation."

Weiss got the regular Monday night gig at a popular Hollywood dive called the Central. He played there for eleven years before the place hit hard times. It was about to close down when Chuck called his friend, actor Johnny Depp.

"God, I met him about thirteen years ago," Weiss recalls. "He was in this band and I met him through a mutual friend. Well, the Central was in financial straits. One of the partners died and I didn't want to see the place go downhill, because I'd been there for so many years. So I asked Johnny Depp if he would pitch in financially and get the concept of a viper club together."

The new club Weiss and Depp put together on the site of the old Central on Sunset Boulevard became the instantly trendy Viper Room. It quickly became a favorite haunt where Hollywood's young and beautiful set could mingle amongst some of the town's seedier rock and roll elements. The Viper Room became a huge success, even weathering the tragedy of actor River Phoenix dying outside the club in 1993.

In the meantime, Weiss had been writing and singing, but he never seemed to get around to recording his stuff. Weiss also wasn't building on his rep outside LA, because he hardly ever tours due to a fear of flying. Weiss claims he got sidetracked, doing his regular club gigs, some acting, and some movie scoring. But finally Waits intervened. He knew Weiss was too talented to not have his music available. Waits got Weiss to go into the studio and agreed to co-produce and sing on his album, which became Extremely Cool.

The album title is apt, because this is one rib-tickling mixture of rock, blues, jazz and zydeco all thrown together into a delicious stew. "I'd like (people) to see it as some kind of alternative jungle music," Weiss says. The album leads off with the infectious "Devil With Blue Suede Shoes." It follows up with the ultimate bluesman love triangle, "Deeply Sorry," in which a man finds his girlfriend having sex with his mother. Weiss laughingly swears that this song is in no way autobiographical.

Other terrific cuts include the jazzy "Sonny Could Lick All Them Cats," "Oh Marcie," a zydeco love song as tangy as gumbo and the straight-ahead rocker "Jimmy Would." Waits co-wrote, produced and sang on the sad lament "It Rains On Me" and the structurally fascinating "Do You Know What I Idi Amin?" Weiss says that Waits was the brainchild behind the sound of "Idi Amin," which starts a cappella and slowly picks up more and more of a band backing. And yes, Weiss admits he has been surprised by how few people seem to remember that Idi Amin was the cruel, hardline dictator of Uganda in the late 1970s.

Weiss likes the fact that he can try on so many musical masks to see what fits. "I'm not known well enough to have any conceptions at all yet," Weiss laughs. "I mean, I'm doing interviews all over the world every day for the past month. I guess everybody has a different idea of what it is that I'm doing. I'd just like to say that I don't like to be labeled. That's a big asset."

So are we going to have to wait another eighteen years for the next Chuck E. Weiss album? Weiss doesn't think so, but you never know what's going to happen in the world. So you can always hope for the follow-up, but while you're waiting, just enjoy Extremely Cool.

Email us Let us know what you think.

Features Return to the features page

Copyright ©1999 PopEntertainment.com. All rights reserved.
Keep an eye out for my new biography of Tom Waits available from ECW Press NOW! Click on cover for more info.