PopEntertainment.com > Feature Interviews - Music > Feature Interviews F to J > Charlie Gracie

Charlie Gracie

What More Could You Ask?

By Ronald Sklar
Copyright ©2008 PopEntertainment.com. All rights reserved. Posted: February 6, 2008.
Usually, it's the other way around for Paul McCartney, but in this instance, it was Sir Paul who had always wanted to meet a certain musician who had influenced him in his early years.
The year: 2000. Philadelphia native Charlie Gracie, the influence in question, was scheduled to play a small gig in London when the call came from McCartney's people.
"I thought he was pulling my chain," Gracie says when his agent announced that McCartney desired to meet him that very night. Although Gracie had his own show to do within an hour, with 1500 rabid fans eagerly awaiting his appearance nearby, he figured he'd be a sweetheart and grant Paul's wish.
Gracie was whisked away to a CD release party and press conference for McCartney's newest recording, which included a cover version of Gracie's own signature hit from 1957, called "Fabulous." The tune was a decent success in America, but in Europe (and especially Britain), it was monster.
That, along with a few of Gracie's other fifties' records, including chart-toppers "Butterfly" and "99 Ways," were huge in America; however, they also influenced an entire generation of British rockers – men who would ironically become household names in America, unlike Gracie himself. His other hits that were top of the pops in Britain include "Wandering Eyes," "I Love You So Much It Hurts," and "Cool Baby," all songs that pricked the ear of a very young McCartney.
"All of the sudden, Paul's manager comes out, grabs me by the hand like a child in kindergarten and pulls me through the crowd," Gracie recalls. "'He wants to see you now, Charlie, now!' I turned the corner into his dressing room, and My God, he's standing there as big as life, with two big security guards next to him, and a couple of his children and grandchildren.
"He put his arm around me and he says, 'Charlie Gracie, I'll never forget when I came to see you when I was sixteen-years-old in Liverpool. I'll never forget 'Guitar Boogie.'"
"Guitar Boogie," a little ditty that Gracie picked up while learning to play the guitar in South Philly, made quite an impression across the pond, on those who were about to rock.
Upon hearing this from McCartney, Gracie recalled, "If I had false teeth, they would have fallen out of my mouth. I said to him, 'You mean to tell me that all you've been through in your career, all your fame, all the money you made, that you remember me playing 'Guitar Boogie?' He says, 'well, you were an inspiration in my career.'"
Gracie concludes the little story with this: "What more could you ask for in life?"
Evidently, not much. Although Gracie is a major draw along the East Coast (including 5,000 people at New York's Lincoln Center last summer), and that he returns to Europe annually for a jam-packed, on-stage lovefest, his career path was not the straight and narrow it may (or should) have been.
Although fortune and major fame had eluded him, he still has his legions, from Sir Paul to Graham Nash (to this day, Nash's sister still has a cigarette butt Gracie discarded in 1958) to Van Morrison (who asked him to open for his tour in 2000) to the mom-mom and pop-pop beachgoers in Wildwood, New Jersey. Even half a century later, fans are still turning out in droves to see his rock-the-house shows. Why? Talent, for sure, but even more importantly, Gracie knows how how to relate to his audience.
"I get emails from all over the world," Gracie says. "People are fascinated with my career. I never knew why. I never was a druggie, I never was a whoremonger. I'm just a kid from downtown, trying to sing and play his way to the end, until they shut the lid."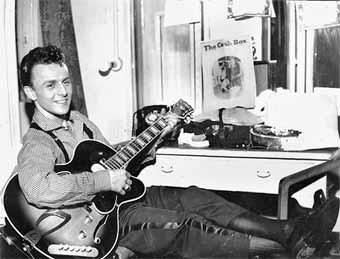 At 72, and more than 57 years in show business, Gracie is far from over. In fact, some say it's only just begun.
"I never thought of me as anything," he says. "I just sing and I play the guitar. I think I do it fairly well, because I never would have survived 57 years in this business, but I never claimed to be the best or the greatest at anything. I just go out there and I do what I do; the people seem to like it, so I raised my family, I bought my home, I live off the money I make doing that and it's been wonderful. I can't complain."
Other people, with different temperaments, may not have handled the same fate with Gracie's grace.
It is commonly agreed that Charlie Gracie was Philadelphia's very first rock-and-roll star. And that's saying something, considering that the City of Brotherly Love was home to American Bandstand, as well as Frankie Avalon, Bobby Rydell, Fabian and Chubby Checker.
He began making records when he was a mere fifteen, in the pre-rock era of 1951. Elvis, Jerry Lee Lewis, and Buddy Holly hadn't yet stepped into a recording studio when Gracie recorded "Boogie Woogie Blues" for Cadillac Records. Even today, it is widely considered to be one of the first rock-and-roll records, even though the term had not yet been coined.
Gracie won a series of American-Idol-like talent contests on the hugely popular Paul Whiteman Show (simulast on TV and radio and aired nationwide from Philadelphia). After winning week to week to the point that it was becoming ridiculous, he was given a recording contract.
"Between 1951 an 1955, I recorded several discs for the Cadillac and 20th Century labels with no great success," he recalls, "but started to build up the ol' popularity. They would get occasional airplay. A lot of the black disc jockeys would play them because they thought I was black.
"This was 1956, and Elvis is starting to become famous. I met Bernie Lowe, who had $2,000 in his pocket and wanted to start a record company. He was looking for the tall, sexy Elvis type, but he couldn't find anybody and he wound up with me. He came to the house that day. I'll never forget it, because he had a cold. My mom gave him some tissues and some chicken soup. This was a very heavily Italian-Jewish neighborhood, so chicken soup was a common thing between the Italians and the Jews."
Lowe's record company, Cameo (eventually called Cameo-Parkway), was the biggest and most influential independent label in the United States between 1957 and 1963 (this was before Motown). Gracie gave the company its first hits, and opened their door for other major hitmakers, including Dee Dee Sharp, The Orlons, The Dovells, The Tymes, Bobby Rydell and Chubby Checker.
"We went into the studio in December 1956, maybe two days before Christmas ," Gracie recalls. "We cut two songs. One was 'Butterfly' and one was '99 Ways.' By March of 1957, we not only had a hit but a #1 hit. I thought my mother was going to shake me and say, 'wake up, it's time to go to school!' It was like a dream."
His fame, as the saying goes, lasted about fifteen minutes, but what a hell of a quarter-hour it was.
"On the strength of [those hits], I'm doing the Paramount Theater in New York, The Ed Sullivan Show, Alan Freed, Dick Clark," he recalls. "I got asked to go to Europe to do the Palladium in London. It was like a dream.
"When I made a few bucks, the first thing I wanted to do was get the hell out of the ghetto and I bought my mom and dad a nice home in the suburbs. I remember telling my mom to pick out anything she wanted at Rubin's Furniture, and I signed a check for $12,500.
"My father said to me, 'what do you want, Charlie?' And for me, every kid's dream is to have a brand-new Cadillac. So the first thing I bought was a Cadillac.
"The salesman said to me, 'stop touching the car, kid, you're getting fingerprints all over it.' I said, 'I like this car. I would like to buy it.' He said, "Oh, you would, huh?" I said, 'how much is it?' He says, "$5300." Well, that was a lot of money in 1957. So I say, 'Good, wrap it up. We're taking it home.'
"We took it home that night. You might think I was Frank Sinatra. My whole family was so thrilled. My Sicilian grandmother was still alive at the time. The first thing she told me was, 'don't get a big head.' That's what grandparents are for."
As much of a smash as he had become in the States, he was considered a god in Britain, where they were starving for American rock and roll.
"[Before my first tour of Britain], I went to Diamond's on South Street [in Philly] and I bought some beautiful suits," he says. "In those days, $300 or $350 was a lot of money, so I had a blue one, a gray one. In Britain, I'm ready to go out on stage and a guy says, 'Charlie, you can't go out like that. You look like a Teddy Boy.' I said, 'What the hell is a Teddy Boy?' I found out that they were like the hoodlums of London.
"I only weighed 112 pounds at the time. I was jockey weight. When the curtains opened up, I didn't even have to sing. The kids looked at me – I looked like them – and I was a smash. I couldn't even hear myself singing and playing over the screaming. You might think I was Elvis Presley or something. But I took it in stride.
"Two shows a day, seven days a week. I was playing to about thirty or forty thousand people, but in a week's time. Not in one night. I was making between five and seven thousand dollars a week. My father used to work two years to make that."
The unraveling came quickly. Gracie may have been merely a kid, but he was street-smart enough to realize that he was not getting all the royalty money coming to him from his hit records. The powers-that-be gave him just enough honey to keep him riding a Cadillac and buying fancy suits.
Nevertheless, Charlie sued his record company. Little did he know that one of those owners was a considerable power player: Dick Clark, who was none too pleased. Turns out that Clark was a "silent partner" at Cameo-Parkway.
"We settled out of court," Gracie says, "but I never got on Bandstand again. Clark was part of this little conglomeration going. I was told, 'you will never have another hit as long as you live.' You know what? They were right.
"They figure, this guy, Gracie, is stirring up the pot. If everybody does what he does, we'll be in trouble, so we have to get rid of him. So the playing of my records gets diminished. I never got it all from 'Butterfly.' I got a hunk of it. It sold over three million records, man. I thought I was being cheated. I had principle. If I owe you ten dollars, I'll write the check out tonight and you'll have it in two days. I was brought up that way.
"A year or two later, new kids are coming up and everybody forgets who you are. But I did have a very strong base in Europe because I had more hits there. And I was only the second American to bring rock and roll there [Bill Haley and the Comets arguably being the first, and Gracie being the first solo act to be invited back], so it left an impression on them."
While the musicians he influenced came over and kicked ass, Gracie was in redux, and began a humble but steady life on the road, grabbing any gig he could possibly get.
"So I said, this is it. I'm just going to have to be a working musician," he says. "I'll work five, six, seven nights a week. Making three or four hundred dollars a week, whatever it was at the time. I went from rags to riches to rags. I had to start all over again. I had a wife and two kids. I can't walk around like Frank Sinatra and act like a big shot when I didn't have any money.
Gracie's agent, Bernie Rothbard (who had worked with him for 36 years, on a handshake), kept him going with consistent gigs in clubs, resorts and oldies shows.
"He was like a father figure to me," Gracie says of Rothbard.
His agent's dedication allowed Gracie to make a surprisingly comfortable living as a full-time musician. Of course, his rock-solid talent, and his love of performing, kept the infatuated crowds returning for decades. Although he never again ascended the superstar heights of the fifties due to industry politics, he had the love of his family and his growing legions of fans to keep him warm.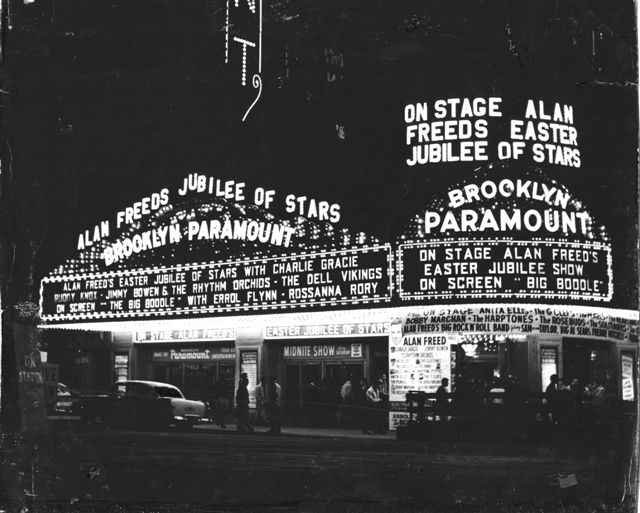 A change came in 1979, when a Canadian record producer named Richard Grows wanted to reissue Gracie's old recordings. The collection caught on in Britain, and then all over Europe.
Gracie's phone started ringing.
"It gave me confidence once again in myself and my career," he says.
The venues were smaller, but the audiences seemed even more enthusiastic than ever.
"I survived it all," he says. "If the trends changed, I changed along with the trends, but I never lost my base sound. People come to hear the fifties music when they come to hear me. More so in the last ten years than even before. Everything runs in a cycle in life. You know how it works. That kind of music is catching on all over again. In Europe, I get younger and younger people coming to see me all the time. Even here in the States. It's amazing."
Through it all, Gracie remains a hometown boy, making Philly his base.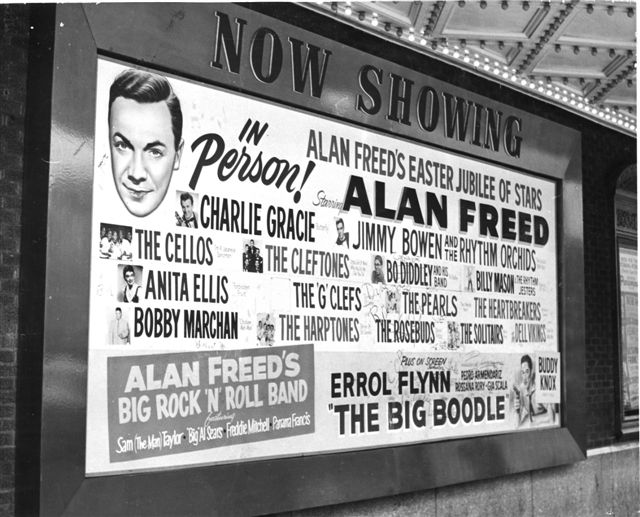 He says, "Stardom came to me, and when I look back on it now I was still immature. I'm a better musician now than I was fifty years ago. But I played good enough and well enough that I could go out there and kick the ass out of an audience. Sure, I'd like to have four or five million in the bank, but it's not meant to be."
Though so much has changed around him, much of Gracie's life remains constant. He is a family man, first and foremost (he will be happily married to his wife for fifty years this year). He still reveres the memory of his parents and grandparents, who encouraged him to pursue his love for music despite its lack of promise for long-term security. And he considers his fans his family. Talk about close relations!
Gracie's unique story is as unpredictable as the path of a butterfly. However, one thing you can't do is call his resurgence a "comeback," since essentially, he never really left. Nevertheless, Gracie remains grateful for his lifetime mission of making people happy.
"God is merciful," he says, "and if you walk the walk and talk the talk, you got nothing to worry about."
Email us Let us know what you think.
Features Return to the features page.
Photo Credits:
#1 ©2008 J. Paul Simone. Courtesy of Charlie Gracie, Jr.
#2 ©2000. Courtesy of Charlie Gracie, Jr.
#3 ©1957. Courtesy of Charlie Gracie, Jr.
#4 ©1957. Courtesy of Charlie Gracie, Jr.
#5 ©1957. Courtesy of Charlie Gracie, Jr.
#6 ©2007 Teri Landi. Courtesy of Charlie Gracie, Jr.
#7 ©1957. Courtesy of Charlie Gracie, Jr.
#8 ©2007 Teri Landi. Courtesy of Charlie Gracie, Jr.
#9 ©2007 Teri Landi. Courtesy of Charlie Gracie, Jr.
#10 ©1957. Courtesy of Charlie Gracie, Jr.
#11 ©1957. Courtesy of Charlie Gracie, Jr.
Copyright ©2008 PopEntertainment.com. All rights reserved. Posted: February 6, 2008.