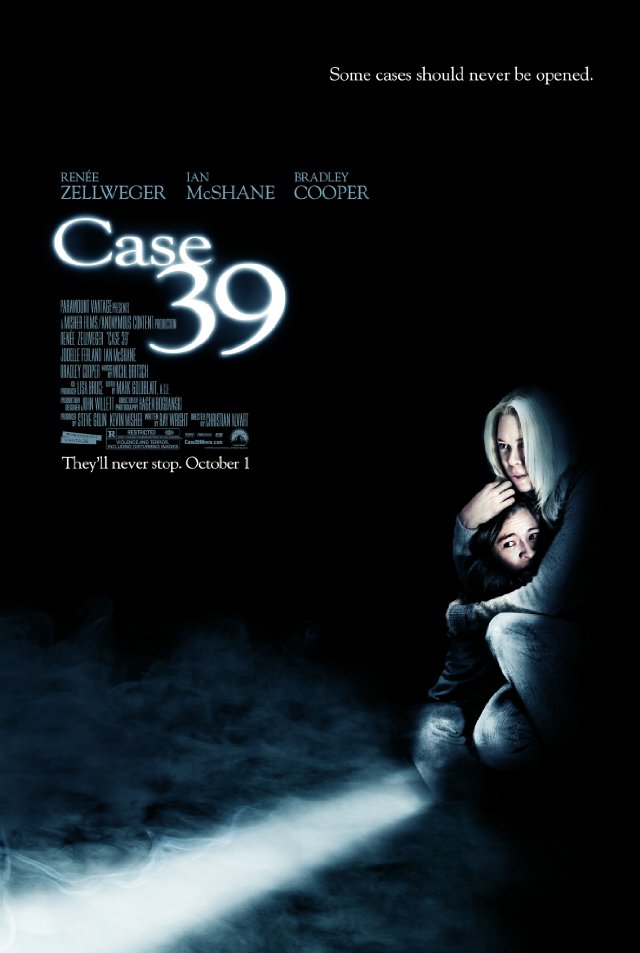 CASE 39 (2010)
Starring Renee Zellweger, Jodelle Ferland, Ian McShane, Bradley Cooper, Callum Keith Rennie, Adrian Lester, Georgia Craig, Cynthia Stevenson, Tiffany Lyndall-Knight, Kerry O'Malley, Alexander Conti and Philip Cabrita.
Screenplay by Ray Wright.
Directed by Christian Alvart.
Distributed by Paramount Vantage. 109 minutes. Rated R.
Case 39
You have to wonder about the parenting experiences of Hollywood scriptwriters.
After all, how many evil killer children are really out there? Yet, it is a movie staple with many films on the subject over the years since little Patty McCormack's performance in The Bad Seed in the 50s. Hell, Vera Farmiga has done two movies in the past few years about life with homicidal kids.
Case 39 is one of the better ones of this specialized subgenre - and it also strays from the pure faith by making the child's evil due to supernatural powers, rather than straight killing. In fact, Case 39 seems to be somewhat directly inspired by the classic Twilight Zone episode "It's a Good Life."
However, the sheer ubiquity of this storyline saps Case 39 of much of its surprise and power. Long before young Lily (Jodelle Ferland) starts acting up and creating havoc, I was rather certain this was the direction that the film would ultimately take, quite simply because she was acting so pure and innocent while evil swirled around her. I've seen enough movies to have an idea where that was leading.
The movie has a slightly slumming A-list cast. Renee Zellweger seems to be enjoying dropping the high quality and wallowing in trashy fun. Ian McShane can play this kind of hard-boiled cop in his sleep, but he does it with panache. Hunk du jour Bradley Cooper actually has a pretty minor supporting role, though he does get to do a flashy, fun death scene.
Are these actors too good to be in this movie? Probably. But does their presence give Case 39 a shot of adrenaline? Definitely.
Zellweger plays Emily, a very dedicated Child Services rep who is given a new case of 10-year-old Lily, who appears to be in an abusive home. Despite the angry surliness of her parents (Callum Keith Rennie and Kerry O'Malley) she can find no proof - until a panicked phone call from the girl in the middle of the night allows Emily and her cop friend Det. Barron to catch the parents literally trying to cook the girl alive in the stove.
The parents are committed and Lily is getting lost in the foster care system when she convinces Emily to become her foster mother. Things go well at first, and yet soon enough disturbing little occurrences seem to escalate and Emily starts to wonder if this sweet little girl is actually a monster.
Case 39 has been held up for quite some time before finally getting a release. It was filmed way back in 2006 - which explains why Cooper agreed to such a small role - however the studio heads changed and Case 39 was decreed a low priority. It was supposed to be released in 2008, and then again in 2009, and then in early 2010, before finally getting a brief theatrical run in October 2010. At that point any buzz it may have had was long extinguished - in fact, it had already been released to theaters and then on video in international territories. Now, less than three months after getting dumped into US theaters it will hit DVD, download and PPV.
Does it deserve this shoddy release treatment? Probably not. I would guess that studio politics played as big a part in the delay as the film's quality.
That said, Case 39 is still just a junky thriller. Better made than many, perhaps, but nothing that will change your life. If you like horror, then it is a lean, effective and only marginally ludicrous example of genre. If you are looking for a fine artistic Renee Zellweger film (and let's face it, that has been a crapshoot in recent years), then you may want to pull out your old copies of Jerry Maguire, Cold Mountain, Cinderella Man or Chicago.
Jay S. Jacobs
Copyright ©2010 PopEntertainment.com. All rights reserved. Posted: December 19, 2010.


Copyright ©2010 PopEntertainment.com. All rights reserved. Posted: December 19, 2010.