Copyright ©2010 PopEntertainment.com. All rights reserved.
Posted: July 17, 2010.
"It was one of the hardest things I've ever done, actually," Belinda Carlisle admits, chuckling.
That's a pretty impressive statement coming from a woman who has regularly defied the odds to make her dreams come true. When she was in her twenties, she was the lead singer of The Go-Go's, the biggest girl group of the post-punk era – in fact pretty much any era – selling millions of albums and having era-defining hit singles like "Our Lips Are Sealed," "Vacation" and "We Got the Beat."
When The Go-Go's imploded a few years after the smash success of their debut album Beauty and the Beat, Carlisle decided to try the solo route and against all odds became even bigger. In the mid-late 80s she dominated the musical charts with hits like "Mad About You," "Heaven Is a Place On Earth," "Leave a Light On," "Circle in the Sand" and "I Get Weak."
However, her professional life is only one of the places where Carlisle has taken chances. Her life has been a series of calculated risks – from moving in with her future husband right after their first date to abandoning their American lifestyle in order to move to the south of France and India. Carlisle has also finally beaten long-time addictions to drugs and alcohol and found spiritual growth from Eastern philosophies and yoga.
So what was the task that was so difficult for Carlisle?
It was writing a book about her life. It was a particularly daunting job because she decided to come clean about the depths of her drug and alcohol abuse and the embarrassing, dangerous positions she had found herself in because of addiction and lack of self-esteem.
"I always knew that I wanted to write a book, because I always knew that I'd had an extraordinary life," Carlisle says. "At age fifty – I had that number in my mind that that would be a good time. I'd finally have something to say." She laughs. "I didn't know twenty years ago what that would be, but…. I wanted to write a rock and roll book, but also have some sort of message. With my life and my story, I thought it could be an inspirational story."
This inspirational story is told in her new memoir Lips Unsealed (Crown Publishers). The book takes a sometimes harsh and always entertaining look at her life and career, her happiness and her personal demons.
"It took about three years to do," Carlisle recalls. "It was very therapeutic. I made a lot of realizations that I even didn't make in therapy or in doing my twelve-step program. I had to dig really deep. Everything that's in that book I feel comfortable with revealing. The things I didn't feel comfortable about, of course I left out. I'm proud of the results."
The origin of Carlisle's saga goes back to the punk rock scene of Los Angeles in the 1970s. Carlisle grew up in the San Fernando Valley, a pretty but insecure and poor student whose mother and father broke up when she was young. As so often happens with a child, she only knew so much about the problems between her parents and later her step-father. In her book, however, she allows those mysteries to remain.
"My mother, for her own reasons – and they must be good reasons – doesn't like to reveal a whole lot about that part of her life," Carlisle reasons. "I didn't want to badger my mother too much about what had happened, because I have to respect her privacy."
Carlisle may not know what was going on behind closed doors in her childhood home, but Lips Unsealed paints a wonderful portrait of punk-era LA – with a young Carlisle juggling menial jobs and all-nighters on the Sunset Boulevard scene. It was a giddy world of fame and possibilities. Carlisle was an early part of local faves the Germs. Then she met a couple of local wannabe musicians – Jane Wiedlin and Charlotte Caffey. Despite the fact that none of them really could play instruments, they decided to start a band. The final lineup was firmed up when drummer Gina Schock and bassist Kathy Valentine – actually Valentine was a guitarist who lied when she told the others she could play bass – joined on.
Early on the band started getting noticed in the Sunset Strip scene. Then, during an European tour with Madness, their single "We Got the Beat" was released by the hip British label Stiff, making the band a sudden success far from home. Import copies of the single made their way back to the States and soon the band was part of a bidding war. They decided to go with a new label called IRS run by Miles Copeland – the manager of the Police. IRS also released albums by REM, The English Beat, Oingo Boingo, Squeeze and the Buzzcocks over the years.
With the surprise popularity of Beauty and the Beat, Carlisle and her bandmates quickly became media darlings, getting saturation rotation on the brand new video channel MTV and appearing on magazine covers worldwide.
"We didn't really have time to stop and think about what was going on, because we were worked to the bone," Carlisle recalls. "We had no time for ourselves. Life was constant work, constant being on the road, constant interviews. We didn't know how to say no to anything. It was kind of a blur. Of course, going from a band that didn't know how to play instruments or write songs two and a half years prior, and then becoming the number one band in America – it was pretty daunting. And unexpected. We thought that if we could sell 100,000 copies of the album – that would be a big success. We had no idea it would explode like it did."
Nearly thirty years later, Beauty and the Beat is still a classic of the post-punk movement – an album that has aged better than many of its contemporaries. To this day, the album sounds terrifically fresh. Beyond the classic singles, there were several that should have been – including "This Town," "Skidmarks on My Heart" and "Lust to Love." These songs sound just as good today as they did when they were recorded. Even Carlisle isn't sure what the elusive magic was which shown upon the making of the album.
"Logically none of it should have happened," Carlisle says. "When I look back on it, obviously it's one of those things that was meant to be. I think there's a karmic thing with the band, that we were put in each other's lives for some sort of reason, and not just to make music. The relationship that we have with each other is really intense. It's love/hate. It's kind of indescribable, but it was obviously one of those things that was meant to be. There's no reason why it should have happened. When I listen… well, I haven't listened to Beauty and the Beat in a long time, but those songs… obviously there was some natural talent in the band. Otherwise, that album wouldn't have happened. I think part of the reason that album is so good is because there was no formal training, really. It just came from a place of excitement and digging deep and, like I said, natural talent. I don't know why it happened." She chuckles. "It shouldn't have."
Amazingly, as hard as it is to remember after all these years, the Go-Go's were only together for a few years between the explosion of Beauty and the Beat and their break-up. The follow-up album Vacation was rushed out to take advantage of the buzz around the band. The album did fairly well – and included a top ten single with the title track – but was considered a bit of a disappointment sales-wise after the debut. The third album Talk Show also had a top ten single "Head Over Heels" but the album also was a bit of a commercial letdown.
After guitarist Jane Wiedlin was not allowed to perform any lead vocals on the Talk Show album, she decided to leave the band for a solo career. The Go-Go's continued on for a few months, even going so far as to hire a replacement for Wiedlin. Paula Jean Brown came into a band that was severely split. She was in the middle with Carlisle and Caffey teamed together and Schock and Valentine feeling left out. Brown was only there for long enough to do a few shows before the band called it quits – but she contributed a song to the aborted fourth album that ended up being Carlisle's first solo smash, "Mad About You."
"I think it was the right decision," Carlisle concludes. "Like I said, we didn't know how to say no. We worked and worked and worked. We burned ourselves out with that. And of course there were drugs and then publishing issues and egos and all the clichés that break up other bands. I don't see how we could have carried on. If you took out the drugs element, maybe it could have gone on a few more years. We were so young and having that kind of success is exciting and amazing, but also it can have really negative effects. For the band, it definitely had negative effects."
Carlisle and Caffey worked together on her solo debut, Belinda, which became a relatively big hit. Then Carlisle signed with MCA Records and became a superstar when she released the album Heaven on Earth, which had three top 20 singles. The follow-up album Runaway Horses also spawned a couple of smashes. Suddenly, Carlisle was even bigger as a solo artist than she had ever been with a band. Still, she was open to a 1990 Go-Go's reunion tour and has periodically gotten back with her old band in the years since becoming a solo act.
"I was really aware how lucky I was that I had success a second time around," Carlisle recalls. "That kind of thing really doesn't happen too most people. So, although there was a lot of turmoil in my personal life, I was really able to enjoy the moment. More than I was able to for the first ride, which as such a whirlwind of work and other things. The second time around I was aware of how lucky I was. I didn't take it for granted. I just had a lot of personal issues."
Amongst those personal issues were a deep dark secret that Carlisle was keeping. She never believed in her own talent. She always felt like she was a fraud and someday people would realize that she couldn't really sing, couldn't perform, couldn't write. It took many years before she could come to terms with the fact that she did indeed have a musical gift that was worthy of all the acclaim she had received.
In fact, Carlisle came to terms with this "Probably when I got sober, five and a half years ago. Actually, it was funny, because I always thought it was a mistake and this really wasn't my profession. Then about thirty years into it, I was like, okay, well maybe this is what I'm meant to be doing."
She laughs, "It was weird. About five and a half years ago I realized that this is what I should be doing. For years and years, I really couldn't listen to my own albums without cringing – never liking the sound of my voice. Now I can appreciate it. I know it's not the best voice, but I know it's unique."
Perhaps part of that realization came from the fact that some of the great talents of rock and roll performed with Carlisle through her career. For example, the late Beatle George Harrison played on Carlisle's Runaway Horses album despite the fact that he rarely did side work. In fact, after his death Harrison's widow told Carlisle that he loved her voice and thought the album was amazing. She also worked with the Beach Boys leader Brian Wilson. Billie Joe Armstrong of Green Day was instrumental in the 2001 Go-Go's reunion album God Bless the Go-Go's. Sex Pistol Steve Jones and Duran Duran guitarist Andy Taylor (as well as fellow Go-Go Caffey) were members of Carlisle's touring band on her first solo tour.
"I was always amazed when they would actually want to contribute to what I'm doing," Carlisle says. "I think, well, I must be doing something right if that's the case. I've worked and met with most of the greats. It's a weird feeling. Like I said, obviously I'm doing something right."
She has done much right in a career that has lasted thirty years now. Of course, Carlisle has always been a risk-taker – in her personal life as well as her career. For example, while she was going solo she met the man who would become her husband – Morgan Mason, a Hollywood agent who was son of actor James Mason and socialite Pamela Mason. Despite a first meeting which was awkward, on their first date the couple realized that they would be married.
"We both knew we were meant for each other when we went on the first date," Carlisle recalls. "It seemed like the most natural thing for both of us to move in together. It's amazing for any relationship to last twenty six years now. That's how long it's been. In some ways it still seems like it was obviously meant to be. Then, I look back and I think about all the friends that said we were crazy to move in together right away. Yes, it was pretty crazy, I guess, but, it just seemed like the most natural thing for us."
Then in the mid-90s, when their hometown of Los Angeles was experiencing a series of tragic occurrences – including the riots over the Rodney King verdict, the Northridge earthquake and the brush fires from the Santa Ana winds, the couple decided on a whim to move to the French Riviera. Morgan quit his job and they picked up roots and just moved.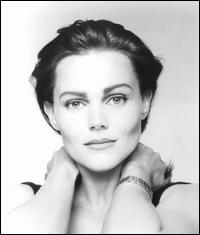 "If we really thought about what it would be like, I don't think if we would have ever done it," Carlisle admits. "We knew it was going to be hard, but we didn't really realize. Taking a holiday at a place and living there are two totally different things. It was really hard. It was one of the hardest things we've ever done, but also probably the best thing we've ever done for ourselves and for our family and for our son.
"At the time we knew that if everything failed, we could always move back," she continues. "So, it really wasn't that big of a deal for us. Like moving in together, we just did it. A lot of people said it was the craziest thing to do for my husband to quit his job and for us to make those kind of changes. They gave us like a year to come back. But, once we got over… we kept giving ourselves six months. If we're unhappy in six months, then we'll go back. But we got used to it."
Even this great thing could not silence Carlisle's demons, though. For years she would be fine while at home with her family and then binge while traveling and touring. Her problems put her in dangerous and emotional devastating positions, however with work and determination she is finally clean.
However her recent sobriety has put Carlisle is in a rather odd position – all of the music that she is best known for was recorded while she was in the midst of drug and alcohol problems. Obviously those addictions had negatively impacted her personal life, but it brings up the question how the drugs changed her artistic endeavors – for better or for worse?
"I think it probably impacted A Woman and a Man and maybe Live Your Life, Be Free," Carlisle says. "The other albums, it wouldn't have impacted, because I was still able to have some separation between the two. I was able to show up to work and be totally present. But those two albums, I was struggling. They would have been better albums, no question. Especially A Woman and a Man, which I think is totally unlistenable. I think it's a terrible album. I can't even listen to it, because it reminds me of what I was going through at the time. That album definitely suffered."
However, her first experience recording completely sober came with the 2007 CD Voila. Recorded for a smaller French label, it was completely a labor of love – Carlisle recorded a bunch of classic French language songs such as Edith Piaf's "La Vie En Rose" and Serge Gainsbourg's "Bonnie et Clyde." It was a new experience for her on many levels. Beyond the sobriety, she was recording completely in a second language and with no real commercial concerns.
"It was one of the best experiences, because I had no expectations," Carlisle explains. "I didn't think that anybody would ever even hear it. I knew it wasn't a mainstream thing to do. It just came from a completely different place from any of my other albums. The other albums, there was the element of wanting it to do well and some of the pressure from the record company of having the best possible songs. There's that extra added pressure. This one was just totally, 100% from the heart. It was experimenting, being able to do anything I wanted to do. Anything. It was a great, great experience."
Strangely, part of the realization of how much her life has changed came to Carlisle when on a whim she agreed to an offer to appear on the popular reality show Dancing With the Stars. She had thought it may be a fun way to learn how to dance. She couldn't have been more wrong.
"I hated it," Carlisle laughs. "To be perfectly honest, it was one of the most horrible experiences of my life. I loved learning how to dance. I loved my partner. I loved rehearsals. But I hated everything else that went along with it. I'll never do anything like that again, honestly. It was just too much pressure for me. I learned a lot about myself. I learned that I can't function under that kind of microscope. I don't like being 'TV famous.' That's horrible. You have no anonymity. I just felt like every time I went out there my mouth would go completely dry and I was like a deer caught in the headlights." She laughs again. "It was the worst. I'd forget everything I learned. I just couldn't function. I have a newfound respect for people who do well on that show, because it is really, really hard."
Instead, she has become comfortable with a more sedate lifestyle, dividing her time between homes in the south of France, India and traveling back to the States.
"I go on hikes. I live in the mountains. I go to the Yoga Institute four times a week. I read. I just do normal things. I'm not really a part of the whole jet-set crowd. Maybe, when the film festival comes, I'll go to a party. One party," Carlisle laughs. "My life is very, very quiet. Very tranquil and very normal."
Part of that tranquility has sprung from Carlisle's embracing yoga. It was a gradual process. Carlisle herself acknowledges being very skeptical when a friend brought her into the practice. However, during a trip to India she decided to give it a chance and learned the power of yoga. Even then it was so cathartic that is scared her. However the more she experienced, the more her life came to make more sense.
"There's a reason why it's been around for 5,000 years," she chuckles. "I took to it right away. I started yoga because I felt emotionally I could use all the help I could get. I heard from a lot of people that it was really helpful for mental states and emotion and stuff. I found when I started practicing I started practicing a lot. One of my teachers said, 'Be careful, because when you practice a lot you'll find one day that all your perspectives on everything have changed.' I have to say that's totally happened. Because of the twelve-step program I have a spiritual base, but the yoga only adds to it. I chant and it was really instrumental. It's very, very important to me today and it was really instrumental in the early days of my sobriety. You can't really explain it to anybody who doesn't practice. But anybody who practices a lot understands."
Ironically, one of the funniest parts of the book concerns Carlisle's son Duke, who has political aspirations. The young son asked his mom not to go on too much about the metaphysical aspects of her awakening, because she might become a "political liability." So what does her son think about mom's book?
"He loves it," Carlisle says, good-naturedly. "I didn't put anything in there that I thought would be embarrassing to him. He knows my story. Even before I wrote the book, I wanted him to know my story, because I think it's a good lesson for people. He's really proud. I try not to say anything too outrageous because I am very aware that he doesn't like it so much," she laughs.
In the meantime, Carlisle is also philosophical about her band. It is a wonderful part of her life and she feels a close personal bond with her bandmates as if they were all sisters, but there will never be a fifth Go-Go's album, she assures me. In fact, the band has officially broken up again – but this time for good. This year the Go-Go's were planning to have a farewell tour to celebrate their career. However fate intervened.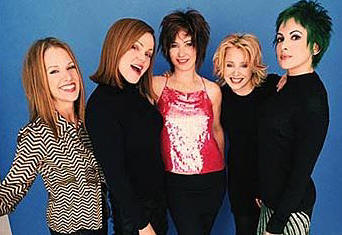 "Tickets were being sold and it was doing really well, and then Jane [Wiedlin] fell while climbing and completely shattered both of her knees," Carlisle explains. "We had to cancel the whole tour, which was going to be the last tour. I don't know if we'll make that up, because that's so far down the line for me – at least a year recovery. We just got a star on Hollywood Boulevard, so maybe we'll do a couple of dates around that and that'll be the end. I'd like to go out with a little bit of dignity and grace. I don't want to be around too long. I think that's kind of pathetic."
Carlisle will continue to record and tour as a solo artist when she is moved to, but the music is no longer the only focus of her life.
"I'm recording in the fall, actually," Carlisle says. "It's just one of the things that I love doing. I have a whole other business in India – a jewelry and clothing export thing. I work a lot on that, too. I'll always do little dates and recording, as long as it's fun. Whatever I do record, I have to have the same sort of attitude about it as I did for my French album, because that was such an amazing experience and I don't want to be on a hamster wheel anymore. I don't want to have to feel I need to compete. I want to have 100% artistic freedom to be able to experiment, because my tastes aren't really that mainstream. My tastes do run along the lines of being eccentric. So, yeah, I'm sure I will do little projects now and again. Now, for the next 50 years, I'd like to slow down a little bit and enjoy the fruits of my labor, basically."
After all, Belinda Carlisle has had a fascinating existence and has achieved more than most people have ever dreamed of. Now, she is enjoying what she has achieved in life.
"Everybody says that you have to plant a tree, have a baby and write a book," Carlisle smiles. "That's the three things you need to do in life. I've done all three."
Features Return to the features page