Our Butch is in love. And his alter ego, Eddie Munster, is howling with joy.
Butch Patrick, 57 (born Patrick Alan Caples), is the actor who played the only wolf/son of Herman and Lily Munster on The Munsters on CBS from 1964-1966 (and forever in reruns). The former-child-actor has plenty of fantastic tales to tell about his adventures on that much-beloved sitcom. But now, he has an even more incredible (and new) yarn to add to the same old same old.
He just recently hooked up with a long-time fan, Donna McCall. She lives in Pennsylvania, possibly as far away from TV Land as you can get. Just this year he is joining her in the Keystone State. And yet Patrick's fans couldn't be happier.
It has been a whirlwind romance that is as exhilarating as going for a spin in Grandpa's Dragula. The tale is so awesome that the tabloids don't know quite what to make of it, because it's a simple, humble love story that lacks sordidness and opportunism. This love is pure as the Pennsylvania in which it is based. It is lacking any Hollywood hysterics.
"We're not married, but we're going steady," Patrick tells me on his cell phone, driving along with his new love in Pennsylvania, "but it is a great story."
"Going steady," for those of you born after 1970, was a ritual in which a boy and girl date for more than a few times, and eventually they consider possibly deepening the relationships with wedding bells.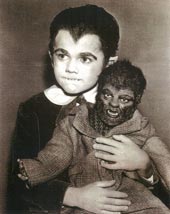 Here's how he explains it: "A little girl sent me a fan letter in 1964 [during the first season of The Munsters, when Patrick was just eleven years old]. I sent her back a postcard, thanking her for being a fan.
"Then, about six months ago, there was a news story regarding a guy who was building a gum wrapper chain [chewing gum wrappers bound together to look like an iron chain]. The reason [the little girl] had contacted me in 1964 was to build a gum wrapper chain for me, and she needed to know how tall I was. And, now that she was grown and she saw that story, it triggered a memory of 'I wonder what he is doing these days.'
"So she emailed me. She said that she was a pharmacist and that she was recently divorced and that she used to be a Philadelphia [Eagles] cheerleader. She was doing some exciting things with her bucket list. She showed me pictures of herself trapeze flying and zip lining and scuba diving and NASCAR racing and all this neat stuff. So she seemed like a really neat person.
Neat, for those of you born after 1970, means "cool" or even "bitchin'" (but not "bitch.").
Patrick continues: "I was coming to the Philadelphia area to do an appearance, a promotion. So I invited Donna out on a blind date. I was a special guest at a dinner party. She drove a hundred miles to meet me. I drove back with her and stayed a couple days, then I went back to [my home in] Florida and she went on a cruise to the Caribbean.
"After that, she drove to Tampa and we decided to give it a shot. It's kind of a whirlwind situation, but it's working out okay. A lot has happened in four months, but it's all good."
The tabloids picked up on the story and reported on it, but unfortunately for them, the tale doesn't allow for any dirt.
Except for maybe this: "We're opposites," he says. "She's one side of the coin and I'm the other, but we get along good."
Good to know about Butch Patrick, who now is living the life of a happy man with the love of a good woman. The only thing left to celebrate, if you're best known for your role as a wolf boy, is Halloween.
A natural evolution: Patrick is now a spokesperson for the Pennsylvania-based haunted house conglomerate Thirteen Haunts. With that said, Patrick is coming to terrorize y'all's neighborhood.
The Thirteen Haunts is a network of thirteen haunted houses in the Philadelphia area (including haunted hayrides). Thousands of people turn out every year to get the you-know-what scared out of them, and to meet the famous Munster himself. And now, if they're real good, they can maybe meet his lady love too.
He says, "There are thirteen of these haunted houses in the Pennsylvania, New Jersey and Delaware area, in about a hundred-mile radius. They had been getting screwed over by the radio stations in their advertising budget. They found out that if they got together and worked as a team, they could get more advertising for less money, as a unit.
"There is no other group like it in the country. They are all sharing the wealth. They are all far enough away from each other. They all take care of each other and at the same time, they don't step on each other's toes."
Once again, Lady Donna figured into Patrick's fate.
He says, "My girlfriend went to buy a motor home. I mentioned that I was Eddie Munster to the guy who sold it to us. He said that he had a friend who is involved with a big haunted house in Delaware. He gave me the name and the number of the guy. The guy responded and we met for lunch.
"I already had an idea of trying to do something with the number 1313 because of the address of The Munsters. And I was here in the Northeast, so I thought thirteen colonies, thirteen haunted houses. But it just so happened that these guys already had Thirteen Haunts in place. So the idea was for me to be a spokesperson for them. I do two appearances at each haunt throughout the season. It's incredible."
For the Halloween season, Patrick takes his act on the road, and Donna comes along for the ride.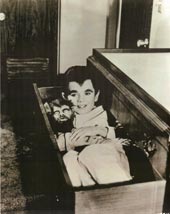 He says, "I do a lot of radio [promotion for the company] and I wear the T-shirts and I wear the caps. I do two appearances at each haunt. I probably wind up doing about 30 appearances throughout the season."
This is an easy A for Patrick, who has nurtured his love affair with his fans for decades.
"The fans are always good to me," he says. "They love The Munsters and they always have. The thing is, the story of how Donna and I met, they think it is just a great love story, a nice story with a nice ending. They like the idea that we've only known each other for four months but we get along great and we spend a lot of time together, that we work well together."
Although he also starred in the 70s Saturday-morning classic Lidsville as well as making guest appearances on everything from My Three Sons to Adam-12, Patrick is best remembered for a freaky sitcom that only stayed on network TV for two seasons. Due to reruns and now DVD, the series has multiplied fans exponentially. With good reason.
"I knew it was funny as a kid," he says of The Munsters. "It was fun to do. I would read the scripts on Monday and I knew it would be funny knowing how Fred [Gwynne, who played Herman Munster] and Al [Lewis, who played Grandpa Munster] would interpret it.
"But I didn't have any idea that it was going to be that good quality that early. I thought everything was just going to get better and better and better. And I think we hit a home run right off the bat because the show is really still an A-List show. It's really great."
The thousands of fans who turn up just to shake his hand (no hairy palms on the man) can attest to Patrick's staying power on the autograph circuit; and now he's a natural on the haunted house circuit. It only figures that a show as good as The Munsters can inspire sentimentality for its monstrous characters.
"There are not a whole lot of shows that can say that," he says of the show's longevity. "There are a few of them, like The Honeymooners and The Twilight Zone. There are thousands and thousands and thousands of TV shows that have been produced, and you're lucky to be remembered for any show, let alone a Top 10. Especially with monsters in a unique atmosphere that was so unusual. Who would have thought on paper that it would fly?"
Thanks to The Munsters, now Butch Patrick is flying on the bat wings of love.
For more information about Thirteen Haunts, go to 13haunts.com.
To keep up with Butch Patrick, go to Munsters.com.
Email us Let us know what you think.