PopEntertainment.com > Feature Interviews - Music > Feature Interviews A to E > Tony Burrows
Tony Burrows
The Greatest Singer Whose Name You've Never Heard
by Jay S. Jacobs
Copyright ©1999 PopEntertainment.com. All rights reserved.
Tony Burrows. You may not know the name, but you know the voice. Burrows is quite probably the greatest voice of seventies pop. He's definitely the only singer in history to have four top forty singles with four groups in a space of four months. As a studio singer, Burrows headed up many groups. You may or may not remember the band names, but if you grew up in the seventies, you definitely know the songs.
There was "Love Grows (Where My Rosemary Goes)" with the Edison Lighthouse, "My Baby Loves Lovin'" with White Plains, "Beach Baby" with First Class, "United We Stand" with the Brotherhood of Man, "Let's Go To San Francisco" by the Flowerpot Men and "Gimme Dat Ding" with the Pipkins. Burrows played in the group the Kestrels, who toured with the Beatles twice. He also was part of the Ivy League, one of the biggest bands in England in the mid-sixties. Tony also sang on the famous Coca-Cola "I'd Like To Teach The World To Sing" commercial, as well as doing backing vocals on tunes like Elton John's "Border Song," "Levon" and "Tiny Dancer."
Varese Sarabande Records has now released Love Grows-The Voice of Tony Burrows, a look at his distinguished career. The disk features songs by nine different bands he's worked with. There are also some terrific solo tunes. Burrows recently played live in the United States for only the second time in his long career at Rhino Records Retrofest in Santa Monica, California. From his London home, he agreed to have a chat with us about his career.
Do you remember the first time that you heard your music, on the radio or in a club or something like that? What happened, and what was it like?
Wow, that was a very exciting time for us. I remember, that was with the Kestrels, and we actually made a couple of tracks, which got played very near the charts. It was a song called "Chapel in the Moonlight," believe it or not. Hearing that on the radio and actually on a television plug program here called Cool for Cats. It was actually very exciting.
The Ivy League changed to the Flowerpot Men and had a British hit with "Let's Go To San Francisco," a psychedelic Summer of Love tune. Did you get into the San Francisco scene at all?
I never did. The longest time I've spent in San Francisco was about three hours, between flights.
After the Flowerpot Men, what made you decide to go the studio route?
Well, I'd been touring since the early '60's..., '61, really, I suppose. I'd had nearly ten years on the road. I decided that's enough. One gets a little bored living out of suitcases and in hotel rooms. I decided to concentrate on recording work. I was married and I had a family. I'd toured the world. I'd seen an awful lot of places and decided it was time to settle down and try and build more of a career rather than a month by month tour of the world.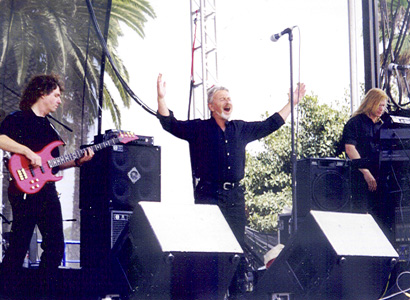 In the first six months of 1970, you had four different U.S. hits leading four different bands with "Love Grows," "My Baby Loves Lovin'," "United We Stand" and "Gimme Dat Ding." No one has ever done that before or since. What was it like?
It was a strange feeling, I have to say. But, they weren't all recorded at exactly the same time. They were recorded over a period of between six and nine months. I was doing a lot of session work. I knew most of the writers at the time, and I was doing a lot of their work. They were all issued at the same time. It was a little inconvenient, that's right on it. I was stretched. I tried to stretch myself in four different ways.
I know that the White Plains was an offshoot of the Ivy League and Flowerpot Men. How did you get hooked up with the other different bands?
Well, "Love Grows" specifically, I had done some recording for the musical director on that particular record, a guy called Lou Warburton. I was doing backing vocals, in actual fact, for (songwriter) Tony MacCauley, who was recording a lot of his titles. I happened to have a tape of a track, which Lou wanted to hear. So I asked everybody, "Would you mind if I play the track in the studio for Lou?" They said, no, go ahead, which I did, and he listened, and after he did, he came up and asked would I like to sing lead on "Love Grows?"
Did you ever want to make any of those bands a fulltime gig, or were you enjoying the variety of playing in all different situations with different people?
I'd made a conscious decision to stop touring, and I really didn't want to go back on the road with a live band. So, what I said I'd do was the television promotion with these groups, but I wouldn't go and work live with them. And I never actually did.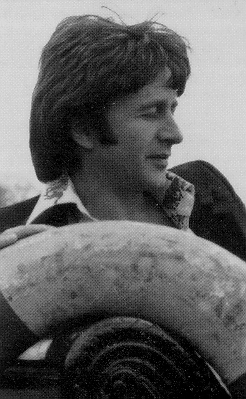 In the early seventies after all of those hits, you started recording as a solo act, but except for a minor hit with "Melanie Makes Me Smile" the solo stuff didn't really take off. Why do you think that may have been?
Well, there is a story behind that, as well. With these four records out at the same time, I had previously started recording solo titles. They all got released, and all sold as we've just talked about. That was because of Top Of The Pops, a record program, which has been running here for about... it must be thirty years. In those days it was a major television show. I did three of the titles on one particular night on the show (with the Edison Lighthouse, White Plains and the Brotherhood of Man.) Imagine changing clothes on the side of the sets to appear with different bands! After that, the producer came and spoke to me, "I ought to tell you something, Tony. I had the word from above you're not to be used again." I asked what he was talking about. He said one particular wag from upstairs says this doesn't look right. It looks as if there's something wrong with the situation where you appear with all these different bands. Well, you asked us to do these shows. If you got on the chart, you go out and plug it, do the show. They're all selling and you asked us to do the show and that's what we've done. But he said, "well I just thought I ought to tell you." To be quite honest, I got banned from BBC Radio for two years. That was the period when I had the solo records, and I really and truly couldn't get played. We had no commercial radio in those days, just BBC.
After the BBC incident, how did you get back into studio work and hook up with First Class?
That was through John Carter. John Carter was part of the Ivy League. I'd known him for years. He also wrote and produced "Let's Go To San Francisco." He called me and said, "I've got this song I'd like to record. You fancy singing?" So, he played me the demo and I said, let's go do it. It's as simple as that, really.
"Beach Baby" was quite possibly the best song the Beach Boys never recorded. Throughout your career, songs sounded very strongly American, like that and the psychedelia of "Let's Go To San Francisco." Was there a conscious decision not to have British quirks, like, say, the Beatles or the Kinks?
No, I don't think it was a conscious decision. I grew up with American pop music. That's what I remembered. That's what I listened to. That's what I enjoyed. I think that just rubbed off more than anything else. I think that probably applies to a lot of people in those early seventies.
I know of about six bands that you recorded with. Do you have any idea how many there have been totally?
Oh, wow. (laughs) Actually recorded with or featured with? I mean, I do studio work and session work. I've recorded with an awful lot of bands. But, featured, I think probably, it's about eight. Something like that.
What have you been doing since "Beach Baby?"
Well, I've still been in studio work, but I got into commercials... I've been in commercials for twenty years. I do voiceovers. I write. I produce. I do just studio work, really. That's it.
Who are some of the people you've done studio work with?
I've worked with Rod Stewart and Elton John and Tom Jones and most of the British acts that have been successful at some time or another, I've recorded with. I toured with the Beatles. With the Kestrels, we did the two tours in Britain with the Beatles.
How involved were you in the making of the Varese reissue?
In what respect? How do you mean?
I mean, did you help to decide which songs were going to be included...
No, that's been purely their choice. In fact, they've come up with one or two titles which I didn't even remember singing. But, they sent me tapes and things and I said, yeah, that's me. I did that.
Do you have a favorite song you recorded?
I suppose it'd have to be "Love Grows (Where My Rosemary Goes.)" It was a natural, if you know what I mean. I just heard it and said, oh, yes, that's a good song. That's a hit. I think it's probably my favorite. (laughs) It's certainly financially my favorite song.
Was there anything you would have liked to have sung but couldn't?
I don't know if "Home Lovin' Man" is on the Varese Sarabande CD, but I did the original demo of that for Roger Greenwood and Tony MacCauley, who wrote the song. The recording company decided that it wasn't commercial enough for me as a single. So Roger took it to America and Andy Williams recorded it and had a monster hit. That I regret. He actually covered it note for note.
How about anything you would just as soon forget?
(laughs) I'm sure there are, which means to say I've already forgotten them.
Radio playlists are so regimented today. You used to be able to hear rock, soul, pop and country all on the same station, and that just doesn't happen anymore. Do you think that can inhibit new musicians?
Yes I do, very much so. Acts and singers and artists get bracketed and put in a bag and that's where they are. So that can certainly mean that a large number of the public does not get to hear the material because they don't listen to that particular brand of music. I think that's wrong.
Suddenly lots of pop-based alternative bands like Matthew Sweet, Gin Blossoms, Jellyfish and the Posies are celebrating seventies pop groups, acknowledging that The Partridge Family, ABBA and your bands were as important to music history as Led Zep and the Who.
I think so, yeah.
For a long time people had said that seventies music was pretty bad. Do you think those years got a bum rap?
I don't know that it was a bum rap. I think it was a very successful period in music history. Basically, because I think the songs were good. I think nowadays far too much is produced in the studio. I think recording techniques have advanced so far that music has become sort of robotically produced now. I don't think there's enough emotion and heart goes into recordings anymore. They certainly used to in our day. I think that's a bit of a shame. But that's probably the old man in me speaking.
Why do you think pop is making such a revival?
Because good songs will always stand the test of time. We have a little working band here which we go out and gig for, basically fun. I mean, they're all session guys and we go out and enjoy ourselves. We do sixties and seventies material and it's enormously successful. Even the youngsters, they don't got a yearn I think to music these days that is produced on computers. To actually see people performing live and working instruments, it is a change for them and they enjoy it.
What musicians do you feel inspired you?
When I was very small it was the big band era, I suppose. We had Sunday big band concerts in England when I was growing up. But, my early memories of seeing artists were the Eddie Cochrans and Gene Vincents. Those were the guys that, when I was twelve or thirteen, that I went to watch.
Are there any new musicians you've been listening to?
(laughs) The short answer to that is no.
How would you like for people to see your music?
How would I like people to see it? I don't know, I never thought about it. Well, what we did was from the heart. We did it to enjoy ourselves and hopefully to allow people to enjoy listening to it. It was never taken too seriously. We weren't trying to change the world. There's room for all sorts of music, I feel. One doesn't have to be educated every time one listens to a piece of music. Sometimes it's just pure enjoyment. That's basically what we tried to do.
What is the misconception about your music or yourself that you would most like to clear up?
I have a few regrets, in this country (England), I suppose. That I was put in a bag, this is bubblegum music and that's what you do. I could do lots of sorts of music. But if that was successful, that's how I was successful with the public, so I suppose I don't have any real gripes about that. No, I don't think so. I don't have too many regrets.
Email Let us know what you think!
Features Return to the feature stories
Photo Credits:
#1 © 1999 Jay S. Jacobs. All rights reserved.
#2 © 1999 Jay S. Jacobs. All rights reserved.
#3 © 1970. All rights reserved.
#4 © 1999 Jay S. Jacobs. All rights reserved.
#5 © 1999 Jay S. Jacobs. All rights reserved.
#6 © 1999 Jay S. Jacobs. All rights reserved.