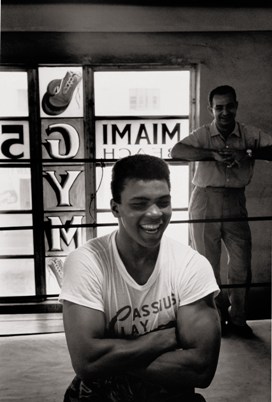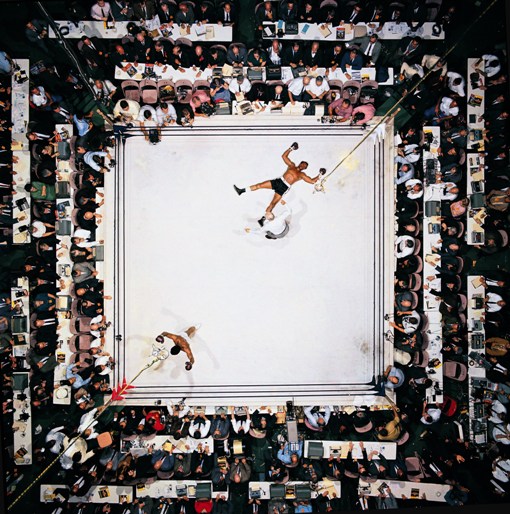 Greatest of All Time: A Tribute to Muhammad Ali (Taschen)
FLOAT LIKE A BUTTERFLY, STING LIKE A BEE...
Muhammad Ali is a national treasure. His larger than life legacy and seismic impact on popular culture both as a champion prize fighter and social leader places him in that timeless tapestry of baseball, Mickey Mouse and apple pie.
A remarkable new book, Greatest of All Time: A Tribute to Muhammad Ali (Taschen/$150) strips away the mythology surrounding the world famous boxer and presents a career defining museum quality tome that details the life and times of this unforgettable icon. Initially released in 2003 as a highly sought limited edition signed by Ali, which retailed for several thousand dollars, a more affordable, but no less beautifully presented version, has just been published.
Totaling over 650 pages, one is first knocked out and dazzled by the whole package, a sumptuous compendium of over 1000 eye-popping visuals and art and engrossing text. Impeccably designed, the handsome oversized hardback tome unveils its magic like a brilliant Technicolor film immersing you into the life of the celebrated pugilist. Showcasing the work of primary photographers, long-time Ali friend and colleague, Howard L. Bingham and Neil Leifer along with a succession of other esteemed photographers and artists including Andy Warhol, Leroy Neiman and Annie Leibovitz, the book is literally teeming with spectacular images, art and vintage memorabilia (news clippings, boxing posters, various ephemera) charting his pre-Ali career as up and coming boxer Cassius Clay to his standing as a global superstar.
Illuminating essays charting Clay's rise, his Olympic gold medal win, early fights as a professional boxer, his surprise conquering heavyweight title win over Sonny Liston through his stunning "mano a mano" heavyweight clashes with the likes of arch rival Joe Frazier (Ali likened their final fight, better known as the "Thrilla In Manila", to his closest call with death), George Foreman, Ernie Terrell, George Cooper, Ken Norton, Leon Spinks and others.
Breathtaking aerial color photographs of Ali's rematch with Sonny Liston who he KO'ed in the first round (its iconic image gracing the book's front cover) are so intimate, they're infused with the miraculous power of ushering you into the confines of the smoky Bangor, Maine arena providing a unique "fly on the wall" perspective. Powerfully evocative photographs of then Cassius Clay clowning with newfound pop stars The Beatles at a Miami Beach training session circa February 1964 offer a glimpse of his playful spirit while the striking 1968 Esquire cover image of a "bleeding" Ali, arrows in chest, signify the major public struggles he faced as a result of his refusal to be inducted into the Army on religious grounds. And those are just a few of the scores of the magnificent and impactful images that frame this monumental work.
Beyond the intoxicating allure of the arresting visuals on bountiful display is the revelatory and informative text peppered throughout. Extensive interviews with the likes of Muhammad Ali, Joe Frazier, George Foreman, Ken Norton, Floyd Patterson, Ali's right-hand men, Angelo Dundee and Ferdie Pacheco, famed sports commentator and long-time Ali ally, Howard Cosell, Roots author Alex Haley and boxing promoter Don King are included. Additionally, the book's text is rounded out by incisive essays penned by renowned scribes George Plimpton, Gay Talese, Tom Wolfe, Norman Mailer and On The Waterfront screenwriter Budd Schulberg, each offering their own enticing kernels of reasoned historical perspective and illuminating insight on Ali.
Not just a sports or biography per se, the tome also investigates the boxer's life outside of the ring, from his controversial conversion to Islam to his being stripped of his title on religious grounds at the height of his boxing prowess to his enduring role as a symbol for social and political change.
Perhaps one of the most beautiful books I've ever seen, both in its breathtaking aesthetic presentation and impassioned textural analysis, Greatest of All Time provides an essential window into the remarkable life and career of Muhammad Ali and truly befits the talent and charisma of this national treasure. One thing's for sure, there'll never be another like him again, he was truly the Greatest of All Time. G.O.A.T. is a knockout and comes highly recommended.
Ordering info: CLICK HERE!
Ken Sharp
Copyright © 2010 PopEntertainment.com. All rights reserved. Posted: October 10, 2010.
Photo Credits:
#1
© 2010. Courtesy of Taschen Publishing. All rights reserved.
#2
© 1961 Neil Leifer. Courtesy of Taschen Publishing. All rights reserved.
#3
© 1966 Neil Leifer. Courtesy of Taschen Publishing. All rights reserved.
Copyright © 2010 PopEntertainment.com. All rights reserved. Posted: October 10, 2010.