PopEntertainment.com > Oscar Nominees > Feature Interviews - Directors > Feature Interviews A to E > Hany Abu-Assad
HANY ABU-ASSAD
STRIVING FOR PARADISE WITH THE PALESTINIAN DIRECTOR
by Brad Balfour
As an experienced Palestinian filmmaker living in Amsterdam, Hany Abu-Assad has both the best and worst situations--access to the world of European cinema and yet troubled by stories from thousands of miles away in his place of origin. "Paradise Now" [which had a US debut at the 2005 New York Film Festival and is now a Foreign Film Oscar contender] provides a provocative and intimate look at two young West Bank Palestinians, who choose a dire course of action as suicide bombers.

In making this film, Abu-Assad provides a chance to get into the minds of such men who act in reaction to the hopelessness they feel. Through this painful scenario, the film considers the implications of their decision without being judgmental of either side or as to who are the victims.

Even though the movie can be considered quite controversial, was it your intention to offer a balanced point of view?

Yes for sure, because without dialogue that either you agree or disagree about, the movie would have been boring. A good movie allows you to experience things that you don't experience in reality. For instance, this film allows you to follow these people, and it also opens a dialogue and a discussion. If you were to do that, you would have to see it from both sides in order to have a fair dialogue and not a preaching film. Whether you are for it or against it is not interesting.

A lot of Israeli filmmakers try to do the same with this sort of subject matter.

Yes, all the films I know that are exciting are those which allow you to go somewhere you couldn't go to in reality and to experience things, and to have a fair dialogue between two point of views.


How do you see this film in relation to your previous one, Rana's Wedding? Is this more an extension or a reaction to your other films?

You have two kinds of filmmakers. Some make the picture from the narrative, or they make the narrative from the picture, like Wong Kar Wai with In the Mood for Love, you have the images, you have the mood, and then the story will come. I make the picture from the story. The story in Rana's Wedding is different. It is a different story and it is a different look. And Paradise Now is a very dense and tragic story, the content is very heavy, and the film becomes also like this. It is like the picture is coming out of the story.

How do the stories come to you?

It's funny because I was busy with another thriller, and, with my co-writer Bero Beyer, we wanted to add some exciting elements to it, like showing it (happening in) 24 hours but I thought that the life of this man was more exciting than the whole thriller. This is how (this film) started. You want to make a thriller, but not with artificial means because generally, thrillers have very artificial plots. (There's) suspense in real life, especially in America, but now with this realistic story in Palestine – which is daily life for some Palestinians – you can make a better thriller than from the genre.

Are the stories you write rooted in people and stories you know?

Yes, we did research, which was based on meeting people who knew (suicide bombers). What was interesting was meeting a lawyer who defends people who pushed the button to explode themselves and who failed. This lawyer had amazing stories.

Is he Arab or Jewish?

You can't be an Israeli Arab, Israel is a Jewish state and the Arab is the contradiction of it. A Palestinian living in Israel is more correct. Israeli Palestinians suddenly become Israeli Arabs. He is from east Jerusalem, but the settlers do not give them the same rights.

Are you surprised by the reactions you get when you have traveled your films?

In general, I get a good reaction. I thought that this film was going to upset a lot of people. People from the Israeli side appreciate the film because it allows them know more about it. I think that it is an interesting discussion as a film. I was afraid that more angry voices would come. There were some, but that wasn't the dominant reaction.

There is this important turn in the film when we think that one guy is going to blow himself up, but it doesn't turn out that way. How did you come up with this surprise ending?

Research is the best resource. You can't use 100% of reality. In the real story, there was a girl and a boy, they both had belts on them, when the boy found out he was going to do it with a girl, and he refused. He wanted to stop it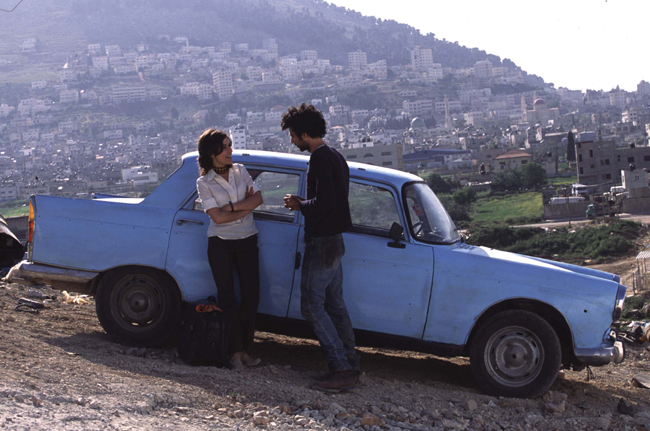 because he thought that it was a bad idea to do it with a girl. His idea was that girl was supposed to create life and it is the man's job to kill in order to protect. When the girl starts to kill, it is the end of life. The girl disagreed, she said, "We have the same responsibility in order to protect our society and this idea of different responsibilities is an old fashioned idea. Now we live in a modern time and we have the same responsibility." The lawyer told me this real story. They had a fight in the car about the feminist point of view on this. The driver begged them to stop this because they were disturbing him. When they got there, she panicked and left. He didn't want to do it in the same place as her. So when they got out of the car, she panicked the driver had left, she begged him to come back but he wouldn't come back for her. The other boy tricked the driver into coming back, he called him and said, "I don't want to do it also, and you have to come back." When he came back, he put the girl in the car and he stayed. He killed himself with another man and she is now in an Israeli jail. When I heard the story, I thought it was interesting but I didn't want to make it a girl/boy story because I thought it would be too much. So I stuck to my original story with the two friends making the exchange.

How did you decide to change the dynamic between the two?

I thought that it was a good idea to have two characters under the same circumstances, at a certain point there is something wrong in the plan, and there is a different development. This was the idea of the character development, two characters under the same circumstances making different decisions.

Have producers, critics, or the public, tried to push you to stand for one side or the other?

My point of view is clear. I am against using violence, any kind of violence. The cause is also the oppression from Israel for almost 60 years. This is not necessarily the point of view of the film; the film is not dealing with this issue. It is dealing with two friends taking extreme decisions under extreme situations. I don't think that killing yourself is a good idea, but the cause of it is the daily humiliation, of the state of Israel refusing to accept Palestinians as equals. The news does not give an inside view on the issue; the few minutes given to the issue are not enough to explain what is happening. The commentaries do not have the opportunity to follow things in reality. This is why I chose to fictionalize the story because then you have more opportunity to go with the characters. In general, the film does not represent me as an idea. It is a fictional story and it had to be well done. You have to have interesting characters and development. You need actors that are believable.

What was the most difficult thing in making Paradise Now?

To shoot the film when the place is full of violence. It was hard to make the movie. I would not do it again. And even if I go back, I prefer not getting the film done than risking the life of the people and myself. It was hell to make the film. It was shot in the West Bank.

Do you follow other Israeli or Palestinian filmmakers?

I didn't see Syrian Bride yet, but I will for sure. I saw a very interesting story by Avi Mograbi at this year's New York Film Festival, Avenge but One of My Two Eyes. He gets a very interesting point. He makes a comparison between the old story of the Bible and what is going on in reality now. It is interesting
to see the story of the underdog who refused to be a slave – this is the story of the Jews – and how the story kept the people alive. Because without the story, they couldn't survive at that time they lost their land. All these people vanished because they lost their land. Jews stayed alive because they kept the story. It is funny how after the Holocaust, the people exchanged the story for the land. But they tell the story from the oppressor's point of view. They came back to the land not anymore as the underdog but oppressors.

Which filmmakers or storytellers have influenced you?

I love Francis Ford Coppola, Bernardo Bertolluci, and Sergio Leone. These people are very inspiring.

What do you hope the new generation of filmmakers will get from your films?

It is very pretentious to speak about your films or yourself as an influential filmmaker as I am a beginner. It is very flattering but I have just started. I consider myself (to be) still learning. I have a lot of things to discover.
Copyright ©2006 PopEntertainment.com. All rights reserved. Posted: March 2, 2006.
CLICK HERE TO SEE WHAT HANY ABU-ASSAD HAD TO SAY TO US IN 2014!