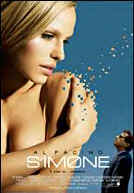 SIMONE (2002)
Starring: Al Pacino, Catherine Keener, Evan Rachel Wood, Pruitt Taylor Vince, Jason Schwartzman, Winona Ryder, Jay Mohr and Rachel Roberts.

Screenplay by Andrew Niccol.

Directed by Andrew Niccol.

Distributed by New Line Cinema. Rated PG-13. 117 minutes.
Simone
Simone is pretty much a one-joke gimmick stretched to a movie length. But, it's a pretty good joke, and it is able to sustain itself through most of the story before going astray. The film is actually sort of an inverted version of writer/director Andrew Niccol's last film, The Truman Show. In that film, Niccol showed the country becoming obsessed by a man who was living in a fake world, in Simone the country becomes obsessed with a fake person inserted into the real world.
Al Pacino plays Viktor Taransky, a respected, but arty director who can't get a hit and has coasted on his reputation for years. Finally he gets fed up with dealing with shallow actors (shown in a wonderful self-parody by Winona Ryder). His former wife, a studio executive, takes away his contract. Viktor is about to give up when a mysterious man he'd met years before wills him a program he'd created to make a fully believable cyber actress, called Simulation One, or Simone. In desperation Viktor tries the program and finally finds the perfect actress to finish his film, she will do or say anything he asks… because he controls her.
Things get out of control when the film becomes a surprise smash hit and Simone a star. I hope I'm not giving the filmmakers too much credit in assuming that the fact that Simone is not particularly realistic looking or a good actress is just another part of the joke. All this puts Viktor in the weird position of handling a media sensation of his own making without actually having a physical star. Soon he is juggling promotions, fans and tabloid reporters who are determined to find out the history of the mysterious new star.
Only in the last fifteen or twenty minutes does the story get away from Niccol. Suddenly Viktor, who up until now has been very savvy in controlling the scam, goes crazy and decides to destroy the Sim-One program and dump the hard drive and all the evidence in a cooler in the ocean. This puts Viktor in the morally ambiguous and interesting position of having to defend himself in the potential murder of someone who never existed. However, it still feels like a forced plot-point… why would he go to all that trouble when all he really had to do was reformat the computer?
In fact, it was never totally satisfactorily explained why Viktor never revealed his secret long before everything hits the fan. Still, Simone is a clever satire of the cult of personality that passes for modern life. If it limps over the finishing line a bit, that doesn't change the entertaining and stimulating ideas that make up most of the film.
(8/02)
Jay S. Jacobs
Copyright © 2002 PopEntertainment.com. All rights reserved. Posted: August 23, 2002.
Copyright © 2002 PopEntertainment.com. All rights reserved. Posted: August 23, 2002.