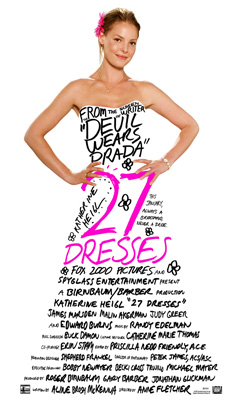 27 DRESSES (2008)
Starring Katherine Heigl, James Marsden, Ed Burns, Malin Akerman, Judy Greer, Melora Hardin, Brian Kerwin and Maulik Pancholy, David Castro, Alexa Havens and Jennifer Lim.
Screenplay by Aline Brosh McKenna.
Directed by Anne Fletcher.
Distributed by 20th Century Fox. 107 minutes. Rated PG-13.
27 Dresses
In 27 Dresses, Katherine Heigl makes the leap from promising talent to bona fide film star.
This promotion is not so much because she is out there breaking boundaries and doing great, classic films. In this case it is more elemental. Here Heigl joins that rarified rank of actors who can take a sweet-but-slight, predictable, occasionally clichéd film and through sheer force of will and personality make it seem to be a much better movie than it actually is.
This star quality is hard to come by and Heigl has it to burn.
Therefore, this formulaic chick-com about a wedding-obsessed always-a-bridesmaid personal assistant who is invited to everyone's wedding but her own — goes down a lot easier than it should.
Heigl plays Jane, the extremely competent and shy assistant at a politically correct eco-friendly big business. She is quietly in love with her boss (played with oily charm by Ed Burns), but she is so quiet that he doesn't even realize that she is interested — in fact, he barely recognizes that she has a life outside of work at all.
Jane also has a spoiled-model sister (Malin Akerman) who captures the attention of the boss. Despite the fact that Jane is madly in love with the guy, she just rolls over, assuming that he could never fall for her. In fact, no one really seems to fall for her, ever.
This is a little hard to buy into, because no one in the world is likely to miss the fact that Jane (or Heigl) is an extraordinarily attractive woman. Even prettier than the sister who is granted extremely attractive herself, but has supposedly overshadowed Jane all her life.
We first meet Jane as she is trying to juggle two weddings in the same night — cabbing back and forth across Manhattan for two extremely different themed receptions. It's a new-millennium adult version of the old-sitcom staple where someone has two dates for the same night and thinks they can pull it off without anyone noticing.
Turns out that Jane has a closet in her apartment bursting open with 27 unusable bridesmaid dresses from weddings she has been part of... thus the movie's title. However, it's okay, she loves weddings and has become sort of an unofficial wedding planner for all of her friends — helping set up the ceremony, choose the menu, holding the dress up when the brides have to go to the bathroom.
She also obsessively reads the society pages of the local paper, particularly loving the writing of one writer who brings all the wonder of the ceremony to life. Of course it is no big surprise that she eventually meets the writer (played by James Marsden of Hairspray and Enchanted), who turns out to be a complete cynic when it comes to love and marriage.
From the very beginning you know where this is all going. Will Jane win over her boss? Will she fall for the cynical writer who she hates at first sight? Hmmmm, I wonder...
In fact, sadly, I even sort of expected the "Bennie and the Jets" karaoke scene. I couldn't have predicted the song, but you just knew that Jane would break out of her shell by drunkenly singing some old pop hit somewhere along the line here. It was an odd song choice and the incorrect lyrics would have probably been a lot funnier if I, too, were drunk, but what the hell... it's a romantic comedy staple now, for better or worse.
Still, Heigl makes all this formula bearable. Add to that a wicked performance by Judy Greer, playing her jaded sex-obsessed best friend, who also adds much-needed bite to the proceedings. For these two accomplished actresses alone, 27 Dresses is worth the time.
Jay S. Jacobs
Copyright ©2008 PopEntertainment.com. All rights reserved. Posted: January 29, 2008.


Copyright ©2008 PopEntertainment.com. All rights reserved. Posted: January 29, 2008.